My Interview with Candace Smith
Candi is simply another STRONG and gorgeous woman I found through the #FitFaithMovement expedition taking place over on Instagram.  I am so encouraged by her recommendations and you will see, that she and I see EYE-to-EYE on quite a bit!  
If you want to check out a pretty AWESOME video of a workout she just posted online, you can check that out HERE.  The rest of her social media links are below as well! 
Website: http://candacersmith.com/
Instagram: https://www.instagram.com/beauty_of_strength/
Facebook: https://www.facebook.com/thebeautyofstrength/
Twitter: https://twitter.com/Candiyams05
YouTube: https://www.youtube.com/channel/UClNVH-Xa9zcC3lSemZ4jsqg

Me: Tell us a little bit more about what you do and how

you

came to start it?

 
Candi: Hi my name is Candace Smith - you can also call me Candi, and I am a health coach, personal trainer, and fitness blogger. I am the owner of Beauty of Strength. Most recently, I decided to grow my personal brand in the online space by helping women break the diet mentality and lead a healthy, strong, sustainable lifestyle. I seek to help women be the best versions of themselves, not the smallest! I hope to help women un-complicate things around fat loss and body change. My hopes are to share and show women that they don't  have to go to extremes to lose weight, and that there are more important things in life than the number on a scale.
Me: How do you think your Fitness impacts your Faith and your Faith impacts your Fitness?
Candi: 

Fitness has made me stronger and fit in mind and body. Fitness is a gift from God and I am thankful for my health and strength physically, and mentally. I used to have really low self-esteem, primarily due to my body image. Relying on my faith and not what my body looks like, but what it can do, first and foremost, has had tremendous impact on me. Marveling in the body that God gave me. I used to try to force my body to something that it couldn't be. God has made us all uniquely different, and we as women seem to neglect that fact. In fact, you see it every day in the fitness and fashion industries –-women attempting to be what somebody else is, instead of being the best version of themselves and following their passions. Women shouldn't compare themselves to other women – they aren't competition, and doing this stifles rich, fulfilling relationships.

My faith in God keeps honesty and integrity at the forefront of my mind. I have no interest in selling or promoting quick fixes, gimmicks, and short term weight loss that will only drive women further into frustration and depression when it all goes wrong. I always strive to promote fitness methods and mentalities that I believe in one hundred percent!
Me

:  What is the number one thing that you see women struggling with today?  How do you think Health/Fitness &/or Faith can help her in that struggle?
Candi: I see women struggling with body image - how they see and view themselves. I believe first and foremost, knowing or finding who you are in Christ will help.  Our value doesn't lie in our body shape or size - we are mothers, sisters, friends, and aunts, and we are loved and valued just the way we are.
Also, knowing that your self-worth has nothing to do with a scale number, a dress size, nor 6 pack abs. Remember, God loves you unconditionally, and unfortunately, many women try to find value outside that unconditional love.
If you can love yourself and grant yourself some compassion first and foremost, you can achieve your body transformation much easier.
I also think lifting weights and getting stronger makes a huge impact on body image struggles. Strength training not only builds strength, but also confidence. You start to walk differently, and I think you even start to think differently. Falling in love with the weight helps you fall in love yourself. You'll have a new swag about yourself!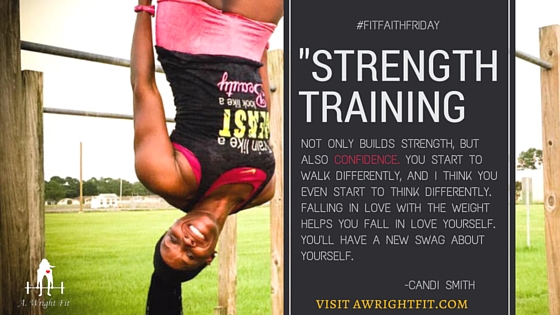 Me: What is the biggest lesson you've learned recently?
Candi: Patience and trust in the Lord with building my online based fitness business – I can't do it all by myself.
It's been a process and it can be difficult to see the light at the end of the tunnel. This year, as I build my business, I know that I have to rely on my Faith to get me through the struggles, and be patient with the process, just like with anything else in life.  I have also opened myself up to ask for help or advice from a group of amazing strong women in a business mentorship group I'm in.
ME: We are in the middle of a blog series on living with FRUITFUL Health and walking through how to live the 9 Fruits of the Spirit in our health.  We are on to JOY! What tips can you give people who don't necessarily love working out or eating well to find JOY in this process of health?
Candi: I think we rush into fitness too fast, and want all the change right now. Instant gratification, ya know? I think if we step back and evaluate the process, look at things objectively and take the journey one step at time. No rushing, no quick fixes, or extremes because that causes burnout and frustration.

You'll fall in love with working out and eating well if you like how you are doing it! If you like how you eat and how you move. Find what you enjoy – there are many ways to reach your fitness goals! What may work for one, may not work for another, so keep trying out new things until you find what you enjoy. The joy or love of working out and eating well is an enjoyable process when it resonates with YOU. This can be my preferred method, strength training, or it can be anything that gets you moving –walking, running, yoga, group fitness, hiking, etc. Don't fall into the cookie cutter "it has to be this way or nothing" mentality.
ME: Is there anything you have coming up that we can join you in?  
Candi:

Stay tuned for 30 days of fat loss the healthy way.  I will be posting a video blog daily with tips and tools to help my community navigate nutrition and fitness the sustainable way.  Don't miss my daily blogs by joining me over on my Facebook page: https://www.facebook.com/thebeautyofstrength/
COMING SOON!
 The DIY Guide to
Nutrient Based Eating for Fat Loss! 
In just a few short weeks, you can get your very own guide to WHAT the Nutrient Based Diet is, HOW you can start including this lifestyle approach to eating, HOW you can shop and prep the food no matter what your schedule, AND the 4 Simple Steps that you can adjust to it to make sure it BOOSTS your Metabolism and allows you to see FAT LOSS!  
I have for over 2 years including this system into my own life as well as through my personalized coaching and membership site to the her Health Lounge, but I am now making this Nutrition component available for you to guide yourself!   
To be the first on the list, feel free to sign up HERE and I'll send you a FREE infographic on HOW to eat Nutrient Based!