I just completed my Vision board for 2016. I have done them every year since 2013 and absolutely believe in the value that having a visual representation of the "God-sized" and specific dreams for your life and what it can do to your subconscious psyche.
You can check out my "business" vision board here….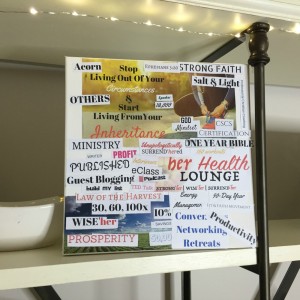 (there are a lot of words in my "vision"…because I'm a "words" kind of girl!).
But you know what I see when I look at this board with my big bold and audacious dreams?
Sacrifice.
That's right, when I look at this board, I see that for every big, bold, audacious dream I want to achieve in this year, which include dreams for my business, dreams for my health, dreams for my income and my servant heart, I am ONLY going to find success in these dreams by making the right CHOICES that will allow these to be fulfilled.
Contrary to what you might think that dreams are, and especially what a lot of people think

GOD DOES FOR YOUR LIFE

, is that it's not about "wishing" for things to be better. God is not a genie where you rub his lamp and he appears to just grant you all the things you want and the "good feelings" you desire.
No. God is after your HEART and He is after your SPIRIT and He deserves it wholeheartedly. God wants you to be with Him forever in Heaven which REQUIRES that you make some sacrifices in your life here on earth. Love is a sacrifice.
You see for every list of things that I desire to achieve this year and in my lifetime, is an equally long (if not longer) list of things that

I WON'T do

.
So today, I am challenging myself and I am challenging you to get real with what it is you say you want out of life so you can discern not only those things that you WANT out of this year, but also those things that you will have to be willing to SACRIFICE. Consider it some "Unapologetically SURREND'hered" tough love that we all need in the New Year….
---
You say you want to be healthy…..
…..but are you willing to commit to some health changes, for say…

ever?

I know you might be thinking that you are totally sacrificing when you go on those 21, 30, or even 90-day cleanses and willpower challenges, but those are NOT actually sacrifices that will serve your health in the long run, nor are they what God requires of you.
Paul writes,
"..give your bodies to God because of all he has done for you. Let them be a living and HOLY sacrifice—the kind he will find acceptable. This is truly the way to worship him."

(Romans 12:1 NLT)
I didn't notice him saying, "Give your bodies as a living and holy sacrifice for 30 days…." did you? So why would we think that our health is something we go "on" and "off" of too?

We are not called to "diet" we are called to achieve HEALTH.
A much greater sacrifice, and the type of

sacrifice

that will get you what you want—

TRUE HEALTH

— is to make a lifestyle change with one bold step at a time, what I call in my new program, the her Health Lounge, the "Next Best Step Action Plan."
The discipline required to go at the slow, steady pace of real fat loss is a

sacrifice

for our "immediate gratification" flesh.
The self-control required to monitor your impulse eating and assess your actual hunger means that you will

sacrifice

your cravings and emotional eating habits.
The patience and self-love it takes to actually give yourself some REST instead of just pushing HARDER and HARDER at the gym or by over-dieting is a

sacrifice

to our guilt-driven, overly worrisome, fleshy tendencies.
If you say that you want TRUE Health—LASTING health– then you will have to sacrifice your T

IME, ENERGY, RESOURCES and MINDSET

to figuring out and dealing with the LIES that you are believing right now that are preventing you from the TRUTH. The truth of how God sees you and what God desires for your health and for your life.
If you are unwilling to sacrifice and invest in those practices that help you get deeply rooted in

WHY

you deserve to be healthy and

HOW

you are going to do that in a way that serves you SPIRITUALLY as much as it serves you PHYSICALLY, then you are not yet ready to actually attain or maintain

TRUE HEALTH.
You will not find True Health unless you are willing to go DEEP enough to uncover it. This is a sacrifice of our ego.
You say you want to be happy….
…but are you willing to

sacrifice

doing those things and exposing yourself to those environments that do not serve your joy?  You will only find true joy when you immerse yourself in joyful and

love-giving environments

on a regular basis.
Are you willing to

sacrifice

all the time you spend following people on Facebook and social media that gossip, slander, complain and criticize?  Are you willing to

sacrifice

the secret love you have of watching reality TV shows and "keeping up with" all those celebrities that will either make you

envy

them and their perceived looks or "success," or make you feel

superior and prideful

because you love to hate them?
Are you willing to

sacrifice

watching the news or the political pundits that just over-analyze and tell you why the world is "going to hell in a hand-basket?"
Maybe the world isn't the "Promised Land" that God designed it to be, but you are not contributing to that dream and promise of God by watching these obsessive shows who's only platform is to just

CRITICIZE

everyone.
Are you willing to GO FIRST?
You say you want to be happy, but are you willing to

take a stand

and GO FIRST in showcasing the ways of true joy? Are you willing to tell people that it's because of

God's love and the sacrifice of Jesus

that you are even capable of feeling the fruits of the spirit like

Love, Joy

and

Peace

?
Are you willing to

sacrifice

your reputation and the fear of "what other people think about you" by being

authentic, honest and forthright

? To "be the change you wish to see in the world" first, without waiting for another courageous person to do it and you follow?
You say you want God's blessing….
…but are you living a life that shows that you really

BELIEVE in Him

? It's not enough to just have a

head

knowledge that God exists, but you must have a

HEART

knowledge that is only showcased in how you live your life.
As Rick Warren states,

"Believing there is a God and believing that Jesus died on the cross is not enough to get into heaven. Because the devil believes in God, and the devil believes in Jesus, but it doesn't mean that the devil is going to be in heaven."
Did you catch that?!
He referenced, James 2:19 "

You say you have faith, for you believe that there is one God. Good for you! Even the demons believe this, and they tremble in terror!"
The word "believe" is actually translated as "pisteuo" in Greek. It means to "

trust in, to cling to, to rely on, to adhere to and to commit to.

"
Are you willing to do
ALL OF THOSE
things for God?
(For more on this, listen to Rick Warren's great Daily Hope podcast HERE.)
Let me be clear, all this is not to say that you "

earn

" God's blessing, as we know that we

can never EARN God's love

. It is freely given. Your HEART must come to the understanding of the GOSPEL which can be boiled down to one simple phrase, "

His grace is sufficient for me…

" (2 Corinthians 12:9)
But, this is about how you having daring Faith that will move God to not only bless you more richly here on earth, but the ultimate and true gift of rich and wonderful blessings in

Eternity

.
Are you willing to sacrifice and SURREND'her ALL of your life to Him, even those things you do in secret?
Are you willing to give Him reign over your life and take up your cross DAILY (not just on Sundays), sacrificing the desires of your flesh?
Are you willing to

die to yourself

and your innate and selfish ways for the greater good and to be of service to others?
Are you willing to

endure

through some uncomfortable times and do the things you fear the most because you know that this is God's dream for your life?
Are you willing to sacrifice your

time

to connect with Him

daily

and to study His word so you can have a deeper, more meaningful relationship?
Are you willing to give up the "

RULE-FOLLOWING" of religion

that makes you think you can just follow a "checklist" to Heaven in exchange for a real, authentic, and a completely unique relationship with God?
You say you want love…..
….but are you willing to

sacrifice

for it?
If you want to truly

LOVE your life

, then you must

sacrifice

for it.
Love is not just following "good emotions." Real love is a

SACRIFICE

.
Mother's who love their child

sacrifice

their sleep, their time, and their needs for their children. Husbands who love their wives

sacrifice

their fidelity, their selfish, lustful desires and are called to work, provide and submit to her. Wives who love their husbands

sacrifice

their nagging desires, their controlling tendencies and are called to provide, respect and submit to their husband. These are all a

sacrifice

to our innate, selfish tendencies.
And God, who so richly loves YOU,

sacrificed

"

His one and only Son so that whosoever believes in Him, shall not perish but have everlasting life.

" (John 3:16). <———

THAT is real sacrifice

. Do you BELIEVE THAT?
So when you dream up these God sized dreams for your life and you have high hopes of accomplishing everything you can in 2016 and beyond, remember that it is

LOVE that moves mountains

and ultimately LOVE is a sacrifice.
Having said all that….

I invite you on this CHALLENGE with me in radically shifting your health to be able to achieve the things you say you want from your HEALTH and your LIFE and join me in the "her Health Lounge" coaching program. I am only offering this program 2 x per year, so if you don't snag the chance NOW, you won't have another opportunity until SEPTEMBER.
It is a 6-month journey, delivered in an online portal, that will require a

sacrifice

and investment of your

time and your resources

, but you will be

blessed with a rich harvest of rewards for your body, mindset and spirit.
Your LIFE, not just your HEALTH will be transformed by this journey when you commit to it wholeheartedly!
her Health Lounge starts on

Monday January 11

and goes through July 9. All 26-weeks are mapped out for you on the Sales Page.
But, if you enroll with me NOW through January 7 (at Midnight), you will get 3 MEGA BONUSES, that include:
Access the the Lounge for a

FULL YEAR

instead of just 6 months.

"her Worthy Time" spiral planner and daily devotional along with a video training on the best Time Management Practices for balance and productivity.



"Nutrient Based Food Prep for busy lives" printable guide and video training.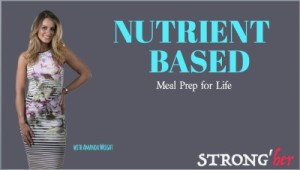 ALL FOR FREE
! 
Until Midnight Tonight!

Also, if you desire to have a more hands on,

1:1 coaching experience

, I am offering only

10 spots

in my

Platinum Membership

that comes with weekly phone calls and custom nutrition and exercise plans. You can set up a FREE consultation call with me by reserving a spot with me HERE and we can discover if we're a "right fit" for each other!
Join Today!
http://herhealthlounge.awrightfit.com/