33 Birthday Lessons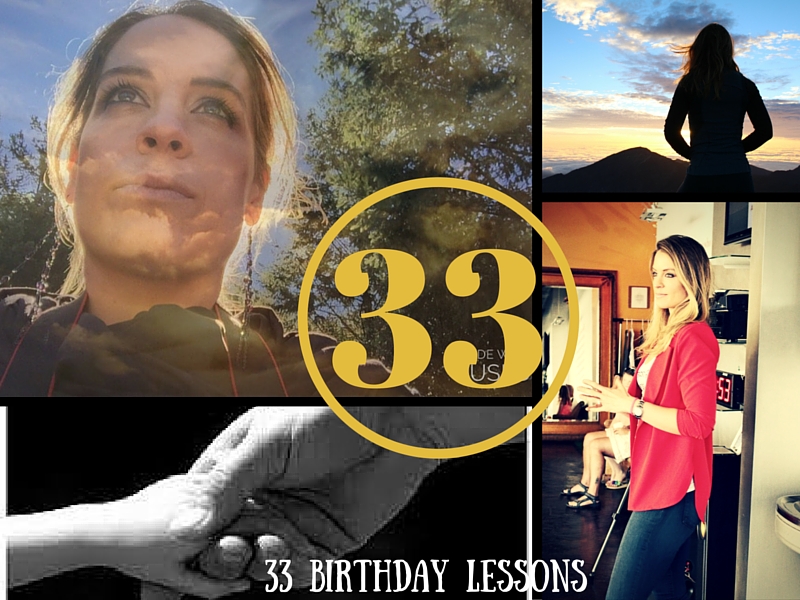 It's been an incredible year!   I have taken over 47 flights.  I have traveled to 9 countries and over 15 cities, domestically.  I became wife.  I became a *bonus*mom (of a toddler!).   We moved to a new city and learned the art of making new friends.  I started a new kind of company and stepped into a calling.  I spoke openly about my Faith and became a writer.  I overcame some significant strongholds and for the first time felt the presence of God, tangibly.   I also was privileged to coach over 23 women personally, which means I fostered 23 intimate relationships with women in over 11 different cities nation-wide.  Every single day, I focused myself on how I could grow and teach others the ways of living STRONG'her and WISE'her by SURREND'hering more and more to God. 
All of this was done in the 32nd year of my life.
I of course don't say this to boast or even martyr myself in the least bit.  It was just a big year!  While it was incredibly busy and frankly a whirlwind of a life change, I have come away with possibly the greatest year EVER! Through the willingness to embrace all this change has come an abundance of lessons and the cultivation of characteristics and virtues that I didn't even realize were possible.   I screwed up a lot.  I had panic attacks and full on melt downs on the regular.   But, I leaned in and withstood the storms and experience sheer joy time and time again.  I learned to #FailForward, #FailFast, #FailFaithfully. I heard of this great idea of keeping a journal of all of the lessons you learn in life (as you inevitably screw up) so you actually remember what you learn and don't have to relearn it the hard way again.  While I didn't start this particular lesson journal in October of last year, but I did acquire quite a few lessons nevertheless!    
So, for my birthday today and the welcoming of my 33rd year of life, I would like to offer you 33 lessons I learned last year through all my mayhem.
33 Birthday Lessons
There are over 7,000 promises that God gives us in the Bible.  When you find one that resonates with your current need, circle it and pray on that every day.    "

For I know the plans I have for you," says the Lord, "Plans to prosper you and not to harm you, plans to give you hope and a future.  Then you will call on me and come to pray to me, and I will listen to you.  You will seek me and find me when you seek me with all your heart."

 Jeremiah 29:11-13

Sometimes you just have to shut up and pray.

There is a huge difference between a promise and a VOW. 

It's ok to say "no" to something "good" so you can say "yes" to something "great."

When you say you're sorry, you can't add a "but" to the end of it, otherwise it doesn't count.

Talking openly about your Faith is extremely hard and even more humbling when you realize how small your Faith really is.

Nagging people to change never actually works.  They might appease you for a second just to get you to pipe down, but it doesn't work in the long run.

Setting boundaries in how you let others treat you is a way of showing them love.  You are offering them a chance to see the Truth of who you are so speak with gentleness and stand firm in your truth.

The opposite of love isn't hate, the opposite of love is fear.  When you worry, you cannot love.  When you are loving, you cannot worry.   "

Perfect love drives out fear

" (1 John 4:8).

Asking someone "Why?" is not nearly as inviting as asking someone to "Tell me more about that?"  You get much less of a defensive response.

Sometimes you think you are allergic to foods when really you are allergic to

STRESS

.

You can get so much more done when you make a list of the top priorities of your day and just do those things.  

There is a perfect  rhythm of working HARD for 90-mins and then taking a short break to do something Physical or Spiritual.  This rhythm makes you far more balanced and efficient, helping you get so much more done WELL.

You can be content in all circumstances by seeing with grateful eyes.

You must not neglect your gift.  You must grow it, cultivate it and give it away.

So what, you're weird.  Radically accept that.   "Those the mind don't matter and those that matter don't mind."-Dr. Seuss

There is true bliss that comes from giving into your "Happy Weight."

"Live not by works, but by Faith."  Busyness does not get you any points with God.

You can actually rewire your brain by visualizing your "future self" and SURREND'hering to

her

as you make decisions.

God's capacity to give far exceeds our capacity to receive.

There is a distinct difference between "No" and "Not Yet" with God.  Patience is everything.

Comparison is the thief of joy.  We should join in the praise when we see God's blessings on others lives.

Take your environment seriously and it will radically shift your life.  From the people you put yourself around, to the things you watch and read, and the spaces you design for your own work and creativity.

God designed us for Prosperity.  Not understanding the proper value of your

TIME

 will consistently hinder that.

To change any bad habit, including the habit of fear, you must always REPLACE the habit and focus your intention on what you DO want to become.   I suggest love.

Neuroscience now proves a

MEMORY

 is formed after 21-days of intentional thought and dwelling.  A

HABIT

is formed after 3 cycles of that for a total of 63 DAYS.  For. one. habit.  Focus only on the 'Big Rocks' that matter and will have a bigger impact on your life. 

Those whom are hardest to love are always those that need the most love.  Their insecurity makes them difficult, demanding and distant.   Your love and respect can cure them of all that. 

You learn your true identity and Greater Purpose from others, not by yourself.  God designed us for community. 

"

Joy doesn't come from what you have, joy comes from what you know can't be taken from you

."  Rick Warren

Your soul is where your body meets your power source. 

It's just like God to take our sinful, selfish acts and decide to bless us anyway.  "God works for the Good of those who love Him." (Romans 8:38)

"Vulnerability is the birthplace of love, belonging, joy, courage, empathy and creativity." -Brene Brown

You are so very WORTHY of it all.  Spiritual magic happens when we seek to see ourselves and others the way God see us.  Our worth to Him is endless.