I have to admit, every time I contemplate opening up and writing about certain spiritual moments in my personal life, I get very nervous and unsure if I should.  But today, I feel as though this is too powerful and too necessary of a message that I can't let any fear hold me back.
So here it goes……
As directed, I was standing in the quiet solitude, opening the posture of my heart and wondering if this was really going to work.  Pastor Alan Kraft was praying over us in the congregation and was speaking to the areas that we might be "thirsting for MORE of the Holy Spirit".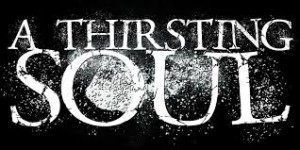 He asked if some of us might be contemplating "an area of risk or feeling God might be asking us to step out of our comfort zone in some way."

He instructed those of us that were feeling this area of "thirst in our souls", to ask God, in the quiet of our heart, to give us a word or a phrase that He wanted us to know. 
In moment, the word that filled my heart was….
"Worthy"
Pastor Alan is the lead Pastor of Christ Community Church in my home town in Greeley,CO.  I just so happened to be back in town and of course always love to attend the church where this Pastor  played such a significant role in reawakening my soul and therefore my life as I now know it.  There is no amount of money or tithe that I could possibly repay this church, and that humble man, for the impact he has had on my life during some of my darkest days (I'm talking about every break-up I ever faced!).  It was a divine gift that led me to that church when I did.  I am so grateful for this blessed impact.   
This day would be another example of God's wondrous miracles and His abundant grace pouring down on me in this Church.
This word "Worthy" brought me to tears immediately.    
It was as though with just the small prick of one simple word, the entire ho- air-balloon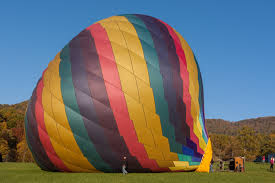 -sized amount of guilt, fear and true UNworthiness I had been feeling for SO long was completely deflated.
This would not be the first time a single word would have such a huge impact on my life.  About 4-years ago now, I was living with my parents just after moving back to Colorado from California and was really unsure what I was "supposed to be doing."
I was watching an Oprah Winfrey, Master Class, about the star herself (see video link).  She was speaking about the time she was jogging, literally at a fat farm, and so upset about not getting the role she thought God had called her to get  for the movie, The Color Purple.  She was tormented by this and in her grief, finally started to spontaneously sing the hymn "I Surrender All", reminding herself that she needed to just Surrender this expectation and her life to God.  She describes it as just words at first, but the more she repeated that chorus and the more she started to pray on it, the more she was truly able to SURRENDER herself and be ok with not getting that part.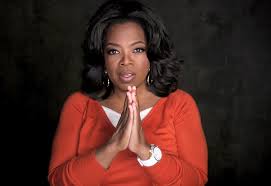 The second she got to that place in her Spirit, someone came running out to let her know she had a call from Steven Spielberg himself, offering her the role she had dreamed of.  It all happened the moment she truly "Surrendered".
But the word, as she said it, seemed to leap off her mouth on the TV and smack me upside the head. 
"Surrender"
It was, as she would certainly describe it, an "aha moment" of magnitude 10. 
As you might have guessed by my repeated use here and now trademarked version of my, SURREND'her, this word became my mantra for living ever since that day. Just as Oprah describes it was just merely a word to me at first, but the more I prayed it out or I wrote it down and repeated it to myself, the more I was able to truly Surrender my spirit more and more.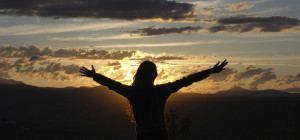 It was so freeing to think that I could loosen the tight grip of all this life choices I thought I was going to have to create for myself.  That I did not need to control my own destiny, that I could surrender it all to God and trust that He would take care of it. 
Just as he has with Oprah, God has blessed me with the life of my dreams, and I know I'm only getting started!   It led me to several life changing experiences and challenges!  I have been able to accept and embrace things in my life that I never would have dreamed like step-parenting, forgiving, moving, and world traveling!   But here I am , Surrendering to it still now, and loving EVERY. SURREND'hered. Moment.
So now, this new word…….WORTHY.
I realized I had been feeling so UNworthy in so many ways. 

UNworthy of God's presence in my life and for his debt that He paid for my sin.

UNworthy or guilty of the blessing of being back with my fiancé, now husband, Howard and all that we were planning to do and a wealth of opportunity I never had imagined for my life. 

I also felt very UNworthy of the calling I had been starting to feel in my soul and all of THIS….
THIS dream, of this very website and the possibility of writing or speaking publicly about my health and my faith is is huge step out of my comfort zone.  But I am strengthened only by God's presence in me.
 I had an intense amount of fear that was causing me to procrastinate and divert my attention to other menial tasks, instead of starting this project and site.  Even now, there is intense amount of fear that surfaces again and again with each post because it is an extremely vulnerable thing to talk about not just my life, but my Faith.   I have always felt very private about my faith mainly because I never, ever want to offend anyone and don't want to make anyone think that I am trying to force a religion down their throats.
But in this moment, God called me WORTHY and it is now imprinted on my heart.  I wear this worthiness like a badge of honor to play this "worthy" role, even if my fears want to try to talk me out of owning it.
Just like I did with 'Surrender", I put this word every where! It's on my Vision Board, on a custom sign I'm having made for my desk and I write it down as often as I can, especially when I'm journaling or feeling especially emotional and fearful.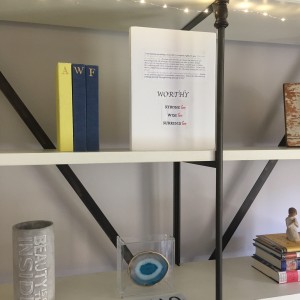 This word 'Worthy' truly became the daily reminder that God is telling me I'm worthy of this all and I'm worthy of His love and blessings He wants to bestow to me if I am obedient to His calling.    I should not hold myself back from all of my hearts desires because of the LIE of 'unworthiness' I had been feeling for so long.
THIS WEEK…..
I am reminded of this word this week as I have talked to more than one close girlfriend who are also fellow Christians, but are struggling in different areas of their life, like we all are.
Both of them confided to me that they had been feeling "UNworthy" of all of their blessings in their life too.   They used that exact word…"UNworthy"….
I realized when speaking to these friends that they too were caught in the fear and the lie of this feeling of unworthiness and it is stalling them in taking the next step they need to take on their path for their Greater Purpose. 
And now it's hit me. 
Really, this word was never just MY word to now use.    
No, this word that God gave me on that September day was always intended as a gift for you.

 

You, whoever you are, reading this right now. 
It is a miracle that you happen to be reading this very blog this day because God has something very special He wanted me to remind you.
You are

worthy

of it all.


You are worthy of your blessings.  You are worthy of His Grace.  You are worthy of His forgiveness.  You are worthy of YOUR calling to YOUR Greater Purpose. You are worthy of the
price Jesus paid when He died for your sins.  You are worthy of your dreams.

You are

worthy

of your health. 

You are

worthy

of His love.
He wants you to wear this word of "Worthy" like a tattoo on your heart because you will never be rid of your worthiness.  
If you feel that you have been holding yourself back from your dreams (whether they are dreams about your health, or dreams about your calling, or anything!) because you have been feeling deep down inside that you are somehow UNworthy of the true blessing God has planned for you, then TODAY is your day to step out from behind those dark shadows and lies of UNworthiness.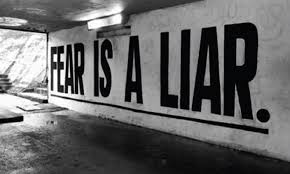 FEAR is a LIAR.  Your feeling of UNWORTHINESS is a LIE straight from Satan himself that has plagued your spirit and has caused you to hold back from fully committing your life to your Greater Purpose.  It is holding you back from SURREND'hering it ALL to God, not just some of your life. 
God has created you for a

Greater Purpose

and you are

WORTHY

and capable of every step ahead of you!!
If you are feeling unsure about the next steps in your life and unsure if you are living out a life of your WORTHY calling, then I would be honored to help you decide what your WORTHY goals should be! 
I am hosting a 7-part/day series called 7-Steps to SURREND'her Goal Development where I am going to take a limited number of participants through the program I developed that I use personally every day and I use with each of my Health Coaching Clients.
You will be creating and designing goals for your life to help you fulfill your Greater Purpose!  To put action to this call of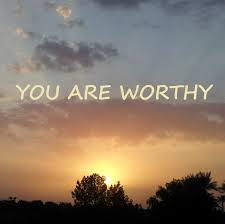 WORTHINESS and to start the action steps to accomplish ALL God has called you to do. 
You will get the chance to learn how to achieve goals in ALL areas of your True Health (or life!) including Body Goals, Mindset Goals and Spiritual Goals to become….

It will be an incredibly rewarding time of self-discovery, visualization and action steps to achieve all God is calling you to achieve!!
The series will start on Monday, April 13 and will be emailed to you for just 7-Days.
For YOU, I will offer this service for FREE because I think you are Worthy of achieving any goal or dream in your heart. 
To take part of this

7-Steps to SURREND'hered GOAL Development click HERE and share with as many people as you think are WORTHY as well.