What is the #1 thing that determines whether you have a "Healthy Day" or not?!
I have found my *THING* and once I tell you I bet you will totally agree with me…..AND will probably love that I am offering you a FREE checklist of said *THING* so you can get in on the practice as well!! Be sure you look for it at the end!
So here's the thing—-it appears the entire month of July seems to have passed within a blink of an eye! WHERE DID IT GO?!
My husband and I were down in San Diego for the month while my 3-year old stepdaughter, Eden, was staying with us and (as is often is the case for me in July) my normal health practices kinda fell by the wayside. I noticed my physical health somewhat declining and I decided it was time to learn more about my body heath and go for a checkup at my local clinic. I couldn't keep letting myself slip like I was.
Jumping into the moving vortex that is parenting a boisterous and hilarious "threenager" will certainly do that to ya, but also, July is just one of those months where, year-after-year, I kinda just relax a little bit more. It starts with the 4th holiday and then I usually have a vacation in there or two, certainly a few more BBQs, a family reunion and before you know it, my normal exercise practices have taken a month-long hiatus.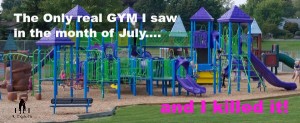 I happen to think this break is an EXCELLENT idea for everyone and I do it intentionally. I know from years of experience, that you CANNOT go 12-months of non-stop "fat loss" efforts. It doesn't work for our bodies, our minds OR our souls.
So when the Ecclesiastes 3:1 says, "There is a time for everything, and a season for every activity under the heavens."
For your TRUE HEALTH, this means you need to take SEASONS where you just REST and you just take a chill pill on the whole "count every macro that goes into my mouth" or the "count every rep and every calorie I burn" type of attention to detail (if you're into that sort of thing….).
This is not to say that I didn't CARE about my health for an entire month! Actually, quite the opposite! For me, this just means that I take a season off of my BODY health practices and usually make greater efforts for my MINDSET and my SPIRITUAL health.
Actually, my real test for my "Healthy Mindset" is IF I can take a hiatus from the gym a bit more, eat a few more pieces of chocolate and cups of frozen yogurt and…..wait for it…..
NOT BEAT MYSELF UP FOR IT!
I monitor my "Self-Talk" and what I'm saying to myself when I look in the mirror, when I'm experiencing the stomach aches that inevitably come too (darnit dairy!), and just breath into the space of imperfection. It is a daily mental battle. I won't lie to you and tell you I was really strong mentally every day of the month, but I can tell you, my WISE'her practices have paid off! I certainly am stronger mentally in my health that I was just a few months ago! #ProgressNotPerfection!
As far as my Body's Health went during this season of "chill more" and "worry less" I still focused definitely on movement with lots of park time and certainly lifting up that 46-lb ball of sugar that is my step-daughter(!) and even stuck to my Nutrient-based eating that I always do (I just added more chocolate and sugar into the mix)! It was a really enjoyable break!
So whether July was that sort of month for you or not, I want to encourage you to TAKE A MONTH (or two!) where you do intentionally plan to REST your body for a season. But then…..get back to WORK.
SO WHAT NOW?
After you take a season OFF of your normal exercise and/or heightened nutrition focus, there is always this TOUGH PHASE of getting back into the rhythm of things!
But that's really all you need to focus on….THE RHYTHM.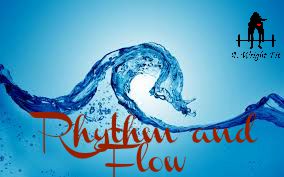 THIS IS WHERE IT'S AT! This is the #1 thing that will determine whether I have a "Healthy Day" or not….
Finding My Health and Fitness Floowwwww!
I believe, to effectively put your health back into practice, you must find that rhythm and flow that comes into good, healthy practices.
The best way to find that RHYTHM is in my favorite step to SURREND'hered Health——–> RITUALIZE It!
In my 7-Steps to SURREND'her Goal Development, I highlight the two very important steps in the path to True Health.
Step #5:

Habitualize It!

–>this is creating new healthy habits to replace old unhealthy habits.
and my FAVORITE….
Step #6:

Ritualize

It! –> THIS is finding those personal preferences, tricks, and other appealing practices around the new healthy habits that will get you to DO THEM!
Ritualizing your Health becomes a rhythm and a flow when you plan for the rituals rather than plan for the "check list" of habits you need to do.
For example, I find the stupidest little details really enjoyable in my day!
From the coffee cup I use in the morning when I do my morning quiet time with God…..
To the little tiny dishes I use to fill with nuts and treats….
To THE song that I use as my anthem of the moment (i.e. gym, God-time, dance-time etc.)
To the pen and special notebook I use to write down my workouts.

Everything that I do well for my health, I do because I have RITUALIZED my practice of it and have thus found the

RHYTHM

and

FLOW

I need to have a fully successful day practicing better health practices.
For you I have 2 Special Treats

:
I have created an easy check list of the 7 SURREND'hered Rituals that I do every day for my True Health practices! You can get a copy of this Ritual Checklist when you subscribe to the #STRONGherAUGUST month long series of more blogs and articles on all things related to become STRONG'her in my Body's Health. All month I'm going to focus on more workouts to try, more metabolism tips, more nutrition education, and more recipes for success! Click HERE to subscribe and you'll also be the first to see the next great things I'm doing on A. Wright Fit come this FALL!


For your viewing pleasure, I have the

video

that I created for the 7-Steps of SURREND'hered Goal Development series on how to effectively

RITUALIZE

It! I'm a HUGE dork so it's a good one! 😉