One of the biggest blessings that God gifts us in this life is simply each other.  To know that there are others out there who, though they may be thousands miles away, with different lifestyles and in seasons of their life, still show that they *GET IT* and *GET YOU,"  even if they hardly know you.  
That's how I felt when I read the answers to my questions about all things Fitness and Faith from my new friend Jill Jacobs.  I found myself smiling, saying, "YES!!  She totally *GETS IT!*  I briefly met Jill at a retreat earlier this year.  She also works with my business coach and mentor, although she is a year or two ahead of me in the business realm!   She is a gem!  You definitely need to follow her on all social media platforms.  
I hope you feel the same joyful sentiments when you read what she has to say about her life experiences and how God has affected her Fitness and her Faith!!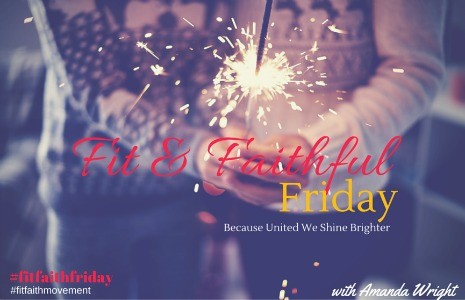 Me:

Tell us a little bit about what you do--when you started and why you started:
Jill: After having my 2nd and last child in 2007, I made a decision to make my health and fitness a priority. Over the next couple of years, I went through a fairly long process of learning what works best for me and my body PLUS what I enjoy doing. 
As it turned out, I loved kettlebell training and got great results with that style of training. I loved it so much that I ended up getting certified to instruct and also got several other certifications in personal training and nutrition coaching.  Just a few months later, my business was born!
I was getting asked for help in the realm of fitness and nutrition by friends and family after they saw my transformation over the years. The natural progression was to start an online coaching service to help ladies everywhere! 
Me:

 How does your Faith impact your Fitness and your Fitness impact your Faith?
Jill:

 They certainly work hand in hand! So many aspects of faith and fitness mirror each other, and they integrate well together.  
I believe that my body is the temple of the Holy Spirit and that I'm to treat it that way. I'm a daughter of the creator and am His masterpiece. It's my job to take care of God's creation including my body. I strive (read: struggle!) daily to see myself as He sees me and care for my body accordingly. 
Likewise, my fitness has impacted my faith by showing me that I actually do have self-discipline. By having the discipline to workout and eat right, I see that I also have it in myself to practice spiritual disciplines (prayer, Bible study, giving, etc). When fitness became important to me, I suddenly found time to it happen. The same is true with spiritual things.  
I've certainly not perfected self-discipline. I mean, I'm tempted to sleep in instead of work out.  I love chocolate and could eat it daily! I have learned that I can dig deep or find workarounds for my biggest struggles (i.e. have a daily chocolate protein shake to ease my chocolate cravings 🙂 ).  The same is true with things like prayer and Bible study. I'm able to find manageable ways to fit those priorities into my day!
Me:

  What is the #1 struggle that you see women facing today and how do you think Faith and/or Fitness can help them? 
Jill:

 The top struggles I hear from women revolve around a lack of motivation to exercise and not having enough time (i.e. staying busy with family, kids, and other responsibilities). 
Having a deep faith can help women re-prioritize their life and find a deeper reason to be motivated to take care of their bodies. For me, I want to be able to take on tasks that honor God. I never want physical limitations that are within my control to keep me from serving His purpose. This deeper reason motivates me to stay fit and healthy plus prioritize the actions that get me there above ALL the other things that could fill my day. 
Me:

 What is the greatest lesson you have learned recently that is tied to your Fitness or your Faith?
Jill:I was coached early on in my journey to keep faith and politics out of my business so as not to turn people off. About a year and a half ago, I made a conscious and potentially risky decision to throw that advice (the faith part at least) out the window and let the chips fall. I decided that I only wanted to work with people who accepted that I'm a woman of faith whether or not they shared my faith. 
The lesson I learned was that by being true to who I am, I have been able to connect to a whole new world of fitness professionals, followers, and clients who all love Jesus too! I now truly believe that faith BELONGS in my business. I can't compartmentalize it or separate my faith from any part of my life.  
ME:

Do you have anything coming up that we can participate in? 
Jill: Yes. Thank you! I have several things going on at the moment. 🙂
First, I coach women individually on how to simplify the fat loss process. We all too often over-complicate it. I know I did for many years, but it's because I didn't know what to do or where to start. Thanks to the process I went through, I'm able to help ladies get results quicker than I was able to! If anyone wants information on my one on one coaching service, they would need to head over to this link: http://jilljacobs.me/one-on-one-coaching/
Secondly, I co-created a group coaching program called My Best Body Inner Circle. We have a fabulous group of ladies and are actually celebrating our one year mark this week! We have a super special deal through this

Sunday, 12/20/15

, to celebrate a year. Ladies can try out the coaching program for the first 4 weeks for just $1! We cover all things exercise, nutrition, and lifestyle! Your readers can find out more about our group coaching program here: http://mybestbodyinnercircle.com/invitation/
My co-coach and I would welcome anyone to give our program a try and know that it would add tremendous value to their life. We'd love to help as many women as possible get strong and confident in 2016!
I'd love to connect further with your readers on all my social media platforms! Find me here: