I was delighted to get the opportunity to get to know the founders of Momsanity, Emily Saunders and DebbieBAISDEN.  They are both doing some incredible things for mom's and women desiring simple but effective ways to stay fit and balanced in life! 
Today, I got the chance to get some more insight from the co-founder, Emily and loved what she had to say!  You can tell she has an incredible Spirit (especially when you read that she offered to do this interview while 28-weeks pregnant and wearing a cast on her foot!).  
I loved what I learned through her eyes, and I know you will too!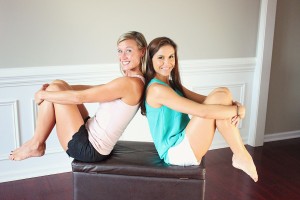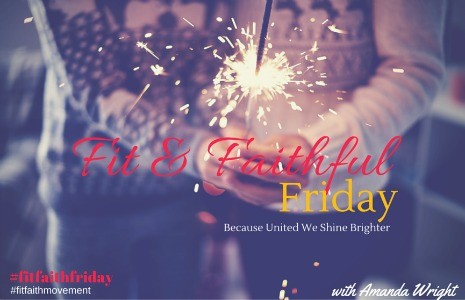 Me:

Tell us a little bit about what you do and how you came to start it?
Emily: My partner Debbie and I started Momsanity almost 3 years ago when my son was a tiny baby.  She was newly widowed.  It was a crazy time in our lives.  I found that there were plenty of resources for FIT mom and also for moms of Faith, but not a lot that put it all together.  Our mission is to help busy Moms juggle their many responsibilities while prioritizing faith, fitness and nutrition.  We focus on putting God first while offering programming by Moms and for Moms including short and effective fat-loss focused workout videos and realistic but scientific nutrition guidelines, recipes, and more.  Our Momsanity Sisterhood Facebook group is where God really works His wonders.  Our sisters pray together, encourage one another, ask for and offer advice, share successes and struggles and so much more.  It's a beautiful thing!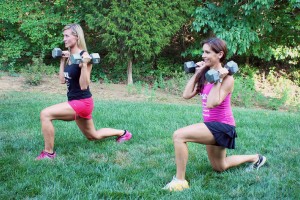 Me:

 How does your Faith impact your Fitness and your Fitness impact your Faith?
Emily:

 I love this question!  Fitness impacts my faith in many ways.  Our earthly bodies are weak no matter how "strong" they are.  I depend on God to get me through every single day.  I also appreciate that a passion for fitness is a gift that God gave me to share with others.  I love how He works in so many ways!   How does Faith impact my fitness?  My workouts used to be about achieving a certain look, but now I just want to be strong and healthy so that God can use me however He sees fit.  I also give myself a lot of grace.  It's ok to have seasons where fitness is not a top priority even though it's a big part of my job.  He's got it all figured out :)certainly work hand in hand! So many aspects of faith and fitness mirror each other, and they integrate well together.  
Me:

  What is the #1 struggle that you see women facing today and how do you think Faith and/or Fitness can help them? 
Emily:

 The I think that women struggle with conflicting messages coming from every angle.  Be strong.  Be submissive.  Be a leader.  Don't be too bossy......  Both faith and fitness can help with the struggle.  I think that a balance of both creates a quiet confidence- confidence in something bigger than ourselves that carries us through.  God never changes and if we read and follow His word then we'll always be on the right track to what matters.
Me:

 What is the greatest lesson you have learned recently?
Emily: Going back a couple of questions...I'm grateful for an able body.  It's something I take for granted far too often.  At 28 weeks pregnant I tore some soft tissue in my ankle while getting up off of the floor (yes really!).  I had to be in a cast for 3 weeks and it made me so very thankful for a strong and otherwise able body.  The experience reinforced to me that no matter how strong we are, our earthly bodies are still feeble.  It made me appreciate two working legs and the ability to run around and chase my son on the playground even when I don't feel like it.  It reminded me of the power of prayer as my injury often requires surgery, but so far it's healing beautifully on its own!
Me:

 What dreams do you have for this year and for the future?  What role do you expect God to play in developing these into realities?
Emily:  At Momsanity we have so many fun things planned.  We are focusing on ONE goal per month with our Sisters in 2016 as "bite sized chunks" work best in making lasting changes.  For the first time we have several brand new physical products planned AND we're changing membership site platforms soon.  God has been with us from Day 1- He breathed Momsanity into existence- and He's working in our sisterhood of women constantly. We pray and listen and plan.  He closes some doors and opens others.  It's a wild ride for sure!
ME:

Do you have anything coming up that we can participate in? 
Emily:  
We're excited for a fun February challenge called #onthewall.  We'll be encouraging ladies to participate by taking a time out to do a wall sit and recite Psalm 23.  Women need more quiet time and sometimes these little "time outs" that incorporate fitness with time with God can be a perfect reminder to do so!  More details coming on both Facebook and Instagram. 
 If you'd like to connect with Emily and the Momsanity nature more, you can find them on these social media platforms!
Emily Saunders is a co-founder of Momsanity along with her partner Debbie.  She is passionate about helping women achieve lasting changes both physically and spiritually.  She is a Mom
to 3
year old Adler and has another baby boy on the way in February.  Emily is married to Wiggy, an Integrative MD and together they created Raise Them Well- a brand that creates  toxic-free products for kids and families.  Find out more at
www.raisethemwell.com