(Be sure you read to then end of the blog to sign up for a limited opportunity!)
Your Greater Purpose and Your Health—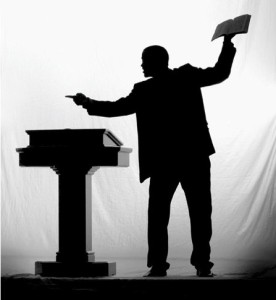 My husband, Howard, tells a story about a fiery pastor who was responsible, along with his grandmother "Gammy", for my husband first giving his life to Christ at the age of 12.
He was the Pastor of a predominantly African American church in Los Angeles, CA and out of respect, I'll omit using his name here. Howard describes the man as one of the most powerful orators he has ever met. He laughs saying, "Pastor would suck in a big breath from his big belly and then all of a sudden fire out the longest sentence of the gospel you had ever heard." The man was, by all who can attest, a brilliant Pastor and surely living out a Greater Purpose from God by bringing so many to know God more.
Unfortunately, this pastor died at a young age, in his late 50's due to a string of ailments some of which were due to his weight, including diabetes. It is a sad ending to a great man's life.
Upon hearing this story, I couldn't help but wonder how many more people could have been led to God had his life not have ended at such a young age. While admittedly, I do not know the specific circumstances of this mans health, I do know that his story can fit the context of the hundreds and thousands of deaths we see plague this world. Far too many people are dying from preventable or manageable health issues in this world! With all due respect to the legacy of this man's life, to me, this story is another example of one great man's Greater Purpose being cut short by his inability to take care of his body's health.
As you may know by my writing, that my views on health have been enhanced in recent years and I am on this forum trying to promote a less "body obsessed" version of health and replace it with a more balanced, deeply rooted, approach to "True Health."
To me, in order to build a STRONG'her body, you have to be able to change the way you think about your body and your health and become WISE'her. But to gain true wisdom, you have to dive deeper in your Spirit to the depths of your character, core values and relationship with God to SURREND'her your life to your Greater Purpose.
However, this path is not linear with all roads leading to that SURREND'her goal, it's circular! While I make no quips about the fact that I absolutely believe that SURREND'hering ourselves is the only way we can ever TRULY LIVE, this is not where the road ends.
Once you have SURREND'hered your life to God and to the path of your Greater Purpose, it has to circle back to you building up a STRONG'her body.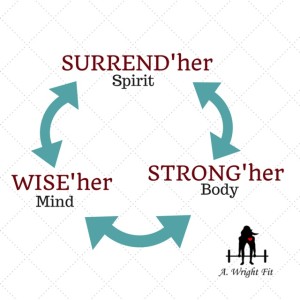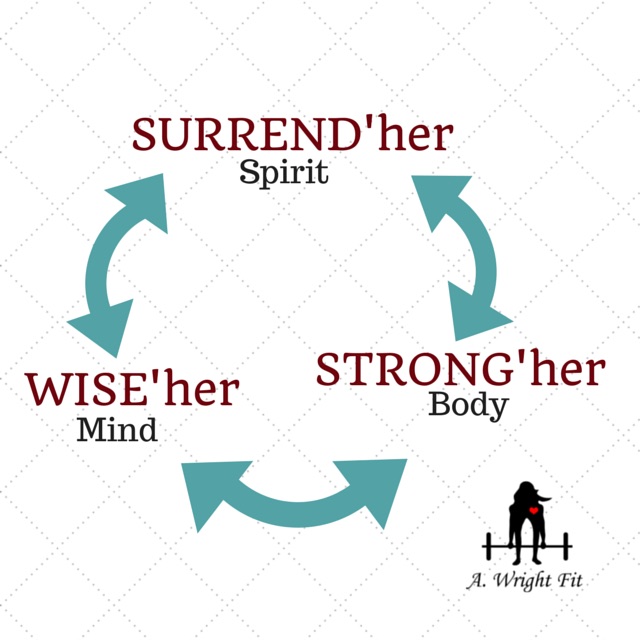 My beliefs on this are based on the simple question:
 How can one truly LIVE out your

Greater Purpose

without being diligent to keeping your body healthy along the way?
The answer is:
you can't
Living out your Greater Purpose requires just that—LIVING. You simply cannot live the life you were designed to truly live without properly taking care of your body along the way.
Afterall, to go an do GREAT things in this life, you need:
Endurance and sustainable energy,
A body strong and capable of living out whatever God is calling you to do
A strong immune system to prevent illness and disease
The ability to sleep soundly to truly rest your body and mind
Strong bones and muscles to help prevent pain and injury
Properly functioning organs by supplying them with the necessary nutrients
Do we have control over all aspects of our body? Certainly not. Can we prevent all diseases and ailments, unfortunately, no.
But should you have the audacity to full take control of those aspects of your health that you CAN control and work to establish a balanced and true health for yourself by depending on the strength of God, He will bless your efforts and bless your path to your Greater Purpose to a Greater Health.
No matter what God has has established as your Greater Purpose, it is your responsibility to properly take care and nourish your body to do it!
While it is easy to feel the responsibility of your to feel like a burden , but if you take on the tasks as an act of gratitude for your life and for the body you have been blessed with, your health will no longer feel like such a burden but rather a blessing!  God will bless you in your obedience in taking care of your Holy Temple.
"Do you not know that your bodies are temples of the Holy Spirit, who is in you, whom you have received from God?  You are not your own;" (1 Corinthians 6:19)
Being healthy and exercising your body is so much more than our bodies "looking a certain way", God does not care about that.
 "The Lord does not look at the things people look at. People look at the outward appearance, but the Lord looks at the heart." (1 Sam 16:7)
Your true health is much more about what you can go out and DO for others, for yourself and for God.
Make sure your "Temple" is representin' God's greatness!!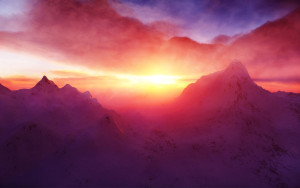 FOR EXAMPLE:
If God has called you to be a teacher, take care of your body and eat in a way that will inspire your students to do the same for themselves. While you are cultivating their mind, cultivate their own self worth and self care by showing them what health looks like.
If God has called you to be a mother, in the same light, take care of your body so you might show your children how you love your body and you love God. Show them how with God you can overcome the temptations of food addiction, idolatry of food/alcohol/substances, and even the temptation of self loathing or lethargy. That you can do all things through Christ who strengthens you.
If God has called you to go climb the highest mountain in the world so you can shout His name from the top, I'm pretty sure you are going to have to get in some pretty darn good shape to be able to do that.
If God has called you to travel the world as a missionary, you are going to need sustenance and a good supply of nutrients now to endure what lack of you might receive there.
If God has called you to be a singer, public speaker or Pastor, you bet you're going to need to some energy to truly get up on that stage and have an impact with your voice. Your body will be used physically and as a shining example of the woman God created.
If God has called you to solve medical mysteries and diseases, your mind will need an incredible amount of nourishment in order to be able to critically think for so long. You will need energy and a body that can allow for true wisdom to come through which will require rest and exercise.
If God has called you to be of service by being an incredible friend or mentor to those around you, you too need to represent the love of God from the inside out. Show the people you love what it looks like to love God and to yourself enough to take care of your body too.  Do not be mere words.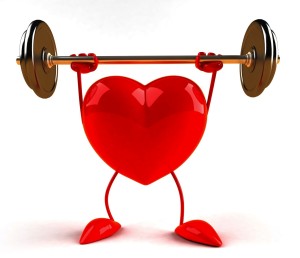 It is time that you use your Greater Purpose of this life to finally find the TRUE motivation to get to your TRUE health!
You will no longer be working out to "look like her." You will no longer be "on a diet" to get a "bikini body." You will no longer resort to surgeries, drugs or supplements to try to "cheat" your way to "looking better."
Just to be clear, your Greater Purpose in life is not to look good in a bikini or to be able to take the perfect selfie for social media.
Your Greater Purpose is found in TODAY, not in tomorrow. So you are going to start TODAY, no, RIGHT NOW to make this life a life worth living.
Take your next step toward your Greater Purpose. Take your next step toward your Greater Health!!
Want to know how we're going to do it?!   Well here is where you might take advantage of an exciting opportunity with yours truly.
The key to success in your health is simply establishing the right goals and setting out to fulfill them in effective ways!
I have a 7-Step SURREND'hered Goal Development  I designed and implement with each of my Health Coaching Clients!
It involves:
-Setting (S.M.A.R.T) specific goals that fit in with your Greater Purpose way of living for you Body, Mind AND Soul.

-Using the power of Visualization for success and retraining your subconscious brain.

-Creating and implementing daily habits to establish effective results daily and to override the less effective ones you've been using.

– Ritualizing those habits to make them uniquely you!
If you are interested in participating in my 100% FREE 7-Step SURREND'hered Goal Development WORKSHOP, please subscribe to this email link HERE. It will be a daily emailed workshop that will last just 7 days!  It is a one-time event and will only be offered to a limited number of subscribers, so sign up quickly!
The workshop will cover not only these steps to TRUE HEALTH Goals, but will also include some BONUS workout guides, Nutrient-Based Eating Guide and Recipes!
So if you're ready to make some changes in your health and need help figuring out the necessary steps to take to create some life changing goals, sign up for the GREATER HEALTH series HERE that will begin on:
Monday April 13!
Share the link and tell a friend and get excited about changing your health and changing your life!
If you are interested in getting started right away, I have just a couple positions open in my roster of 1:1 Virtual Health Coaching practice. Contact me at amanda@amandawrightfit.com or click on the Health Coaching Tab of my website.