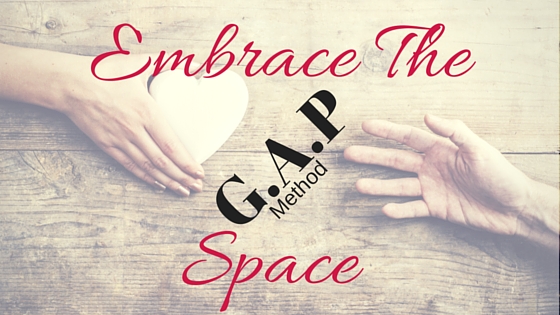 I have characterized the majority of my life as feeling like a solid B+ student wishing she were an A.  Across the board, I have felt this lacking and longing that I could be just a little better than I was.  In my looks, my body,  my intellect, my athletic capability, even my Faith! 
There always feels like there is this space between where I am and where I want to be.  Do you know the feeling? 
I feel this space also in my relationships!  You can feel the tension and the gap between where I am coming from and where, say, my husband is coming from on any conversation or subject. 
These gaps in our life can leave us feeling completely inadequate and lacking in various ways.  Like the dangling carrot on a stick in front of our nose,  we will never quite get there.  For some, it may make them want to just give up and quit!  For others, it will become a perpetual obsessive cycle to become "enough." 
But, what I have come to learn, that these gaps in our life are the greatest gifts we can ever receive and a brilliant design by God. 
So, not only am I going to explain why you should say a prayer of thanks for your gaps in your life today, but I will give you a great tool to remind you of their magnitude to store in your heart for your next moment of inadequacy!
When we study God's word and reflect on His nature and character sewn throughout, we can see what an act of love our own insufficiency can be.  Because, without our own GAPS in life, we would not have enough room and space for God.
God designed us to need Him and wholly depend on Him for our entire life.  Without these great spaces in our lives, we would not have that longing for Him.  Nor would we have the chance for Him to bless us in such astonishing and over-the-top ways.
He blesses us in spite of us.  Paul reminds us in Romans 3:23 NIV "for all have sinned and fall short of the Glory of God." 
So whether you are the Pope or Mother Theresa, you too fall short of the Glory of God. 
If life were a literal race and we were all running from coast to coast, there will be some that will be better than others, sure.  But in the end, no man is able to run non-stop all the way to the finish line.  We ALL will fall short.   
There is a GAP between where we are in our sin and where God is in His Holy throne.  We cannot get there while on this Earth. 
The Good News….
BUT,  BUUUUUUUUUUTTTTT, God is Good, ALL THE TIME and He takes these blessed GAPS in our life and transforms them into exactly what we need!  How?  By bridging the G.A.P and filling that space.
You can use this acronym to remind you of exactly what your GAPs in your life really represent!
G:

 

Grace
The space between REAL you and PERFECT you will be filled with God's Grace.  It is with Grace that God sent His son Jesus down to live and die as a sacrifice for our sins we are committing now. 
This Grace is what fills up this universe sized space between our sinful nature and God's nature. 
When we feel insufficient, we are reminded by God that, "My grace is sufficient for you. For my power is made perfect in weakness." (2 Corinthians 12:9 NIV)
He takes our insufficiency and transforms it with His Grace.  We are sufficient and purposeful because we fall short.
The best part is, that God's grace is FREE.  You cannot earn it or buy it!  All you have to do is believe to receive. 
So if you have not yet received God in your heart and are ready to unload this burden of trying to be perfect all on your own, it is time that you give your heart a break and choose to believe in Christ today.  Your Faith does not have to be perfect to trust and believe, it just has to be from the heart.
You can do it right now and say in your heart,  "God, I choose to believe that you love me and sent your son to die for me.  I ask for your presence and guidance in my life, to be my Lord and save me.  Amen."
God will take care of growing your Faith and all of the questions that you have.  You don't have to prove Him to yourself, He will handle it.  Just believe and you will receive.
A:

 

Abundance
 The second reminder is that when we feel like we are lacking in qualities, outcomes, characteristics, and even Faith, God is our ABUNDANCE. 
One of the greatest gifts you can have is to think with an abundance mindset.  To know that no matter what, there is always more where that came from. 
If someone stole your great invention, there will be an even greater invention down the line. 
If you didn't get the great job promotion that you worked so hard for, there will be an even better opportunity coming shortly. 
All of dreams that seem impossible with your current circumstances, are POSSIBLE with God. "Jesus looked at them and said, "With man this is impossible, but not with God; all things are possible with God."
Having that GAP in between the reality and your expectation, leaves room for the Great HOPE for tomorrow that only God can provide.  God gives us Hope with His Abundant nature.
"Now to Him who is able to do far more abundantly beyond all that we ask or think, according to the power that works within us,"

 

(Ephesians 3:20 NLT)
P:

 

Power
These very spaces of inadequacy and gaps in our alignment become the areas where we gain our greatest courage, strength and POWER. 
Going back to the verse in Romans, not only do we see that God's grace is our sufficiency, but is also our POWER because God's Power becomes our Power.
"My grace is sufficient for you. For my power is made perfect in weakness." (2 Corinthians 12:9 NIV)
When we are weak, He is STRONG. 
When we feel afraid, He is our COURAGE.
When we want to act out in anger, He is our LOVE.
All of these attributes become our very power within us to withstand every circumstance and failure in life. 
Whatever we are lacking, God exceeds and it is in HIS Might that we are so capable

. 
The next time you feel the weight of the space between you and your goals, expectations, and progress, remember your GAP is your Guide.  
It is easy to keep putting more pressure on yourself to try harder or to give up rather than give IN to the God that created you, but I assure you, seeing these spaces as the Grace, Abundance and Power that you need to excel will quickly show you how incredibly rewarding our Faith can be!