This week I continue on my quest to share some of the ways I #Ritualize my health! As I've explained, #rituals are just how I find ways to attach greater enjoyment from the regular health habits I'm trying to make second-nature. If I add a *MANDI STYLE* to some otherwise boring health habit, I find that it ups the "reward" center of my brain to thinking what I'm doing is fun and enjoyable instead of boring and horrible "healthy" stuff.
You will never learn to live a healthy life FOREVER unless you find some way to enjoy it! It is simple psychology and patterns human behavior! You have to change your brain chemistry to ENJOY being healthy and change any part of your life!
I believe RITUALS are the #1 WAY to find greater enjoyment. Being MINDFUL and INTENTIONAL with your rituals is so effective to making your rituals the healthy ones instead of the unhealthy ones.
So, as we have probably all heard, the solution to ANY PHYSIQUE change you desire for your body is going to come down to 80% NUTRITION CHOICES.
While working out is amazing and wonderful, if you don't change your food and beverage habits, you may never see any weight loss, muscle gain or whatever your desired change may be.
YOU CAN'T OUT TRAIN A BAD DIET. It is that simple.
That does not mean you take the "well why even bother!" approach and stop working out or putting in effort for exercise! Fitness brings FAR more benefits to your health than the aesthetic reasons we workout including psychological benefits, emotional stress relief, the metaphorically motivating aspects, heart health, disease reduction, and FUN, to name a few.
NO, my point in always pointing out that 80% of your body goal is dependent on your nutrition is to be sure you get the message that NUTRITION IS REALLY IMPORTANT so you don't shirk responsibility in managing what you allow in your body.
I don't advocate being a 'perfectionist' eater at all (that usually makes us suffer the consequences of an "unhealthy mindset" which renders us unhealthy overall), but I do want to

empower

all people and my clients to take proper responsibility for the "temple" that is their body.
Eating healthy is HARD because so much of it is dependent on things that we humans don't manage very well–our emotions, stress, money, and planning. And not forgetting that most of us like to add extra salt to our meals to give it a heightened taste.
But this is actually bad for your health. Even though the likes of salt and sugar taste nice in our meals, it is unhealthy, and can even create a lot of health problems down the line, especially if you eat more than you should. The salt vs sugar comparison is an ongoing debate about which one is worse for your heart, and which one is likely to bring on a heart attack. The truth is is that they're equally as bad as each other, and you should take great care when it comes to planning your meals, and how much of each ingredient you add.
I believe just implementing a solid set of RITUALS to what you eat, how you plan and cook your meals, and how you make decisions while you're dining out will make ALL THE DIFFERENCE in you feeling more REWARDED for taking the positive responsibility of governing your body with love and care.
Alas, here are my TOP 5 MEAL PLANNING RITUALS that I love! Use them to think about your FOOD RITUALS and how you can implement more HEALTHY associations and less unhealthy ones.
Top 5 Meal Planning Rituals
1. GROCERY SHOPPING WITH A HOT TEA AND A FULL STOMACH:

You've probably heard this one before but it's a huge one for me–don't grocery shop while hungry! If I decide to go to the grocery store on an empty stomach I will have eaten half a bag of grapes by the time get to the checkout counter as well as will find 3X more food especially in the form of chocolate, processed snacks and a lot of other things that just "looked" good at the time.
My goal while grocery shopping is to not get too carried away with spending (hello Whole Foods!), to buy mainly Holistic food choices (i.e. whole, unprocessed foods) found on the perimeter of the grocery store, and to purchase the satisfying variety of foods that will keep me eating Nutrient Based for all of my meals the next few days.
While I am a person that actually ENJOYS grocery shopping (I know not everyone does) to further increase the "reward" value I'm feeling, I will make myself a nice HOT TEA (or cold if it's really hot out) to sip on while I walk. My favorite tea is Jasmine Green Tea. All green teas have this wonderful affect of just a little bit of caffeine matched with fat burning antioxidants AND this palette cleansing effect. It really helps to curb any cravings I might be having. Thus, as I'm walking by the chocolate aisle I'm less likely to wander in and overindulge. Any type of quenching treat is a great idea for all!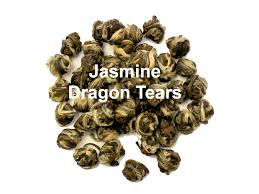 2. VEGGIES/FOOD PREP TO SOME MUSIC: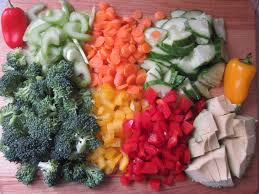 When I get home from the grocery store, it is always best if I go ahead a chop up all the veggies and produce and put it into containers on the shelf that is at eye level. First, having the veggies pre-chopped makes them more accessible and will help me EAT THEM. Then, I know if I keep them in the bags and put them in the drawer, I'm must more likely to FORGET about them and then they go bad and I have to throw them out (which I really hate wasting food!). So I put them at EYE LEVEL to prompt me to eat them.
SO, I don't usually have a whole lot of time to chop up veggies since I'm always feeling "behind" in something for my business. Sometimes I will time myself to see how quickly I can do it. Other times, I'll just plan this for my "break" time that I do about every 90min-2hr of work. I put on some jams on the speakers and get to choppin'! It becomes pretty stress relieving and will make it a much more enjoyable activity! Once or twice a week when I do more extensive food prep (like bake chicken breasts or baked sweet potatoes) I especially implement the music/dance party! I know that food prep is a boring, mundane task but it's something that has to be done unless you use a meal kit. If you're interested in learning more about meal kits, it might be worth reading this hello fresh vs blue apron review page. I can certainly see the advantages of meal kits so if the prep is something you dread every week, this might be an option for you. Just make sure you're eating healthily.
3. FOOD PLATING AS ART DESIGN:
I think the "prettier" your food is, the more appealing it is to eat. I have started engaging in some meal planning tactics that help to make for "prettier" plates.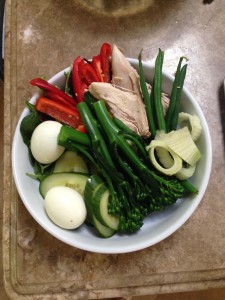 The more colorful the food is, the prettier it is! Thinking about this helps me first buy the array of colorful fruits and vegetables that will help me get a nice NUTRIENT-BASED variety that is really, REALLY important to True Health. Then I just make sure they get on the plate and I will eat them!
Also, if you really want to enforce this one to your "reward" center of your brain, take a picture of your food! I know the whole "food posting" tendency is slightly controversial and gets a lot of slack, but I personally find it a very valuable step in showing others that you are healthy and to give others ideas of meals! Why not shine the light?!
4. FOLLOW A PLATE GRAPHIC:

Metabolic Effect Food Graphic
This kind of piggy backs on the last ritual, but this one works for me because I get that feeling of "reward" when I actually feel organized in something. If I make an effort to consciously organize my eating without having to resort to things like measuring food or counting macronutrients, I am still finding a way to monitor my portion sizes but in a less rigorous way.
I am not against such practices of counting and logging food– in fact, I do it during certain seasons of strength training and I do ask most of my clients trying to lose a certain amount of fat to implement this habit for themselves. But for my very busy life right now, I appreciate just using a plate graphic to help hold me accountable. This is my LIFESTYLE way of doing this because I believe no person can reasonably log their food for the rest of their life.
Using a plate goes as follows:
1)Choose the proper plate size for your meal. This is dependent on your body size (the smaller you are, the smaller the plate should be and vice versa) as well as the # of meals you eat per day. If you eat 3x per day, you can have 3 bigger plates. If you eat 5-6x per day, you should be using 5-6 smaller plates. It just helps you eat the proper amount for you.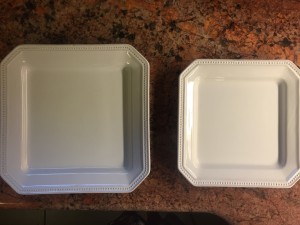 2) Fill at least 1/2 of the plate with veggies. If it's a green veggies, especially lettuce, fill the whole darn thing! Make sure you get some colored produce on there too (a nod to my Ritual #3). The "heavier" the vegetable, the more likely it is to have some fiber in there and make you feel full. I recommend a lot of cruciferous vegetables (broccoli, cauliflower, bok choy etc.)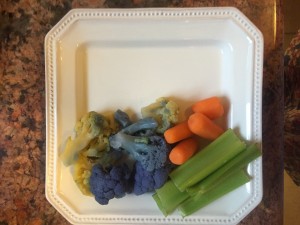 3) Fill jus

t

under 1/4 of the plate with a starchy carb source (sweet potato, brown rice, corn, beans, oats) OR fruit.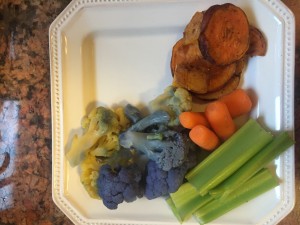 4) Fill just over 1/4 of the plate with a lean protein of choice (fish, chicken, turkey, sirloin, bison, shrimp, egg whites etc for those that eat meat).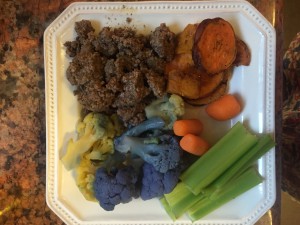 5) Add a "dollop" of fat in there (about the size of your thumb or two). If you cooked your veggies in a fat, that counts. If you are eating a higher fat source of protein (like bacon, ribeye, salmon,or whole eggs) that counts too. Otherwise, grab some guacamole to dip your veggies into, some olives on the side, or some coconut butter for your fruit or starch.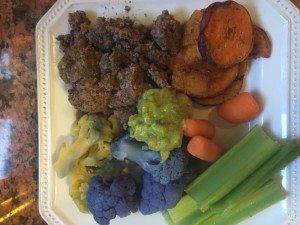 5. PRACTICE THE SAME MODEL WHEN OUT TO EAT!
Whenever I eat at a restaurant, I actually try to follow the same principles of #4! Now, I won't get the chance to actually plate my own food, but I will ORDER as best as I can to this same degree. For this reason, I will order a la carte A LOT or will just ask for exactly what I want (which a smile and respect of course!). 🙂
1.VEG: I start with veggies and this usually is just me asking for a side or two of whatever the chefs vegetables are that day or maybe get a side salad. Sides are usually always cooked in oil (as is everything when dining out!) but I'll see if they can do light oil sometimes. For salads, I always get dressing on the side to avoid them dousing the thing with way too much.
2. PROTEIN: I'll always find grilled fish or chicken as an easy go-to.
3. STARCH: For starch I'll do brown rice or a sweet potato if they have them. If not, I'll go for fruit for dessert–helps with my sweet tooth! If I plan on going for chocolate (which I do usually for one meal per day) I'll just count that and try only 2-3 bites! If I've decided to have a glass of wine I count that as my starch too (only 1 glass though).
4. FAT: Since most restaurants already use way more oil that I do at home, I assume I've already had more than enough fat to necessitate extra fat sources. Therefore, I try to avoid adding extra "fat" options to my meals on purpose.
This is has HUGE reward incentive in the RESULTS I actually get. We travel all the time so we are eating out all the time. We've got no choice to so we have made the changes we need to make it work for us both health-wise and financially. For example, my other half has an AMEX Gold Card because she found it was the best option for people who eat out a lot and we also make sure the places we eat are healthy. If I DON'T implement this ritual, I will put on weight really fast. Sometimes its worth it and I'm perfectly find accepting that! But the rest of the time, I try to follow a the same steps to keep things as consistent in my eating as possible!
These are just a few ideas of some meal
#RITUALS

I have been implementing lately! I'd love to hear what you've been doing!!