It's the most wonderful time of year and yet can also be a more stressful time of year, right?! Busyness and the hustle-bustle obviously can add more stress to our lives. Enjoying some ontario weed online could help some people strike the right balance so they be productive with stress. To much stress can have a negative effect on you and its not just physical stress. Not to mention the financial stress we can all feel from this gift-giving frenzy. Speaking of financial stress, this is something that many people face over time. Whether it is getting fired from a job and not having an income for a while or are wondering how to repair your credit on your own, when it comes to managing finances, there is always a solution. Even if it seems tough at the time, at least with a plan, hopefully, a stable financial life can get back on track.

If you're experiencing being stressed on a daily basis, you may want to click here to find a great treatment to reduce stress with Ear Seeds.
From a health standpoint, stress gets a bad rep, with good reason. A study from the British Medical Journal in 2006 showed that employees with chronic work stress had more than double the chances of a "Metabolic Syndrome" (which refers to risk factors associated with increased risk for stroke and Type II diabetes, along with heart disease as well.) See more on that article HERE
Your stress directly impacts your metabolism which directly impacts your waistline! Increased adrenal responses (the release of stress hormones) have shown to both slow down the fat-burning processes AND increase our HUNGER!. That's a bit of a lose-lose, right?!
In spite of these statistics about the effect of

chronic

stress, the reality is that stress is actually a

GIFT from God

.
As with all gifts from God, it doesn't mean we use them appropriately, and since we do live in a fallen world with a broken "body," this intended gift goes off-kilter quite easily.
Nevertheless, getting back to the INTENTIONAL DESIGN of our stress can give us the perspective of how God can use STRESS to BLESS our lives and our health! Are you suffering form stress and looking to find a solution to manage this? You could take a look into herbmighty.com for CBD products which have been proven to reduce stress.
4 Ways God Uses STRESS to BLESS:
STRESS SAVES

: The original design for stress on our bodies was the thwart us into Fight or Flight mode! While the human body may no longer be fighting wild animals in the wilderness, we do still need to be ready to react quickly in a hairpin turn!


Think about the Father's that can magically reach out and grab their children's head before they crash to the ground. Think about your quick reactions to avoid the oncoming car crash. Think about all those times where you "didn't think about it" you just "reacted!" Those are all the saving graces of STRESS which uses our Sympathetic Nervous System to SAVE us. And while this is true if you're constantly in that state of mind you'll become worn out.




STRESS SIGNALS: God uses stress all the time to help guide us in the right direction. Specifically in the form of FAILURE, God will redirect us in and out of situations with the help of stress. An abundance of chronic stress is a signal that we are doing things in OUR WILL, not GOD's WILL.
Often, we are even subconsciously creating additional stress for our lives. Holding on to both guilt and unforgiveness for example, will subconsciously add stress to our lives and bodies. Additionally, expecting other people in our lives(like our spouses, significant others or even children) to fill a roll that only God can fill will also add subconscious stress.

Stress is a gift that God gives us that will SIGNAL that we need to reconnect and realign with Him. It's our CHOICE whether we do that or not.




STRESS is SEASONAL: As it says in Ecclesiastes 3:1 "There is a time for everything, and a season for every activity under the heavens." Stress can definitely come in seasons. When we have a season of CHANGE, this causes stress. When we have a season of SORROW, this causes stress. I am in a season of START-UP and am challenged by learning new things in new cities with new relationships, and all this can cause STRESS.

But the Bible also tells us that we "reap what we sow," both the good and the bad. What we sow in one season, we won't reap until another season.

So while you might feel stressed right now from learning something new or through this phase in your life, you will be rewarded in a new season sometime soon of the rich harvest of blessings from this work you are putting in. This is building your character of ENDURANCE. (I even wrote a blog about 10 Bible verses that help you endure more if you want to check that out HERE).
The other side of the coin is true too. You might also be feeling the stress from the ramifications of having made poor choices in previous seasons. But, instead of guilting yourself from past mistakes, choose to accept your consequences, pray for forgiveness and plant new seeds that align with how God calls you to live TODAY. Plant seeds of love, joy, peace, patience, kindness, goodness, faithfulness, gentleness, and self-control. (Galatians 5:22-23) These will reap the greatest of rewards "

30, 60, 100 times

over

." (Matthew 13)


STRESS SERVES: There are some stressful situations that God designed for your life. Things you didn't choose for yourself but God chose for you so He could build in you the character He needs you to have to fulfill the Greater Purpose He has designed for you. The stress serves as a test for your life, a way that you can grow your Faith and Trust in God. Bishop T.D. Jakes spoke about this "frustration" and why God had allowed His chosen people (the Israelites) to endure hundreds of years of slavery under the Egyptian reign before being led out by Moses. Bishop Jakes said, "The more frustrated the environment, the more FRUITFUL the individual." (To listen to his podcast sermon, click here.) How very true!
God doesn't care about your circumstances nearly as much as He cares about your character. So while your stress might be an uncomfortable position to find yourself in, it's designed to be temporary and well worth the character value it will reward you with. Your CHOICES determine just how temporary this phase is.
So, stress, much like fear is not going to ever "go away." God will never take stress away from you. It provides that every day opportunity for you to grow your Faith and lean on God a little more.
But you gain your #godpower when you learn the key to you using this GIFT from God. Your success in life is not about your CIRCUMSTANCES but about your CHOICES.
So the stressful circumstances will never change. The old "when things slow down" excuse is never going to happen. Things aren't EVER going to slow down. But what you will always have is your CHOICE in how you react to it.
Speaking of great CHOICES, one really smart one would be to empower yourself with some new COPING MECHANISM for when you're stressed. I am giving a free webinar on Tuesday evening or Wednesday midday called "From STRESS to SUCCESS: 5 Ways to Negate the Stress on Your Health!" I will be offering some practical solutions to dealing with stress in your life so it doesn't have to impact your health! Click HERE to sign up and reserve your spot!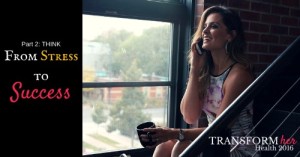 {P.S.

#SPOILERALERT

, with every FREE training I give, I offer the live attendees a BONUS or 2…or 3! This week, when you attend, you'll hear to auditory delights of my STRESS FREE PLAYLIST with your own copy of the link! }
In Love and Health,