I woke up on this day, June 1, exactly two years ago "ready" for a big day, but what actually came to be, would be far bigger than I ever imagined.
We all have these days, called Watershed moments, that change the course of our history.  This day is the anniversary for which my life has never been the same.
June 1, 2013, I did my first, and only, bikini competition.  But also the day that my then ex-boyfriend, now husband, Howard, came back into my life.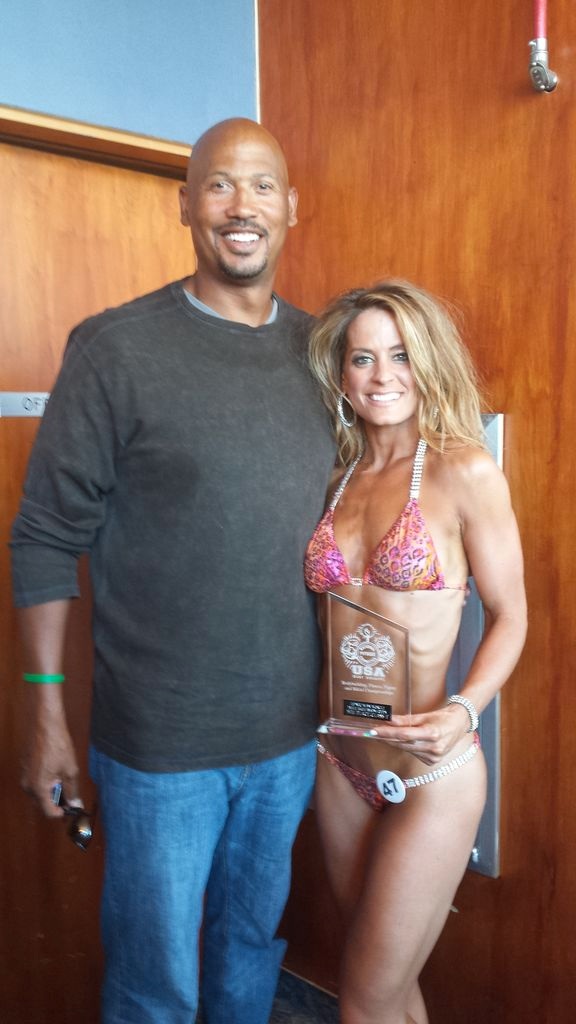 At the time, I had not seen Howard in about 18-months as he surprised me and showed up to my competition, flying in from California.  He had seen me in many shapes and forms over our 5-year history at that time, but he was surprised  that there was a lot MORE of me to see in that itty bitty bikini, but also a lot LESS of me to see as I was about 35-lbs lighter than when he and I had first started dating. 
As I have written about before, I was using the show in-part as an effort to teach myself the lessons in nutrition and fitness so I could be a better nutritionist and trainer.
  The other reason, and what I consider my "real" reason I took to such extreme measures to attain the "perfect body," was to fill a void in my soul that had been caused from years of body image disorders. 
What I learned from this experience was that God is the only thing that can fill the gaps in our hearts and souls.  As happy as I thought I was going to be by getting such a "perfect" body, I was joyless, sad, lonely and ashamed.
While this experience has been truly significant in shaping who I am as a woman and now teacher of TRUE Health (in Body, Mind and Soul) I must admit that finding my love again, my Howard, would be the real reason to celebrate this day in my history.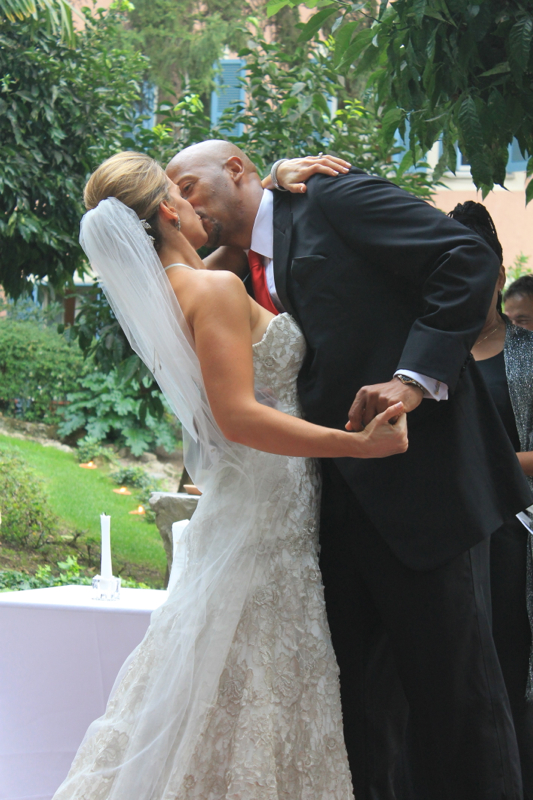 My life as I knew it was going to drastically change from my single-girl, independent, successful life in Denver, CO to the love wrecked, whirlwind, jet-setting, never-a-dull-moment life I now live! 
Over these last two-years, I must admit that it has felt like huge juggernaut after juggernaut have been thrown in my way, all of which have been tremendous blessings but most certainly demanding quick adaptation, character development and growth—none of which are easy all the time.    
Being single, then bride, then wife and step-mom!
Being employed, then unemployed, then entrepreneur!
Being renter, then home-owner, then "interior designer" x 2!
Being new girl in one new city and then 14-months later being new girl in another new city.
Being healthy, then disabled with a back injury, then a new kind of healthy and strong!
Being in the leanest shape of my life, to back to the not-so-lean shape and being OK WITH THAT! 
Being a narrowly traveled woman then to a jet-setting, never home kind of woman.
Being ME then WE.    
I praise God that He has helped me to adapt as best as I can to a flip-flopped life.  I am woefully imperfect at some transitions and surprisingly adept at others.  I could not have done any of it without God in my heart guiding me along the way.   I have learned so much from Him! 
So, in honor of this marked personal anniversary,  I'd like to share the:
Top 10 Watershed Lessons I've Learned in the last 2-years!
TRUST YOUR HEART:
Howard and I had broken up at least 3 times in the 7-years it would take for us to walk down the aisle, so when he came back to me and told me I was the "One,"

 

I had plenty of cause for pause and contemplation.

 

But in the end, it was not about logic and what society would say about second (or third) chances, it was about what my heart said.

 

I prayed and prayed for several weeks and knew my heart was always his and that God had called us together.

The same could be said from the experience of my bikini show.

 

I written once before how I knew in my heart this show was not what God was calling me to do, yet I did it any way.

 

I am so fortunate that

God forgives us

when we don't listen and will find a way to

bless and bring purpose from our mistakes

.

 

Howard coming to my show would be part of that purpose. All the lessons I can teach others would be the other.

YOU CAN'T CHANGE PEOPLE, BUT GOD CAN

:

 

People try to tell us that "people don't change," but that's not true.

 

God changes people all the time.

 

I tried and tried to change my stubborn husband (full disclosure: I still do "try" sometimes…or all the time) all those years of dating, but in the end, he had to learn from within.

  (Mental note to stop "trying").

The same can be said for me.

 

Howard loves me at any weight I come in (

in fact the curvier the better in most ways

!), but I was never trying to lose weight for him, or any man.

 

It was always because of a lie in my mind telling me I had to be more worthy.

 

God changed my heart to change my mind and allows me to see the beauty I am at all shapes and sizes.

FORGIVENESS IS THE GREATEST GIFT WE GIVE OURSELVES:
We all go through pains and do stupid things in our life.

 

Being able to forgive someone for a serious wrong they have done is a gift to them, certainly, but

it is a gift to ourselves most

.

 

To unburden our hearts of the pain and to restore your Faith that God will help you all find a way to make it right and well again will change your life.

 

In the same way, forgiving ourselves for our own mistakes is a tremendous gift that will drastically change the course of our lives toward the path that God has chosen for us.

MORE MONEY DOESN'T GIVE YOU MORE JOY, BUT GOD DOES:
I am not ashamed to admit it, while I was perfectly successful and content on my own, I was looking forward to the travel and the house and excitement that being married to an extremely hard-working and accomplished man would provide as an

added bonus

to life.

 

But I would quickly learn, that just having worldly success and the blessing of "things" does not give you more JOY or peace.

   

My most joyful moments still come from those areas where God dwells most—those things money can't buy.   In hearing my husbands laugh, being silly dancing with my step daughter, taking long walks holding hands, or talking with my mom or girlfriends on the phone.  My single most joyful feeling are those times where God's love just fills my soul for no apparent reason.  The "stuff" is nice and is still a blessing, but certainly not what makes me truly HAPPY.  I am blessed to realize this.

OUR MINDS GOVERN OUR BODY:
What I think about most becomes my life or as Descartes said it,

 

"

I think, therefore I am

." For most of my life, I would obsessively worry about my body and what I was eating, causing stress that caused me to over eat and then obsess even more.

 

This cycle would cause the yo-yo affect that would lead me down the bikini competition path way.

 

My thoughts also change the stress responses to my body for every day function.  Whatever we think about grows.  So if we focus on our problems, they grow.  If we focus on our blessings, they grow!   It impacts our BODY in every way:  how we walk, talk, work and love.



OUR SOULS GOVERN OUR MINDS

:
I learned from a very poignant moment I realized that all of us suffer from LIES in our head that are not just mindset problems, but SPIRITUAL problems. 

  

Learning that the devil preys on those very areas of our minds that are most susceptible is the number one strategy he uses to destroy our Faith and Happiness.

 

The same lesson was learned by my husband as there was a LIE he had perpetually repeated about how he was incapable of marriage that had to take years of counseling and deep soul work to re-wire in his thoughts.   We are blessed that we serve a God that sets us back on the Rock of Truth.

HOME IS WHERE THE HEART IS:

 

All it takes is a solid two-years of traveling to realize it doesn't matter the house (or hotel), but it matters where your heart is.

 

Building a "home" requires only the foundation in your heart and soul that you take with you wherever you are together.
"Marriage is not designed to make us HAPPY, but to make us HOLY."
This quote was from my Pastor, Alan Kraft, of Christ Community Church in Greeley, Co.

 

I didn't quite get it at the time but I am getting it now!

 

I have written before that my husband is my greatest teacher for me—he serves as a MIRROR to me and I am a MIRROR to him.

 

We love it when our mirrors properly reflect the love of God in our hearts.

 

But there are times where we see quite clearly that they

reflect our flaws and selfish sin

.

  These are hard lessons.  But I praise God because 

I would never have seen these things without my husband.

 

For better or worse, he is making me the Holy woman God wants me to be and I am doing to same for him.

PRAYER SAVES:
My communication levels with God have never been so frequent and ongoing.

 

These rapid and great changes in my life can naturally evoke a lot of fear, but because

I find constant relief as I give these fears over to God in prayer

, I wind up praying much more now than I ever have.

 

He has given me comfort in tough trials, bravery to step out in Faith, a companion in the times of loneliness, and a place where I can

praise and thank Him for his abundant blessings

.
YOU CAN'T MESS WITH A MAN'S FOOD:
Funny that God should bring a "Nutrient-Based", nutrition girl to become "One" with a Veggie-Hating man, but alas, here we are.

 

I learned VERY early on that trying to become my husbands "Health Coach" was not going to happen.

 

I struggle with this (eh hmm…A LOT) some times, mainly because my sin of obsessing about food for myself still discourages me. 

  B

ut most of the time I just have to throw my hands up in the air and laugh.

 

I hear this from nearly all of my clients and happily married women I know….you just don't go there.