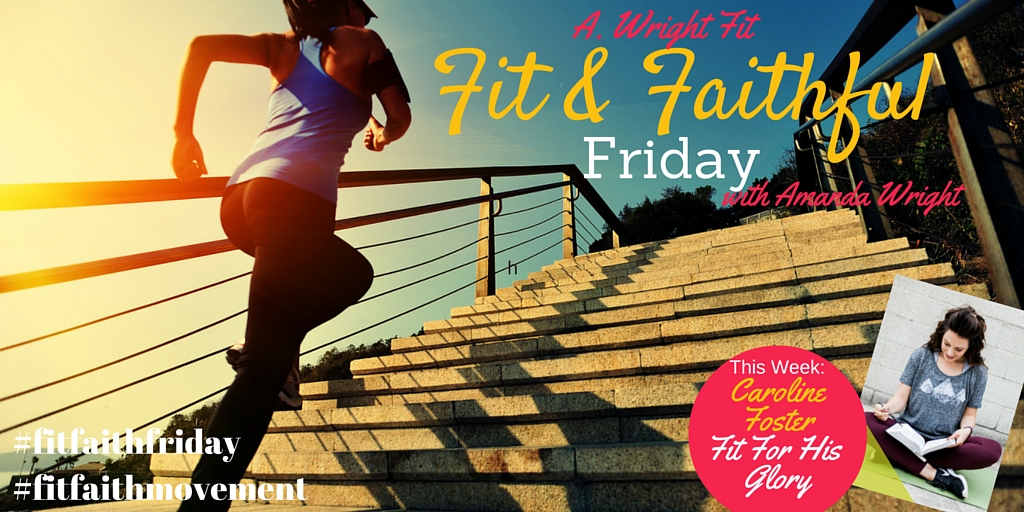 My Interview with Caroline Foster
I just love how technology brings new people into our life!  It's such a unique opportunity to connect and spread the message and the MOVEMENT!   I 'met' Caroline on Instagram as we have featured her on our Fit.Faith.Movement account (which I hope you follow!) as she has consistently posted some really amazing and inspirational stuff!  
I hope you love what she has to say in her answer below!  This woman is on FIRE for God and I especially love her idea of "Thankful Thursday!"   
I hope you enjoy Caroline's answers as much as I did!  Follow her!  You'll be blessed!  
Me: Tell us a little bit more about what you do and how

you

came to start it?

 
Caroline: My walk with the Lord is the cornerstone of my ENTIRE life. Every aspect of Fit for His Glory is centered on Proverbs 16:3, "Commit to the LORD whatever you do, and he will establish your plans." Two years ago God really began to stir in my heart, convicting me about my motives behind working out and eating healthy.
It was during this time that the Lord used an online challenge group with my dear friend Michelle Myers to realign my focus in fitness on Christ. For the FIRST time in my life

being fit was not just about being skinny

, but about being healthy so I was equipped to serve God better! The confidence I received from this new perspective and the realization that other women share in these same struggles led to the development of Fit for His Glory.
My goal with Fit for His Glory is to serve women in health and fitness and help them live healthy/happy lives for the glory of God! In July 2014, I teamed up with Beachbody to offer fitness and nutritional solutions for women who, much like me, are looking for a way to reach their fitness goals while being true to other responsibilities. One day I hope to be a stay at home mom, while coaching and leading thousands of women just like her.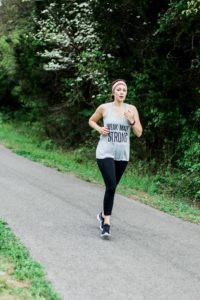 Me: How do you think your Fitness impacts your Faith and your Faith impacts your Fitness?
Caroline: 

But he said to me, "My grace is sufficient for you, for my power is made perfect in weakness." Therefore I will boast all the more gladly about my weaknesses, so that Christ's power may rest on me. For when I am weak, then I am strong." -2 Corinthians 12:9-10
Though battling cravings and getting healthy can be hard, it is a chance to see Jesus Christ's power working in us through our weaknesses.
That's my prayer! That through my health and fitness journey, people would see Jesus! One of my friends once said that if the church would get health and marriage right, people would be flooding our church buildings.  It's SO true! This is an area of opportunity sisters! A place where we can shine the light of Jesus and show the world how the Lord is using our struggles to make us more like Him!
Me

:  What is the number one thing that you see women struggling with today?  How do you think Health/Fitness &/or Faith can help her in that struggle?
Caroline: Comparison and competition among women has many women trapped! We look at social media and think everyone has it all together. I love the quote by Theodore Roosevelt, "Comparison is the thief of joy!" If someone were trying to break into your home or car, wouldn't you try to prevent it from happening? The same is true when we fall into the comparison trap! The thief is out to steal our joy and focus, and that's why we need to put boundaries in place that keep our focus on God's goodness.
"Comparison is the thief of joy!" -Theodore Roosevelt

Jealousy comes from counting others' blessings instead of our own. Instead of falling into the comparison trap, we need to focus on how GOOD God has and will be in our lives! I found it helpful to make a "Thankful Thursday" list every week. This helps me realign my focus on the goodness of the Lord. He is the great provider, but when we focus on the negative we can EASILY loose focus of the good!

Me: What is the biggest lesson you've learned recently?
Caroline: First off let me just say that wanting to take care of us is definitely NOT bad! I personally love to work out, dress cute, wear makeup and curl my hair. It makes me feel good and I am sure my husband likes to see me looking my best. 😉 The problem is when it consumes our thoughts and becomes our main focus. 
"Our number one priority as women of God should be seeking God with a fully surrendered heart! Then and only then will we be able to love and serve others well." 
I love Psalm 31:30, "Charm is deceptive, and beauty is fleeting; but a woman who fears the Lord is to be praised."
It's not always easy, but it comes at a high reward! Our hearts and lives will be much richer and fulfilled when our focus and purpose are on being a light rather then just being pretty.
Me: What dreams do you have for this year and for the future?  What role do you expect God to play in developing these into realities?
Caroline: We have a lot happening in our lives in 2016 and we are SO SO thankful! I am currently pregnant with our first baby and due in November 2016. I am excited to take on this new challenge as a mom. My goal over the next few months is to really grow my business, in hopes to make it full time after baby Foster comes. If that doesn't happen, it's okay. I know that God is the great provider, but I am working hard to make that dream a reality.
ME: I am just starting a blog series on living with FRUITFUL Health and walking through how to live the 9 Fruits of the Spirit in our health.  We are starting off with LOVE of course!  Can you tell us how it is that you have found a way to LOVE taking care of your health?  How do you know it's REAL love?
Caroline: I find JOY in serving other women through health and fitness! It seriously makes my heart so so happy! I guess personally though, I find joy in living an active lifestyle and being outside. Working out and eating healthy give me so much energy and allow me to do things that I really really love! Being outside and living an active life allows me to feel so close to God. It's in those moments that gratitude fills my heart!
ME: Is there anything you have coming up that we can join you in?  
Caroline:
"Be YOU Bootcamp" starting May 2nd! Together with my sweet friend@FreedomGraceNFitness, we will be leading a 30 day group where we will be committing to our exercise, nutrition and running the race God has called us to! Freedom in Christ means being free to be ourselves and living the life Christ has called us to, in body, mind and soul!

I love 2 Corinthians 5:17 "Therefore, if anyone is in Christ, the new creation has come: The old has gone, the new is here!" Sister- if you are in Christ Jesus YOU ARE HIS! We will be digging deep into this in our group. It's going to be good!
If you're interested in joining us, you can email me at fitforhisglory@gmail.com.
COMING SOON!
 The DIY Guide to
Nutrient Based Eating for Fat Loss! 
In just a few short weeks, you can get your very own guide to WHAT the Nutrient Based Diet is, HOW you can start including this lifestyle approach to eating, HOW you can shop and prep the food no matter what your schedule, AND the 4 Simple Steps that you can adjust to it to make sure it BOOSTS your Metabolism and allows you to see FAT LOSS!  
I have for over 2 years including this system into my own life as well as through my personalized coaching and membership site to the her Health Lounge, but I am now making this Nutrition component available for you to guide yourself!   
To be the first on the list, feel free to sign up HERE and I'll send you a FREE infographic on HOW to eat Nutrient Based!