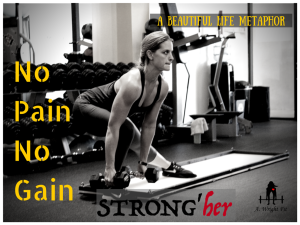 There is no other area in our life where we choose PAIN as much as we do in the form of intense exercise.  Think about it, for those of us that have the real love for exercise, we seem to have some sort of masochistic connection to it.  "It hurts so good" we say!  "No pain, no gain" we shout!
We actually PAY MONEY for classes and trainers that practically torture us and we love it.  (Ok, maybe not ALL of us love it, but I do sincerely believe that every body out there can find one (or two!) forms of exercise that fits just (w)right with your body that you too will love to hate.)
It's true, to build muscle we must first break muscle.  It is a physiological fact.  A design from God Himself. 
What we get from this truth is a strong life lesson that we must apply to all areas of our True Health. 
In order to "grow" in our MINDSET and in our SPIRITUAL life we must endure some pain and accept change.  We must dig deep and get uncomfortable and persevere through some pretty tough times in order to get the ultimate reward of greater health and a greater life.
How can we do this intentionally?  It IS slightly different than the PAIN you get from exercise, because often the emotional pain we may seek won't have that wonderful "endorphin" high that exercise has nor will be it be over in the 45-min time frame that every good solid workout should fit.   
Here are 4 ways I think we can intentionally endure some PAIN to get the life GAIN in life of living God's Greater Purpose for our life: 
P:  Plan—Set. some. goals.   To step out of your comfort zone and grow by taking some risks in life, make some goals that feel BIG and write them down! Then, set out a general plan on how you're going to get there and #justdoit.  You'll be surprised in how effectively motivating writing down your goals are, especially with a deadline! 
A goal for your MINDSET might be something like reading a certain # of books in a month or year about _______ thing you are struggling with or just want to learn more.  It might also be to take the risk a seek that guidance counselor or therapist to deal with that thing from your past your been subconsciously avoiding and "numbing" yourself from your whole life.
A SPIRITUAL goal might be to find a church home where you connect with the way the Pastor teaches or the community of the congregation (this usually takes a few "interviews" to find!).  It might also be to seek the answers to the HARD QUESTIONS you have about your Faith or beliefs by committing to reading God's word or asking someone that knows more. 
"I know I am not yet what God wants me to be.  I haven't reached that goal, but I keep moving forward to make it mine because Christ made me and saved me for this." (Philippians 3:12-15 Living Bible)



A:  Adapt— As you write out some goals that allow you to take some risks and branch out of your comfort zone, you will find you might hit some bumps, delays and road blocks in your dream or answers you seek.  You might FAIL a couple (read: hundreds) of times too.  Here is your grand opportunity to really grow by adapting to these changes in your plans.  We have to constantly adapt our plan to God's plan in order to find the path He has set out before us.    We cannot discount ANY experience we have because there are no accidents in God's will for our life.   If you take every opportunity to assess and adapt to the trial you are facing, you will learn and grow in Faith!

"For I know the plans I have for you, declares the Lord, plans to prosper you and not to harm you. Plans to give you hope and a future." (Jeremiah 29:11)

I:  Invest:  To truly experience the life-changing and life-saving things that will transform your MIND and grow your SOUL, you will need to invest in your CHARACTER above all else.  When God guides you through life, He intentionally takes you through some challenging circumstances that make you wait, endure, and persevere. All of these things are designed to build your CHARACTER. 
As Rick Warren always says, "God is not interested in your comfort, He's interested in your character!"  God is trying to give you the opportunity to grow and be more like His son Jesus.   Our character is ultimately what we take with us to heaven, not our bodies or our circumstances!  When you are being tested, you are given the choice to choose your human, fearful response, or to invest in character and choose the loving and Kingdom response.  Invest in your character by seeking God's will more and more. 
"For our present troubles are small and won't last long.  Yet they produce in us a glory that vastly outweighs them all and will last forever!" (2 Corinthians 4:17)

N:  Nurture:   Just as with our bodies, we are not designed to be in PAIN all the time!  Oh no, we are designed to need some rest, some recovery and some nurturing.  This is God's role when we are branching out in our MINDSET and our SPIRITUAL health.  God is our refuge and is the only thing that we can find real comfort from in times of discomfort and pain.  He does not just abandon us and leave us to figure it out on our own!  No, he is there to give us His fruits of the Spirit and connect us to our God-given courage, strength and power to persevere.   
The purpose of our Greater Purpose pathway is to grow in our relationship with God.  You will find that the beauty of our Pain is that these are the times we feel God the most.  You grow in your Faith and Love with God at these times which allow you to keep going and even love this pain too! 
Just like Paul said, "But he said to me, "My grace is sufficient for you, for my power is made perfect in weakness." Therefore I will boast all the more gladly about my weaknesses, so that Christ's power may rest on me." (2 Corinthians 12:9 NIV)
When you see how much you can GROW from intentionally enduring some pain in life, you will become just a "hardcore" for your  MINDSET and SPIRITUAL growth as you are for your CrossFit, Paleo or Vegan diets!  #imaginethat