Let's Celebrate!  
34 Things I'm Replacing On My 34th Birthday!
This weekend I'm going to be VERY busy celebrating both my 34th birthday (today) as well as my 2nd wedding anniversary with my love, Howard (on Monday).   And, to make sure you're getting in on all the celebrations, I want to offer YOU a special 34% off of all the A. Wright Fit t-shirts, tanks, and planner that you can check out below!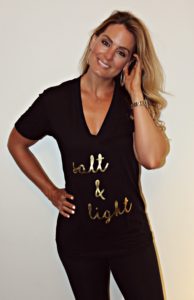 This is a big weekend, but I really do celebrate life EVERYDAY and am certainly not one of those women who cringe at another year older (and I hope you aren't either)!  Life is SUCH a gift and I truly treasure learning and gaining such exquisite wisdom through experience that I am always happy to grow another year older and make it another year married!  Whoop whoop!
My life has changed SO much in the last 3 years when I chose forgiveness for my husband and said yes to a life as his forever partner and wife.  Making that decision made me not only a wife, but a step mom, a co-parent, a world-wide traveler and it even afforded me the opportunity to do what I'm called to do, which is teach and coach women like you.
All of these relationships (including the most important one being with my Father God in whom ALL of these blessings I give full credit for!)  have taught me SO much wisdom at such a rapid pace that I wanted to take a day to reflect on some of the lessons I've learned.
More than anything, as I grow, I am receiving lessons in the things I need to LET GO OF more than the things I need to ADD MORE OF in my life.
But, as I coach my clients in this, you cannot simply "quit things" cold turkey.  It doesn't work with diet and it doesn't work with emotions or character qualities.
For example, if all I'm concerned about is "worry less, worry less, worry less…" then, by that repetition, I will be "worrying" about all my  "worrying."
The PRINCIPLE OF REPLACEMENT is one of my main principles I teach from.  It is POWERFUL when you implement it and are able to REFOCUS your mind on what you ARE going to do, not what you're not.
So this year, there are a lot of things I am setting my intention on replacing in my life so I might become more of the woman God has created me to be.
This year I will:   
Replace my

do more

mentality with be more.  
Replace my speeding-up to "catch-up with time" with slowing down and savor what time I have.
Replace my fretting and people pleasing with confident love that God gives me.
Replace my busy work with God's building work and taking more time to study and grow. 
Replace my frustration with hard circumstances with faith that with God and I can do all things.
Replace passive aggressive avoidance with powerful peace-making.
Replace spending more with

stewarding more

. 

Replace hasty decisions with thoughtful decisions.
Replace telling with

teaching

.

Replace feeling "offended" with courage for compassion.
Replace my "wishing for" with "praying for".
Replace my unnecessary "Sorry's" in my common dialogue with "Thank You."
Replace not dealing with small issues with prayerfully speaking truth into every situation with love. 
Replace fretting over my lack with refocusing on my blessing.
Replace blaming others with taking responsibility for my own thoughts, words and actions. 
Replace more texts with phone calls. 
Replace more social media surfing with book reading.
Replace taking on more goals with finishing more goals I already started.
Replace my desire to have more with needing less.
Replace my guilt for my blessed life with gratefully serving others in need.
Replace my comparison with celebration of others.
Replace complaining about what I hate in this world with promoting what I love in the world.
Replace

competition

with collaboration.
Replace small-minded goals with God-sized goals. 
Replace striving with diligence.
Replace leading with serving.
Replace my inconsistency with selective discipline.
Replace my embarrassment with laughter. 
Replace feeling helpless with being helpful.
Replace nervous busyness with celebrated rest.
Replace harder workouts with smarter workouts.
Replace obligation with inspiration.
Replace doing it all with delegating more.
Replace my angst over "am I enough?" with

abundance in knowing that God in me is "MORE than enough!"
So, sure, this is a LONG list of replacement therapy and yes, it WILL probably take me allllll year, if not many more, to fully embrace a life within this intention.  But, I'm ok with that.  The key is knowing that THROUGH God, all things are possible and He has perfect timing.  All I'm responsible for is setting my intention to continue to grow into the woman God has called me to be.  It's a step-by-step process that starts with INTENTION.  Just like my favorite Pastor Rick Warren says,
"You don't grow stronger by accident.  You grow stronger by INTENTION."
DON'T FORGET-- THIS FLASH SALE OF
34% OFF

ALL THE PRODUCTS BELOW ENDS ON 10/15/2016!  SO GRAB YOUR GOODS WHILE SUPPLIES LAST!