Description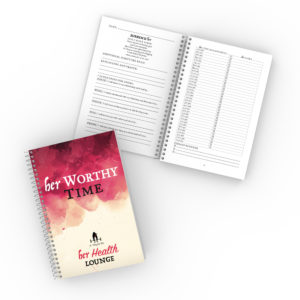 Take your organizational planning and daily intentions to the highest levels!  With the her Worthy Time Daily Planner (undated) you have access to the daily STRONG'her, WISE'her and SURREND'her scripture,  a morning reflection, space for your 5 Worthy Intentions (Faith, Fuel, Focus, Fun and Fresh), and then a daily scheduler and task manager page!
Also includes WEEKLY PLANNING forms where you can set your weekly goals to take the "Next Best Step" in your health consistency (THINK, EAT, MOVE goals).   There are also MONTHLY REFLECTION pages where you reflect on the use of your time every 30-days!
This planner is 6" x 9" in size and spiral bound.  It includes 26-weeks of daily devotionals and planning pages.
For a LIMITED TIME, as a BONUS, I will also send you my FREE training on the "her Worthy Time:  Time Management Tools for Life."  In this video training, I'll teach you:
The Keys to knowing the WORTH of your Time
5 Imperative Factors to Time Management
4 Tools to using her Worthy Time Planner
Cost:  $27 + shipping
The FREE training will be emailed directly to you in video form.
(US Shipping is USPS flat rate of $6.80 delivers in 1-3 days)