Free Yourself From These Top 3 Fear-Based Eating Tendencies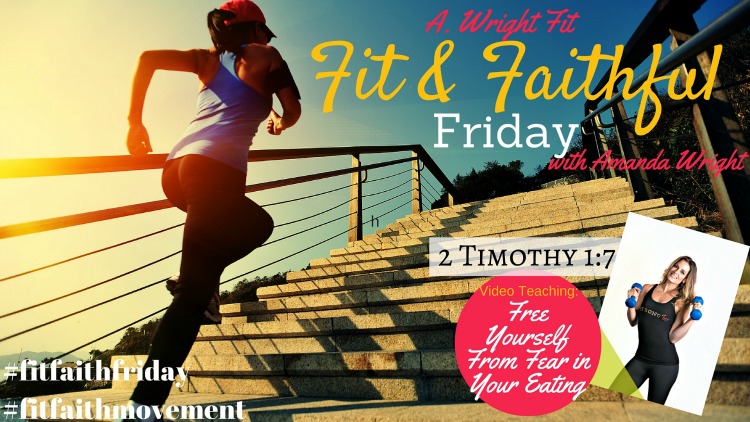 #FitFaithFriday: [Video Teaching] 
How to Overcome Fear In Our Eating
This week I unpack God's word to help us overcome the top 3 fear-based eating tendencies most common among women today.  
Using 2 Timothy 1:7 I encourage you to dive into your SPIRITUAL nature to in habituating and choosing your foods rather than our human, fleshy, and fear-based nature.
2 Timothy 1:7 says:
It says, "For the Spirit God gave us does not make us timid, but gives us power, love and self-discipline."
Recognizing how fear is impacting our eating is the first step toward changing it to being empowered by God and our Spiritual nature. 


Don't Have Time To Watch The Video?
Here are the Highlights 😉
1:35 Unpacking 2 Timothy 1:7 NIV and AMP
3:20 Talking Spiritual Nature vs Fleshy Nature
7:45

#1 Fear-Based Habit is:  

Waiting for the "Right Time" to start your better eating habits. 
The #truth is that you have the "power, love, and self-discipline" to take the NEXT BEST STEP from where you are right now.  You don't have to do everything 'just right' and use that as a delay tactic, you don't have to fear the negative feelings from deprivation because you can still enjoy the foods you love, you can do what you can with where you are NOW. 
You can get the Next Best Step Action Plan FREE PDF right ---> Here 
13:38

#2 Fear-Based Habit is: Exercising "Controlling" Eating Habits (i.e. being 'on plan') with Fear instead of Love. 
This one is tricky because a lot of people will think they are being "self-controlled" with their eating plans and rules but the reality is that their plan is controlling them!  It's affecting their mood, their self-talk, and causes more feelings of guilt and condemnation when things go wrong.  
You can determine if you are in a Spiritual form of self-control by the "FRUITS" that this choice is showing.  Jesus said, "You know a tree by it's fruit" so if this IS the will of God, it will allow you to be more loving, joyful, peaceful, patient, kind, gentle etc.  
If it's NOT, then you know you are rooting yourself in FEAR BASED CONTROL and you might need to change up the "plan" approach.  One way is to use a GUIDE, like my Nutrient Based Eating guide that doesn't include the RULES and micromanaging. 
18:29

#3 Fear-Based Eating Habit is:  Social Pressures of Eating

Whether it's the "fear of missing out," a scarcity mentality, or just eating what everyone else is eating so you don't make them or you  "feel uncomfortable"  all of these fear based tendencies invoke the greatest temptation to eat more than we need or to eat or drink things that don't serve our health goals.  

You need more of your Spiritual "POWER, LOVE, and SELF-DISCIPLINE" to be the change you wish to see in the world and to be a shining example to those around you of what health can look like.

 It should be joyful, peaceful and confident choices for you to resist the temptation of what everyone else is eating.  
Coming Soon!
 The DIY Guide to
Nutrient Based Eating for Fat Loss! 
In just a few short weeks, you can get your very own guide to WHAT the Nutrient Based Diet is, HOW you can start including this lifestyle approach to eating, HOW you can shop and prep the food no matter what your schedule, AND the 4 Simple Steps that you can adjust to it to make sure it BOOSTS your Metabolism and allows you to see FAT LOSS!  
I have for over 2 years including this system into my own life as well as through my personalized coaching and membership site to the her Health Lounge, but I am now making this Nutrition component available for you to guide yourself!   
To be the first on the list, feel free to sign up HERE and I'll send you a FREE infographic on HOW to eat Nutrient Based!