Mmmmm…..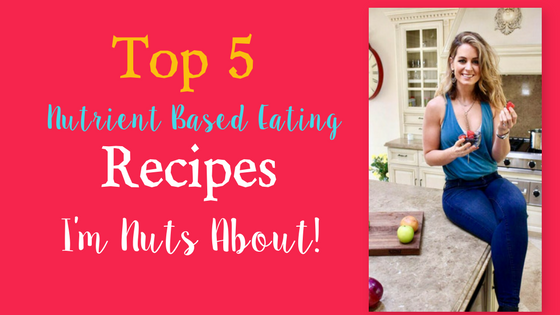 You might think that because I am a certified nutritionist and creator of a nutrition program, called Nutrient Based Eating, that I must love cooking and recipe development.
Well, my dear, you would be WRONG. ?
I have so much respect for the food bloggers out there! Truly, BLESS YOU! I have created some recipe books and ideas before and I find the whole process (on that level) to be exhausting!
So EATING….YES.
RECIPES….not so much.
But, I think this works out quite well as a nutrition coach because my clients now know that I am all about simple, delicious food that is NOT overly cumbersome to create. Every once in awhile a detailed recipe is awesome, but unless it can last me for more than one meal, I usually will defer to the easier meal ideas.
I like SIMPLE and QUICK meals that are BALANCED, HEALTHY, AND TASTY. So that's what I'm going go give you today with my….
TOP 5 (CURRENT) FAVORITE NBE RECIPES!
But first, a little 101 on the Nutrient Based Eating program so you understand the necessary components to make a meal truly #NBEapproved!
Nutrient Based Eating is a LIFESTYLE-based approach to eating that takes you through the individual habit-formation steps toward holistic and balanced meals. Meaning, these meals are ones that your family can eat too (or at least a modified version of it, with serving sizes varying).

NBE has 5 Phases

, the first of which, Phase 0, guides you through building up the "NBE Plate." These plates/recipes I will be showing you today are all under the "Phase 1" context, meaning that the habits are all already assumed. If you were just starting out, this is not where I would start you, but eating this way would be where you would wind up after 1-6 habits are formed to automation.

??

NBE components are as follows:

Water

+

Green Vegetable

+

Colored Vegetable

(or low sugar fruit) +

Starchy Carb

(or high sugar fruit/sweets) +

Protein

+

Fat

. You will (eventually) eat your meals about every 3-5 hours (once you get to that habit). The serving sizes or portions of each food group are adjusted according to a plate graphic and hand measuring tools.

SO, if this is enough information to at least allow you to understand the general framework, let's get to the food shall we?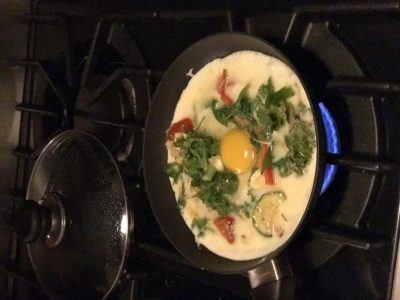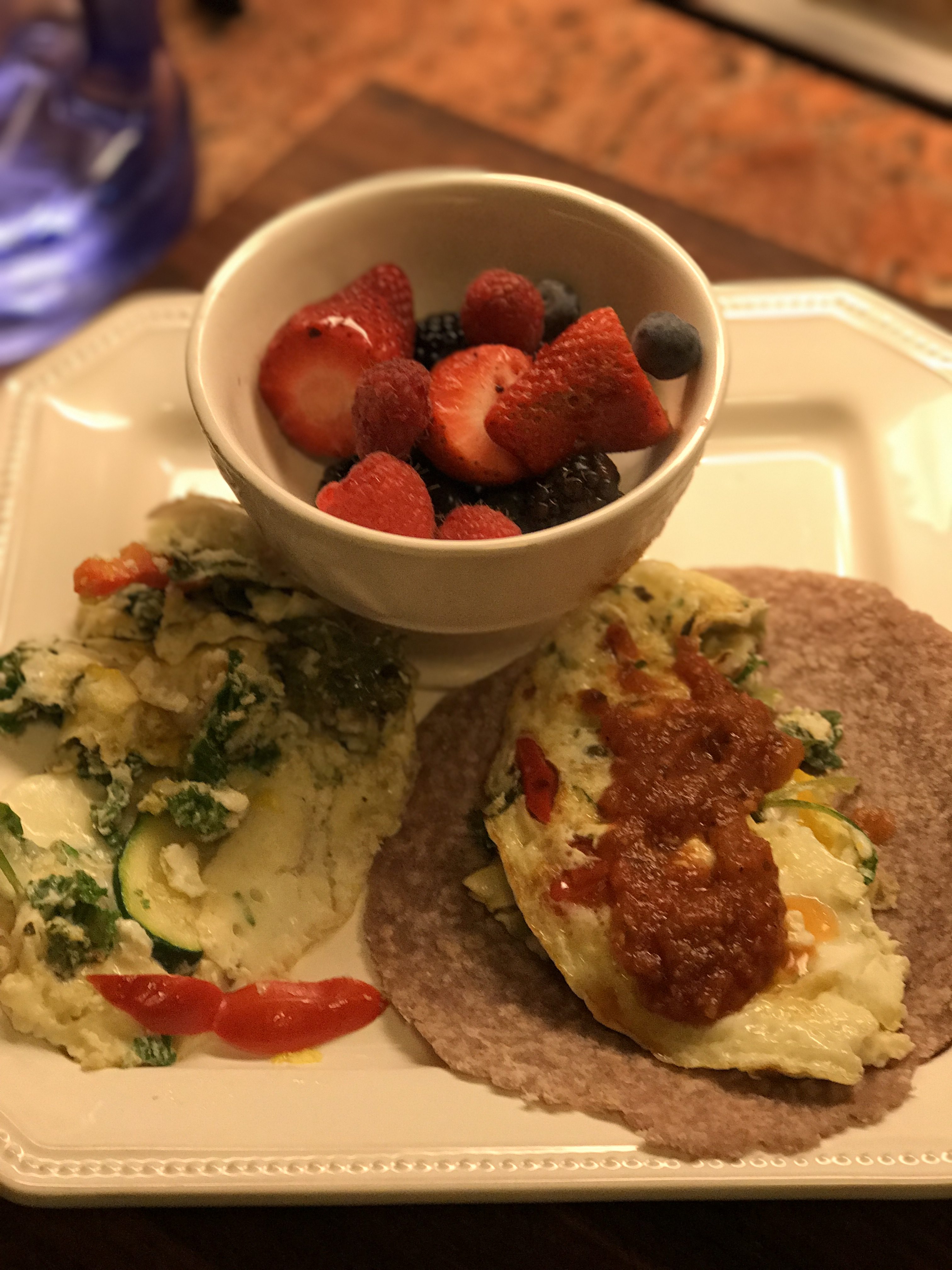 NBE Breakfast Tacos
Ingredients:
1 Whole Egg (Fat), 1/2 Cup Liquid Egg Whites (Protein), Kale or Spinach (Green Vegetable), Zucchini (Green Vegetable), Red Pepper and Red Onion (Colored Vegetable), 1 Blue Corn Soft Taco Shell (Starchy Carb). Served with fresh berries (colored veg/low sugar fruit).
Directions:
Saute the kale, spinach, zucchini, sliced red pepper and onion on a hot skillet with light olive or avocado oil for 1-2 mins on medium heat.

Add in 1 whole egg and the liquid egg whites. Cover with a lid to cook it "frittata" style. You can also simply scramble them lightly.

Heat up the corn tortilla in the microwave for 20 seconds.

Once the eggs are cooked to your liking, put half of it in your corn tortilla shell and the other half on the plate to eat alone. Add some fresh salsa (with no sugar added) if you like a little spice.

I also enjoyed some fresh berries after for a fulfilling breakfast. 🙂
NBE Power Smoothie
Ingredients:
Handful of Spinach or Power Greens, Frozen (Green Vegetable)
1 Zucchini (Green Vegetable)
Frozen Berries (Colored Veg/Low Sugar Fruit)
1 Carrot (Colored Veg)
1/2 Frozen Banana (Starchy Carb/High Sugar Fruit)
Unsweetened Almond Milk (some fat)
Avocado (or coconut) (Fat)
Plant-Based Protein (or pasteurized egg whites) (Protein)
(Optional– chia seeds (fat), hemp seeds (protein), flax seeds (fat), cinnamon (n/a))
Directions:
Place all items in your blender and blend away!! You can add more or less liquid based on how thick you enjoy your smoothie. Sometimes the frozen items can get stuck in your blender, to which I use the Vitamix wand to break it up. You may need a wooden spoon or spatula.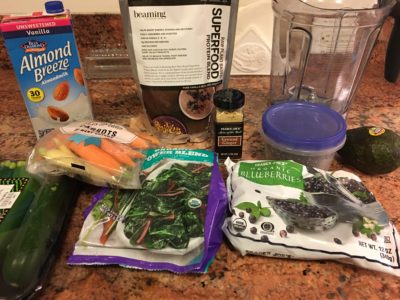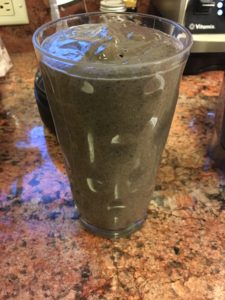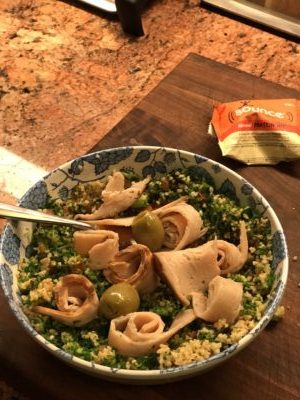 Taboule Turkey Salad
Ingredients:
Finely Chopped Parsley, flat leaf or curled (Green Vegetable/Herb)
Diced Cucumber (Cucumber)
Diced Tomatoes (Colored Vegetable)
Bulgar Wheat, or Quinoa if GF (Starchy Carb)
Lemon Olive Oil Dressing (Fat)
Smoked Turkey (Protein)
Directions:
Buy as much pre-made for you! Lol. I bought an organic sliced turkey breast instead of cooking my own. I also bought a fast-cooking bulgur wheat (or quinoa) that I made a large batch of. This entire salad keeps really well, so make it large and eat it throughout the week!

Bulgur Wheat is made much like rice or quinoa. 1 Cup Bulguar to 2 Cups water. Bring to a boil on stove top. Then reduce the heat and allow to simmer on low for ~15 mins until you can fluff with your fork.

Finely chop the parsley or use a food processor for even greater ease (minus the clean up!)

Chop the tomatoes and cucumbers.

Mix 1/4 cup olive oil with fresh lemon juice and a pinch of salt.

Toss all ingredients together and top with some sliced turkey.
Lettuce Wrap or Regular Tacos
Ingredients:
Butter Lettuce or Romaine Lettuce Hearts (Green Vegetables) for taco shells
Ground Turkey or Grass-fed Beef (Protein)
Red Bell Peppers & Onions (Colored Vegetable)
Portobello Mushrooms (Green/White Vegetable)
Refried Black Beans (Starchy Carb)
Sliced Avocado (Fat)
Directions:
Cook the ground meat of choice all the way through stovetop on medium-high heat.

Saute lightly in olive oil the peppers, onions, and mushrooms.

Cook the refried black beans (from a carton or can) in a saucepan or even the microwave!

Slather the lettuce wrap with beans first, add on the meat and the veggies. Top with the sliced avocado and even some salsa!

Enjoy!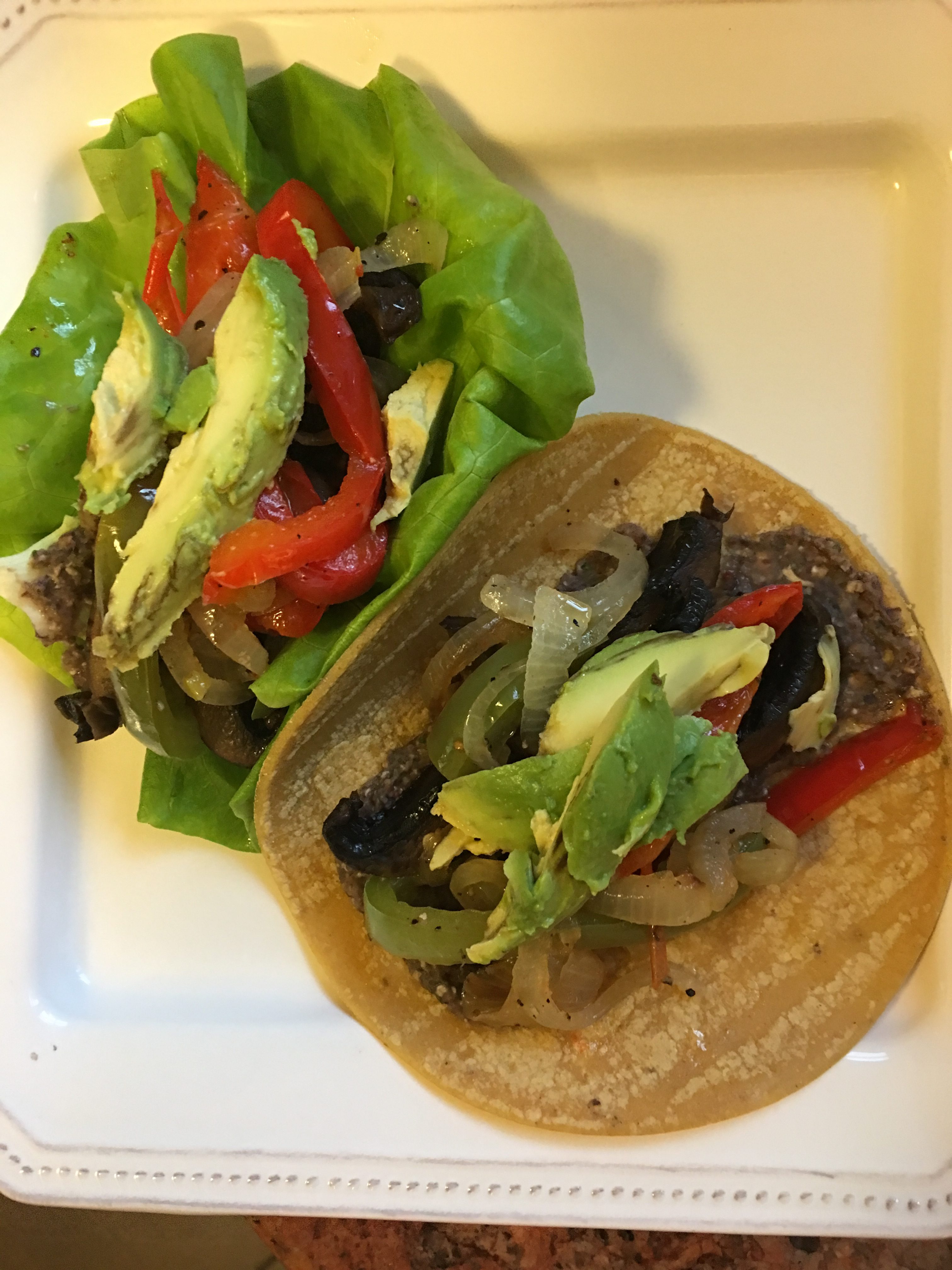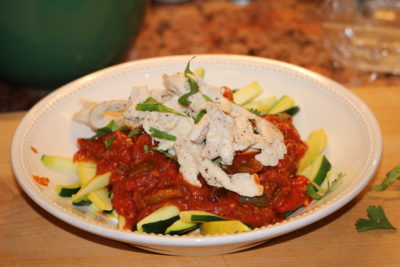 Zoodle Pasta Primavera
Ingredients:
Butter Lettuce Cups or Romaine Lettuce Cups (Green Vegetable)
Sliced Peppers, Onions, Garlic, Portobello Mushrooms (Green/White Vegetables)
Red Peppers, Fresh Red Salsa (Colored Vegetables)
No Sugar Added Marinara (from a jar for me, but you can make homemade with crushed tomatoes) (Colored Vegetables)
Sliced or Ground Protein of Choice (Chicken, Turkey, Lean Grass-fed Beef, Grass-fed Bison) (Protein)
Olive Oil (fat)
Directions:
Cook the meat stovetop all the way through.

Saute in olive oil the vegetables until the onion is translucent on medium heat. (You can blend these or finely chop them if you live with family members who are more vegetable opposed).

Add the vegetables and marinara together in a saucepan on medium heat.

Spiralize or thinly slice 4-6 zucchinis for the "zoodles." For best results I microwave these on high for 2-3 mins to keep some "crispness" to the zucchini. I find that boiled them leads to water retention and mushy noodles.

If anyone in your family is zucchini opposed, they can have regular noodles while you have zucchini (or another option which is spaghetti squash).

Nutrient Based Eating eBook & eCourse for Sale!
If you are interested in learning more about the Nutrient Based Eating program that has led women to thriving lean bodies just one habit at a time, then this is YOUR week! For a very limited time, I will be opening up this program for purchase outside of my normal coaching program!
Cart OPEN on Wednesday, March 1 only until Friday, March 3! But an early purchase opportunity (and discount) will be offered to my email subscribers on Tuesday, February 28! To get on that early bird list, subscribe HERE.