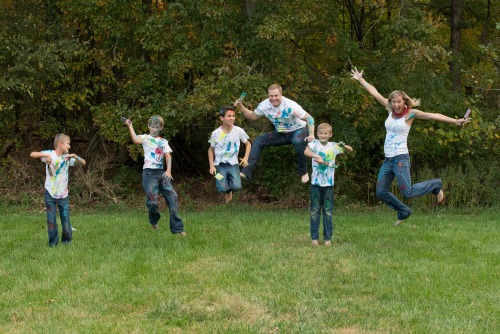 As I mentioned last week, I was honored that Momsanity extended such love and care to me as a "newbie" into the Fit and Faith world. The more I learn about these two women, the more I admire them and know that God had a hand in our introduction. I can't wait to see where it grows!
You'll find all of Debbie's answers to my questions to be incredible and helpful to all of us that are going similar circumstances. She *GETS IT* and that's such a blessing.
HOWEVER, what she doesn't tell us in this interview is more of her story, which speaks volumes of who she is.
Debbie started her own business (with the lovely Emily) after unexpectedly losing her husband and the father of her 4 young boys, who were 8, 7, 4 and 4 (twins). Emotion catches in my chest just trying to comprehend that.
The strength this woman has, and the warrior that God clearly called her to be, speaks volumes to the courage that Debbie has, the passion that she has to help women in their Fitness and Faith, and just how amazing God is that He can turn such tragedy into grace-filled and joyful opportunities in this life.
You can read more about her personal story from a blog I found of her website on her personal blog HERE. My favorite line is right after she tells about this unspeakable tragedy, her first sentence says, "God is so good."
Understanding the background of Debbie's life is a gift to see what humble strength looks like. She truly cares about what she does and about helping women in their Fitness and Faith. I'm honored to showcase and feature her here!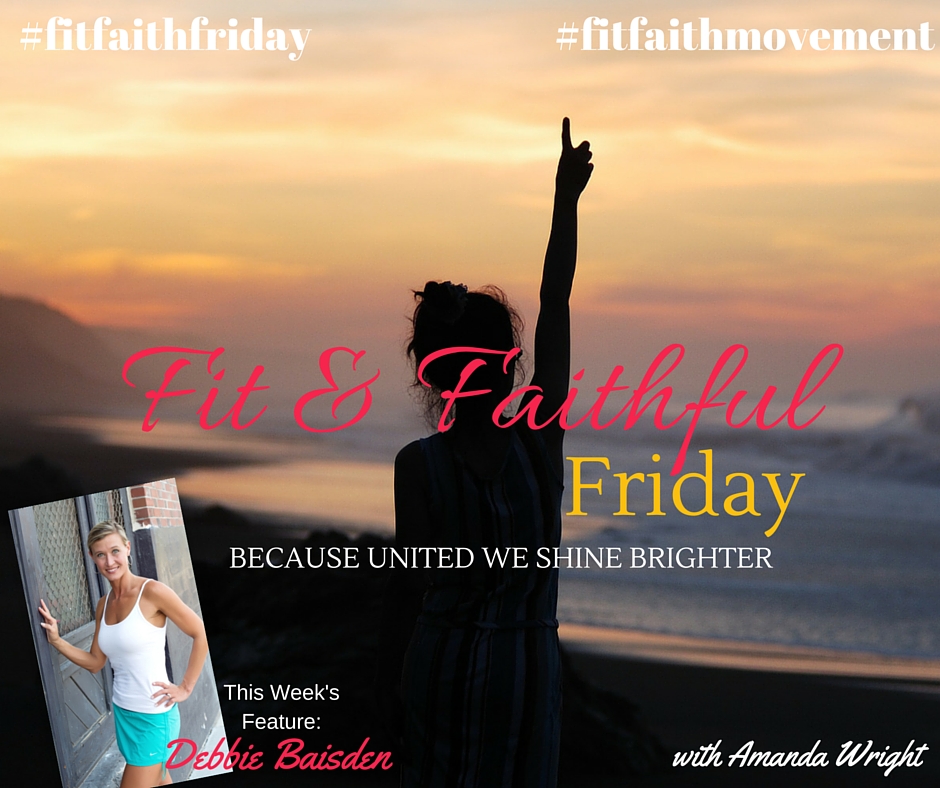 Me:

Tell us a little bit more about what you do and how you came to start it?

 
Debbie: Superficially, I began pursuing all things fitness and nutrition because of vanity.  My pants were shrinking and my diet rivaled a teenage boy's.  My friend (and now partner-in-crime) Emily taught me there were smarter ways to get my pants to fit that would help me look and feel my best.  Now she and I have teamed up to help other moms navigate fitness and nutrition in a way that honors Jesus.
 

Me:

 

How do you think your Fitness impacts your Faith and your Faith impacts your Fitness?
Debbie:

By taking care of my body that's made in the image of God, I am able to have the strength and energy to serve Him better.  By turning my workouts into a form of worshiping my Maker, I have a perspective of thankfulness for an able body.  I can do all things through Him who strengthens me!
Me:

  What is the number one thing that you see women struggling with today?  How do you think Fitness and/or Faith can help them?
Debbie:

 I think women are discouraged.  Change seems impossible, defeat from the past echoes daily and they are just so busy that they are drained in every area of life.  I think faith is the game-changer and fitness is simply a byproduct.  When they can dig in to God's Word they discover how precious and valuable they are.  As they spend more time in prayer and study, they are transformed inwardly and have this realization that it's an honor to take care of their beautiful bodies.  It is all about a heart change.
Me:

What is the biggest lesson you've learned recently?
Debbie: God is having to constantly teach me that I am not the boss.  I have the need to drop to my knees and lay everything at His feet.  I have asked Him to stretch my faith and to increase my reliance on Him.  He is doing that both professionally as well as in my walk with Him.  I am being forced to be uncomfortable, which is exactly how my faith should look.  I must stop boxing God in and attempting to humanize Him.
Me:

 

What dreams do you have for this year and for the future?  What role do you expect God to play in developing these into realities?
Debbie:  Without Him, every plan will flop.  I want Him to direct my steps.  I want Him to be before me, beside me and behind me.  What I want is to become a cheerleader for more women, teaching them that they are already worthy and that they can juggle the demands of motherhood in a way that brings joy.  I really want to empower women to take care of their bodies in a way that honors Christ.  Momsanity has a lot of plans in place to really go all out and it's exciting to see what this year looks like.
Me:

Is there anything you have coming up that we can join you in? 
Debbie:
Momsanity does in fact have at least 2 major exciting announcements this spring!  Both of these will be really amazing ways to help moms in our mission that focuses on Motherhood, Faith, Fitness and Nutrition.  We will begin announcing in February what we have been working hard on for months.  Until then, stay tuned to www.projectmomsanity.com so you don't miss out!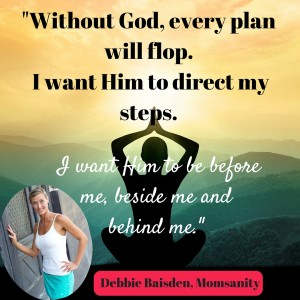 If you'd like to connect with Debbie, here's where to find her!
Debbie Wilkins Baisden is a widow-turned-newlywed mom of 4 little boys who thrive on volume, violence and destruction. Debbie leads local workouts and runs 2 online businesses that zero in on helping others look and feel their best. You can find her at www.projectmomsanity.com and www.fitwithdeb.com