3 Top Notch Scheduling Practices:
Complete this sentence:  "If I just had _____________ I could live the healthy, faithful life I aspire to live." 
Well, if you're like any of the 80% of the women who I interviewed and surveyed this question to, your answer is something to the effect of "

more time

." 
This year, I am busier than I have ever been.  So I have been incredibly intentional on building the SKILL of my activity (a.k.a time) management so I could be productive in my business, mindful to my relationships, and dutiful to my health.   
Managing your activity is one of the best skills you can invest in developing for yourself that will have a PROFOUND impact on the likelihood of success in your health and relationship with God.  
So these 3 strategies DRAMATICALLY helped me manage my busy schedule much better so I could still make time for my Faith, health and fitness goals.
 #1.  The 5 Category System:
My days were wildly overwhelmed until my  "She Works His Way" mentorship happened.  In this 1-month mentorship with coach Michelle Myers, she introduced the 5 Category system to me which took my scheduling to another level. 
Now I only focus on those activities that fit into my chosen Categories of greatest VALUE in my life AND the deal is,
 in each category, I can only have

3-5 ACTIVITIES

that I devote myself to.  
That's IT.  
The reason there are only 3-5 activities is because that is the number of things you can do for each category

WELL

.  Any more than 5 would cut into the quality and commitment to the others and ability to complete certain tasks any respectable amount of time.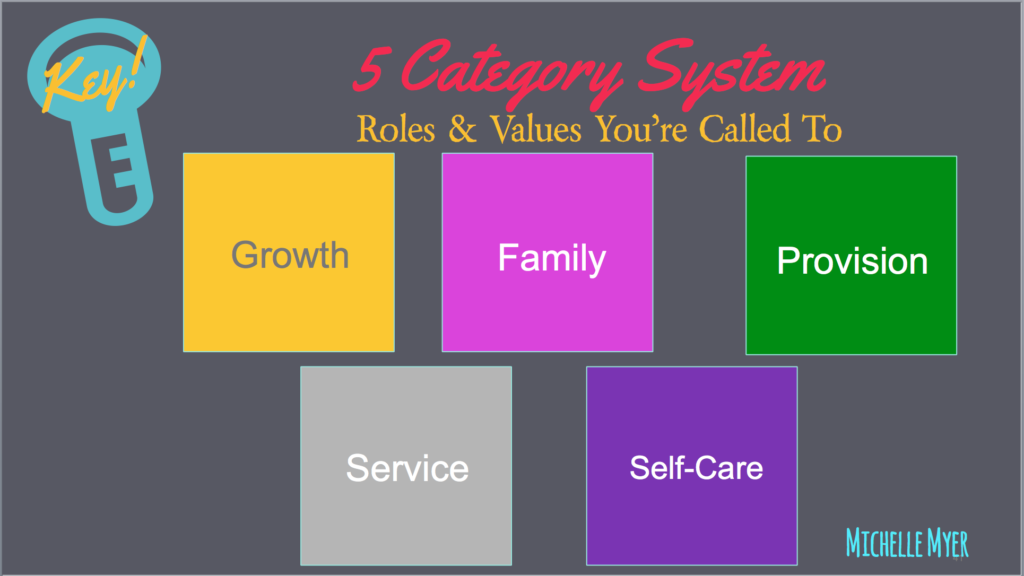 So, my most important category (which I think you should have too) is my

GROWTH Category

.    In this category are the following activities:
Time with God.

Rest/Downtime

Learning and Developing Skill #1 (like my certifications/biz development)

Learning and Developing Skill #2 (a particular study or course I want to take).

Learning and Developing Skill # 3 (work with a coach)
Another important category is

HEALTH and SELF CARE

:
Exercise

Mobility/Alignment

Meal Planning

Hair, Nails, Etc appt.

Reading for Fun/TV/Movies
One difficult one is the

PROVISION/WORK

Category.  For me it looks like
Coaching Calls

Writing/Blogging 

Social Media Presence

Program Design or Launch #1

Program Design or Launch #2
Other categories you might have are things like:  Family/Friends,  Service/Volunteer, Leadership/Mentorship, Hobbies/Activities  etc.  All of these should be categories that are UNIQUE to your personality and calling. 
So, you can see that there isn't isn't a whole lot of room to get too crazy on the number of people/things in each category.   It forces you to make some decisions on

WHAT'S MOST IMPORTANT TO YOU (i.e. what God is calling you to do) 

 and focus on doing those things WELL TO COMPLETION.  
The key is to then give yourself permission to

DELEGATE

anything that doesn't fit into the category to someone else to handle it (cleaning your house, certain parts of your job, hiring a assistant etc) OR simply put off a project until you finish another one, knowing there is plenty of time for you to accomplish that when you have some space free.  
#2.  TIME BLOCKING + BREAKS:
Once I had my

PRIORITIES

configured, I then IMPLEMENTED them into my daily schedule by using a system I was already accustomed to —>

TIME BLOCKING

. 
Hopefully, you know by now that

MULTITASKING doesn't work

(see study by Dr. Caroline Leaf HERE).  So for productivity, focusing on a single task in a BLOCK OF TIME is one of the best ways to break up your daily schedule.  
The book, "The Power of Full Engagement" shows that most productive people who excelled at their jobs, were those that would work FULLY ENGAGED for 90-Min BLOCKS of time and then give themselves a 15-min break before going back at it.   
The amount of time was significant because it was just enough to get intensely productive but just shy of getting fatigued.   
The second part, the BREAK is also incredibly powerful.  It's just enough time to get in a quick walk, do some mobility or stretches, or to eat (yes, I'm a fast eater).  
The BREAK is so powerful because it allows enough recovery time to then be able to get back into the zone with the next Time Block and be more productive that way.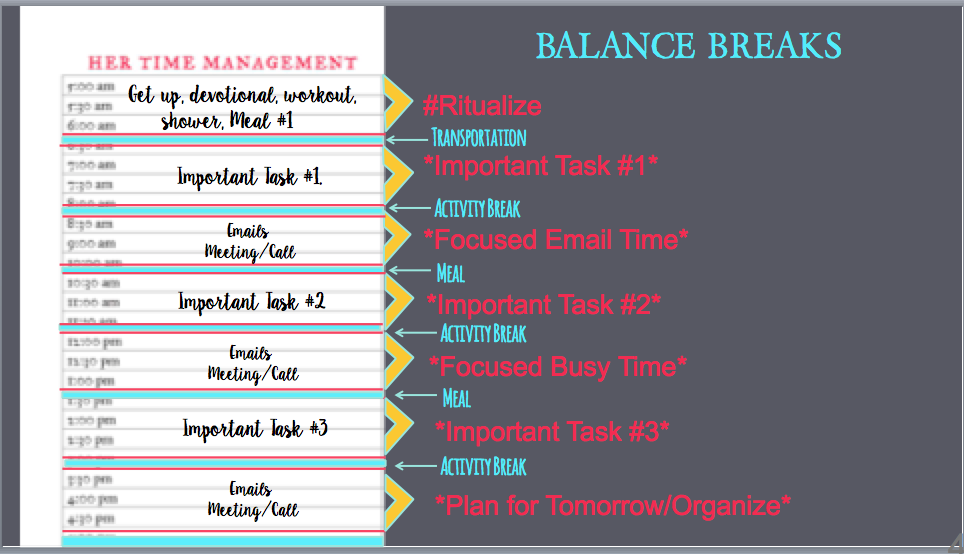 #3.  INVEST WISELY NOW TO SAVE TIME LATER:
 One of the BEST lessons
 I've learned (the hard way no less) as an entrepreneur is how

VALUABLE

it has been to invest in quality coaches and mentors who know what they are doing so I don't have to try to waste time trying to figure it out on my own.
It has been a significant amount of money, but money that has been

WELL SPENT

because I have been able to save myself from the FRUSTRATION of trying to go it alone.  
This is exactly why I would

LOVE

for you to join me in my

FREE 4-Week "A. Wright Fit Reset"

program this Fall.  I know for a fact that investing your time in a program I have METICULOUSLY developed for ALL AREAS OF HEALTH (Nutrition, Fitness, Mindset, & Spirit) will be an investment of your time that is well worth it because it will

SAVE YOU TIME (and maybe even money!) IN THE END!
I hold no fear in openly sharing with you just how much I LOVE working HARD on learning and passionately pursuing Fitness & Faith so I can be and ELITE COACH who truly helps and impacts her clients lives. 
I have taken extensive and expensive measures to be very

well versed and intentionally BALANCED

in knowledge and acumen to address ALL areas of your health, not just a couple.  
It's why I decided to level-up my certification this year to become a CSCS through the NSCA and am currently studying for my second Nutrition certification through

Precision Nutrition

because I wanted to be sure I chose ELITE institutes that were well known to make ELITE coaches.  The greater the challenge they are for me (which they ARE!) the more I know it will help truly my clients!   
In the same light, this is also why my number ONE resource for ALL things in life is the Bible and Biblical teachings and sermons.  I have learned MORE in this one year of reading the entire Bible and studying God's word than in the previous 3 decades of my life.  My coaching would be nothing but foolish, worldly opinion if I didn't take the time to invest my time in THE resource of pure Truth.   It is the greatest gift I have given myself and those I love and coach. 
I used to think speaking of such things of myself was like bragging, but now I know it's a gift to you that I share this LIGHT of passion I wholeheartedly pursue.  Always remember, when we are called to "let our light shine before others so they may see our good deeds and glorify our Father in Heaven." (Matt 5:16)  When you let your light of life shine, you automatically give permission for others to do the same. 
 Making time for your FITNESS and FAITH  is a LIGHT FOR YOU TO SHINE for those you love the most!  
The world deserves to see you functioning at you best and proudly shining it for all to see!  
Join me in the "A. Wright Fit Reset" to engage in flexing those Physical and Spiritual muscles!    Program starts

August 15

!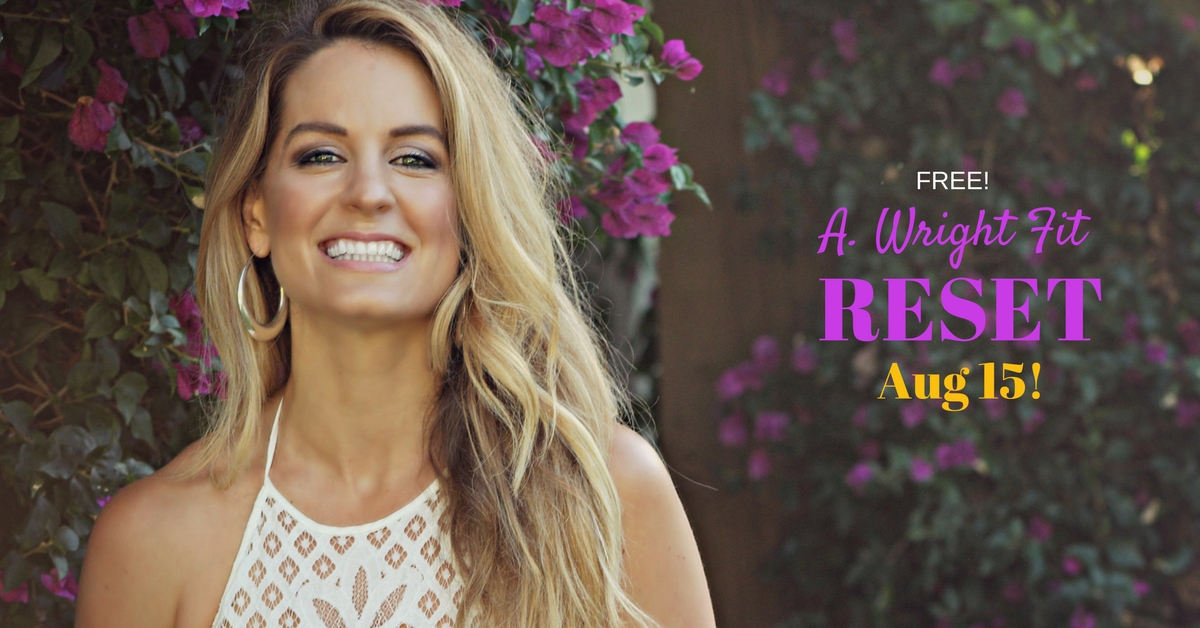 Questions?  Visit this link HERE or contact me directly info@amandawrightfit.com!