My Interview with Anna Willard
I "met" Anna through my business mentorship program under our mutual mentor, Jill Coleman's Best Of You Coaching Club.   It was such a nice relief to find more and more of these women sprinkled throughout this industry and I love all that Anna gets to go and do while glorifying God.  Whether she is water skiing like a CHAMP or just passionately pursuing new ways to push her clients, she has a spark.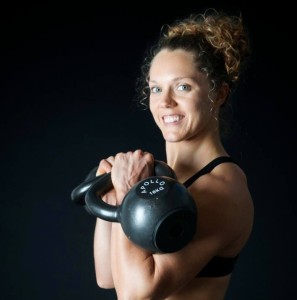 Fresh into starting A. Wright Fit, I especially appreciated her reaching out to me to tell me that she loved that I was being open about my faith through my business.  That kind of feedback can be so empowering for a recovering "people pleaser" who can tend to worry about "what other people think" more often than I'd like to admit.  Sharing our Faith is not always "easy" but she and I can both agree, it is always worth it!    I'm honored to share more about Anna's journey with you today!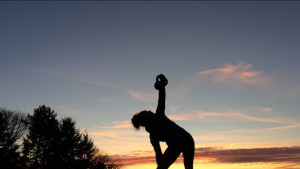 Me:

Tell us a little bit more about what you do and how you came to start it?

 
Anna: I have been personal training for five years and within this past year I took the leap of faith and started my own business IronWillTrain.
Why did I want to start my own business you ask?  My mission in life is to help people see their power potential and reach their wildest dreams by strengthening them physically. I do this with the powerful tool: the kettlebell.  The kettlebell allows everyone to feel they own power and how athletic they can be! Once I am able to physically empower someone through strength training and the kettlebell swing, they start to believe they have the strength, the courage and the will to achieve their dreams. 

IronWillTrain is much more than training the body; it is learning how to train the mind through physical strength.  It is a journey. Learning to train different aspect of life like patience, trust, and diligence (just to name a few).  There are other aspect everyone will learn through their journey, I simply guide them and help them develop a power practice.  
Me:

 How do you think your Fitness impacts your Faith and your Faith impacts your Fitness?  
Anna: 

When I started playing sports in grade school, I realized I was given an amazing athletic ability.  Most importantly, I saw this as a gift from the Man up stairs.  I started viewing this gift as a responsibility to give Him the glory.  I remember when at the basketball free throw line saying a little pray this is for you Lord.  The times I played for someone other than Him (like myself wanting the spot light) I would have one of the worst games of my life! This is when I realized my fitness and Faith are the same.
The Lord has taught so many things through my strength but much more through my weakness. I have experienced many injuries, but every time the Lord has taught me the importance of Trust, Patience and Forgiveness. 
It has been a journey seeing how Faith and Fitness are the same!  We are all given a gift of life with an amazing complex human body that is designed to do amazing things! And the amazing part is God wants to work through this vessel this body! Fitness and health is both a joy and an obligation to maintain!  It is a gift we are able to give back to the Lord and to give back to those who we love.
So to answer your question, fitness is me taking action on my Faith.  Faith is not faith without actions.  We have this beautiful opportunity to take action with our Faith through Fitness; it is simple making sure who gets the glory.
Me:

  What is the number one thing that you see women struggling with today?  How do you think Fitness and/or Faith can help her in that struggle?
Anna: 

Wearing confidence with beauty, many women are not confident in their own beauty.  We all have a very unique specific beauty that is designed for each of us to wear.  Many times women will hide their beauty with food, with stress, and/or with work. Or we don't even see our own beauty because we are to busy looking and admiring others' beauty.  Seeing beauty in other is wonderful! But remember to be able to recognize beauty means you have beauty living inside of you!
Fitness allows women to build their confidence right away! Slowly I believe they start to see how amazing their bodies are and how exclusive their own body is created!  Faith is trusting how our bodies are created differently but all reflecting a different aspect of beauty.
Confidence comes from trusting in our own beauty!
It is like the Sunsets, there is never one sunset that is the same.  Us as women are all different reflections of His beautiful Glory.  We simply need to stand in his presence to reflect it! 
Me:

What is the biggest lesson you've learned recently?
Anna: Wow where do I begin?  There have been so many lessons the Lord has taught me through this journey of starting my own business. I am constantly reminded I am nothing without the Strength of the Lord. 
Just like fitness, when I try to muscle through an exercise routine versus focusing on the skill itself I end up working too hard or worse, injuring myself.  When I don't go before the Lord, I do the same thing in life; I try to work and muscle my way through life forcing things that are meant to be. I make it harder than it really needs to be.  So to answer your question is TRUST! Trusting the Lord has me right where I need to be.  Trusting he will give me the strength for the next task at hand or simply the right words to say.
The verse that has been guiding me is Proverbs 3:5-6
"Trust in the Lord with all your heart and lean not on your own understanding in all your ways submit to him, and he will make your paths straight."
Me:

What dreams do you have for this year and for the future?  What role do you expect God to play in developing these into realities?
Anna: As a beginning entrepreneur, there are so many ideas swimming in my head!  But I feel the Lord is creating a movement with these ideas into one big wave!  And I am excited to ride this wave he is creating in me.  So to be more specific, my first goal is to launch a beginners Kettlebell course online! YIKES! Ok I put it out there now its time to deliver!  Here we go! 
ME:

I am just starting a blog series on living with FRUITFUL Health and walking through how to live the 9 Fruits of the Spirit in our health.  We are starting off with LOVE of course!  Can you tell us how it is that you have found a way to LOVE taking care of your health?  How do you know it's REAL love?
Anna: LOVE It!
Love is forgiveness!  Forgiving yourself, forgiving your loved ones, and the hardest forgiving those who feel like enemies.
Forgiving yourself is the start of loving yourself and knowing you are loved.  I know for myself and for the women I work with this one of the hardest aspects of love.  Forgiving yourself for overeating, for lack of exercise… but also forgiving yourself on the harder things like a divorce, a miscarriage, and debt . . . the list could go on.
Forgiveness allows us to experience LOVE despite our faults.  It creates a new opportunity for us to create a different outcome!
ME:

Is there anything you have coming up that we can join you in? 
Anna: YES! HOPE. DREAM. BELIEVE!
These have been my theme words the Lord has given me on my journey of life!  I will be creating an emails serious coming in mid March how to train your hopes and dreams to give you power to believe! 
I will be sharing parts of my story, parts of stories I have read, and inspirational quotes. Most importantly I will be including what the Bible says about these words!  I am super excited about this!

 If you'd like to connect with Anna, you can find her on these social media platforms!
Join Me as the "Nutrient Based Traveler"!
Join my on my 26 day trip around the world to learn how I stay healthy on the road!
Subscribe to this email list HERE and you'll receive regular updates on how I follow my "Nutrient Based Eating" plan in Washington D.C; Philadelphia, PA;  New York NY;  Munich, Germany;  Barcelona, Spain;  and Maui, Hawaii!
You'll also get my quick and dirty hotel workouts, my go-to snacks I pack, and a bunch of video and pictures of all that I am so lucky to experience!  
I hope you'll join me in on the Nutrient Based Fun!  Sign up today and you'll receive my Free Infographic on the 5 Steps To Building Your Nutrient Based Plate!