Real quick, just a friendly reminder that today is the LAST DAY to save big on the A. Wright Fit Daniel Challenge!  For Cyber Monday, I'm extending my offer for this 6-Week Nutrition Course that starts in the New Year.  After tomorrow it will go back up to $97, but today, you can grab a spot for yourself or any friends in need of thoughtful and helpful gifts, for just 50% off!   Click this link to purchase and enter the coupon code: danielchallenge50.
Can't wait to see the breakthroughs that will come this New Year together!!  For more info, here's the info page. 
But, from now until then, we have a WHOLE LOTTA HOLIDAYS to get through and ideally, we want to do it without completely losing all self-control on the Christmas cookies or spiked Eggnog, #amiright? 
As I mentioned the other day, I recently lost about 7 lbs of weight and inflammation while doing just a 7-day Daniel Fast.  In spite of a glorious Thanksgiving back home in Colorado, I have maintained this weight loss and still feel SO MUCH better!  
The thing is that it is RARE to actually keep off the weight you lose, so I'm definitely brushing up my maintenance skills myself and want you to do the same! 
Over the course of being a Certified Nutrition Coach and personal trainer, I have seen time and time again that I could help HUNDREDS of clients lose 20, 40, 60 lbs of weight over several months of hard work and discipline, but I saw time and time again that MOST of my clients would GAIN BACK a significant portion of the weight they lost. 
Part of the problem was that I had put them on a "meal plan" where they would measure and count their macronutrients.  The tactic worked, as we both saw, but it didn't last because it wasn't a sustainable lifestyle!  
So, this, along with my own spiritual awakening, is what spurred me to create the Nutrient Based Eating program (which is also offered in the Daniel Challenge) AND also allowed me to transition to a more HOLISTIC approach to health changes. 
This is where the STRONG'her (body), WISE'her (mindset), SURREND'her (spirit) tag line came from.  I realized that your health HAS to this balanced approach in order to not just attain health results, but more importantly, MAINTAIN THEM once you achieve them. 
So, for this Holiday season, allow me to give you...
3 PART PLAN TO MAINTAIN THIS HOLIDAY SEASON:
1. STRONG'her TIP:  

The 80% RULE
I call this the "Dating vs Married Principle" in my coaching.  Essentially, what you did to get her you're going to have to do to keep her!  But by "her" I mean, your body changes.  
You need sustain about 80% of the activity and clean eating strategies to simply MAINTAIN what you lost. 
So, if you workout 4 days a week to attain the results, you will need to still workout 3 days per week at about 80% of the intensity to maintain your results. 
If you typically eat really clean for 3 meals and have 1 treat per day to attain your results, you'll still need to eat 80% clean and maybe add in a 2nd treat to be able to maintain those results.
Now, if one week you're on real vacation and you won't have access to your regular routine, seriously don't sweat it.  Just try to keep things normal the week before and the week after and during your trip and walk a lot more and do some bodyweight workouts or yoga while away!  One week won't make a huge difference, but 40 days (between TG and New Year) will! So, set up your plan!
One really helpful tool I can give you is a simple weekly chart I call my "her Intentional Consistency."  I have all my clients write down the THINK, EAT, MOVE goals each week and check off the box when they complete it.  You can download your own copy here to help you track your own consistency.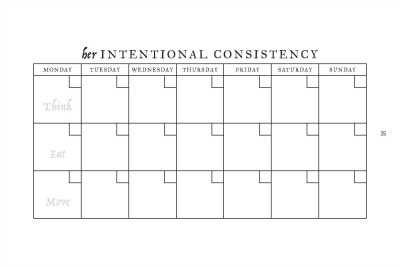 2. WISE'her TIP:  

MANAGE YOUR "ALL OR NOTHING" THOUGHTS
The MINDSET is everything this time of year!  The truth is that you should enjoy anything that you want to eat, but STOP convincing yourself that this is the VERY LAST TIME you can have it since "it's the holidays."
It's simply not TRUE.  When you shift your thoughts away from the "FOMO" (fear of missing out) and start repeating the TRUTH that you can have whatever you want to eat and ANY TIME during the year, you realize that fear dissipates and it strengthens your self-control to enjoy SOME bites, but not the whole batch type of thing.  
So, pay attention to your thoughts in your head.  If you find yourself making excuses like,  "Well, I'll get started again in the New Year, it's just too hard to resist this time of year," then I highly suggest your correct those thoughts before you start to wear them.  
The truth is you CAN enjoy your favorite holiday treats in moderation and still eat in a balanced way the other 80% of the time.
And better yet, when you feel empowered and in control of your eating and don't see the weight gain, bloating and discomfort that comes from binge eating or drinking, then you will actually ENJOY THE HOLIDAYS more!  
Why don't you test it out and see?!
3. SURREND'her TIP:   WELL, SURREND'her IT!
Honestly, if we could all remember that God is with us to help us with e-ver-y-thing on our heart, we wouldn't try to do these difficult things on our own!
Have you ever thought that your eating and exercise is something that "I should be responsible for" and "not bother God with?"  I know I have.   I thought, "Why would I pray for help with my eating when there are people out there with real problems, like not having any food to eat!"
But this is an error in thinking.  When I realized JUST HOW ABUNDANT GOD IS and that when He offers me more self-control (one of the Fruits of the Spirit, Galatians 5:22-23), it's not like He has LESS power or love to give to others!  He's LIMITLESS!
If you struggle with the guilt or asking God to help you with your health, then here is a scripture for you to memorize and dwell on for several days.  
James 4:2b-3 NLT
"Yet you don't have what you want because you don't ask God for it.And even when you ask, you don't get it because your motives are all wrong—you want only what will give you pleasure." 
Overall, this holiday season is always meant to me a celebration!  There is a reason for the season, and it's not to overdo it on spending or calories.  It's to fully receive the incredible gift of our Savior's birth.  
Certainly enjoy your special occasions and those holiday favorites that are worth-it to you.  But remember, life is much more than food.  Get up, get active, focus on your blessings and enjoy every minute.