My Interview with Krista Kokot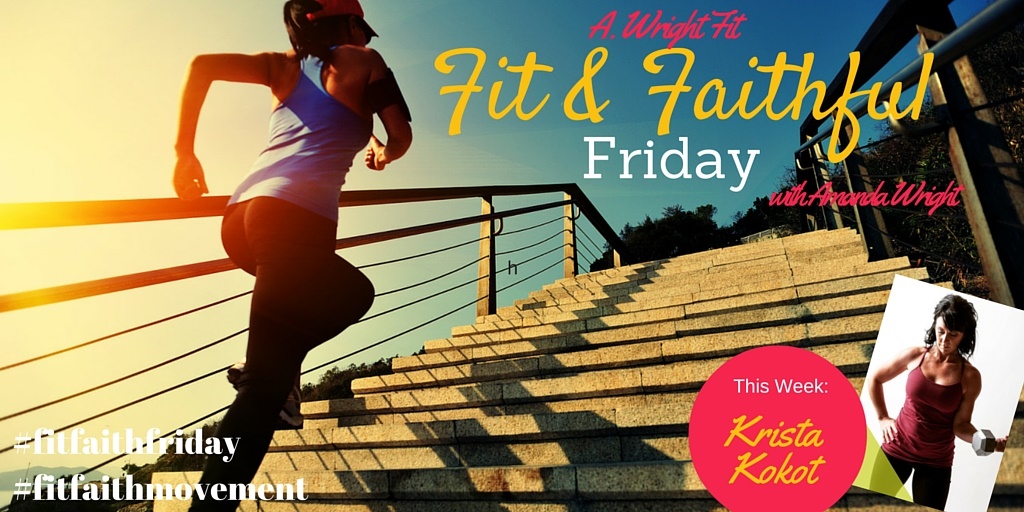 Me: Tell us a little bit more about what you do and how

you

came to start it?

 
Krista: Hi, I'm Krista Kokot, Krista Kokot Coaching, KristaKokot.com. I am a Life Adviser, enthusiast, dream chaser, fear facer, and lover of life. I have found a passion in giving people Permission to Quit all negative thoughts & actions that no longer serve them in the direction they want to in life.
I help people to face whatever fears that are blocking them from living their best lives that God created them for. I am passionate about people just like you, lean into discomfort, give strategic tools to walk through through those times of uncertainty knowing that the outcome will only make us stronger and wiser.
God has given us the ability to chose - and Fear will always be part of our lives, but with the help of people we surround ourselves with, our Faith in something much bigger than just ourselves, I help others just like myself come to point of embracing the discomfort and start growing into the best version of themselves possible.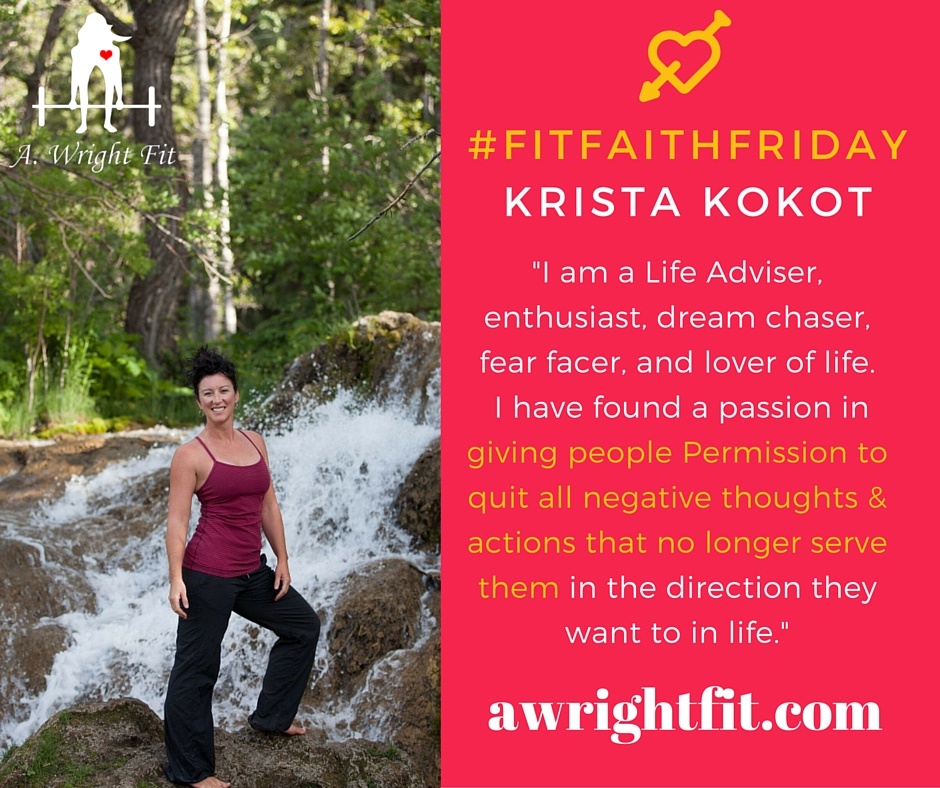 Me: How do you think your Fitness impacts your Faith and your Faith impacts your Fitness?
Krista: Fitness and my Faith in God have always been a part of my life since I was a young girl. I grew up in a Christian home and a very active home with sports being a big part of my life.
I started up my own fitness bootcamp 6 years ago, and through all those huge changes and struggles I came through, my God was always right there with me. God has given me this body to use as a vessel for His teachings here on earth, in whichever way that looks. I believe we need to keep our bodies healthy and happy through whatever fitness looks like for each of us. I spent too many years counting calories, and what the fat content was in each thing that went into my mouth and not enough time giving thanks to the Creator of my body that He made strong, healthy, happy and beautiful.  SO today, now at 42, I love my body image, I love teaching others that Fitness is a MUST, but what that looks like is very different for each and every one of us. Just like God created each of us unique and special on the inside, we are unique and special on the outside too.
Me

:  What is the number one thing that you see women struggling with today?  How do you think Health/Fitness &/or Faith can help her in that struggle?
Krista: Women struggle with comparing themselves to false advertisements out there. I have found over years of continually struggling with my own happiness, and trying to find it in other people, food, fitness, things, money...nothing would satisfy my own happiness until I hit rock bottom and loved myself for who God created me to be, and nothing Less. Finding a healthy relationship with fitness and food was a game changer as well as loving the skin I was in, and relying on my Faith in God. That will be my number one thing that a lot of women struggle with today.
Me: What is the biggest lesson you've learned recently?
Krista: That I know nothing! 🙂 HA! No, not really, but as a 42 year old online Entrepreneur I have learned that every single day we can learn something pretty life changing if we allow ourselves to be open to hear. I have come to the realization that I have got A LOT of life left in me and this beautiful life goes by very fast so we much embrace and learn from each other.
Me: I am doing a series on "Fruitful Health" where we are talking about how to grow the fruits of the Spirit in your health.  We are talking JOY.  How do you find a way to ENJOY taking care of your health?   
Krista: Figure out what works for you. Find exercises and food that work for you and your body. This can take trial and error, just because Cross-fit and tuna may work for your best friend does not mean it will work for you. Keep trying different things and keep them exciting, something that you LOVE to go and do. For example, myself - I love to mix it up. I enjoy swimming, biking, bootcamp, and LOVE LIFTING weights. So I mix my workouts up, I eat 80% of the time healthy good for me stuff (think GREEN) and then the other 20% of the time I enjoy my chocolate, Doritos and glass of red wine.
Once I figured out what worked for me... that gave me JOY!!
ME: Is there anything you have coming up that we can join you in?  
Krista: JULY 3rd I launch a 4 week ONLINE program called SURVIVE to THRIVE. Helping others LEAN INTO FEAR. I will help you see what your fear is, acknowledge your fear, and start the process of getting through that fear that is keeping you stuck in the same spot for months or years on end.
Check it out here --->   http://bit.ly/1YpCL11
And every MON/WED/FRI, my husband and I go on Facebook LIVE and talk Couples Goodness! Struggles, Joys, Sadness, God's goodness, Parenting tips, Spouse tips, Love languages, and anything else that we feel this world needs to hear 🙂
Check us out... http://bit.ly/28OvZwC
COMING SOON!
 The DIY Guide to
Nutrient Based Eating for Fat Loss! 
In just a few short weeks, you can get your very own guide to WHAT the Nutrient Based Diet is, HOW you can start including this lifestyle approach to eating, HOW you can shop and prep the food no matter what your schedule, AND the 4 Simple Steps that you can adjust to it to make sure it BOOSTS your Metabolism and allows you to see FAT LOSS!  
I have for over 2 years including this system into my own life as well as through my personalized coaching and membership site to the her Health Lounge, but I am now making this Nutrition component available for you to guide yourself!   
To be the first on the list, feel free to sign up HERE and I'll send you a FREE infographic on HOW to eat Nutrient Based!