My Interview with Annie Miller
Annie Miller is a Certified Strength and Conditioning Specialist, cheer coach, wife, and woman of Faith.  Her life is a representation of the beauty of strength unleashed.   She has a warrior soul and I'm so glad to know her through this #FitFaithMovement!  
Me: Tell us a little bit more about what you do and how

you

came to start it?

 
Annie: The main business I am currently working to grow is my online fitness programming site FITDESIGNBYANNIE. I have different workout programs at different levels available for women above the age of 18. When I say "level," I mean both fitness level and commitment level.
When I graduated college I had my exercise and sports science degree and had interned as a strength and conditioning at University of Portland for two years. It was my internship project to write a 16 week program for all incoming freshmen. I came to LOVE writing programs. This was my niche and I knew it.
With absolutely no business training, I said shoot, I have this gift, I am pretty darn good at it, no one I know is doing it. LET'S DO THIS!
I started Fitdesignbyannie in January of 2015. I saw a need of people who went to the gym and got a workout in, but weren't getting the results they wanted. I knew I had the love, experience and ability to write these people programs that could produce results, empowerment and education. That is my why.
Me: How do you think your Fitness impacts your Faith and your Faith impacts your Fitness?
Annie: OH muh-goodness girlfriend. DISCIPLINE, PATIENCE, VULNERABILITY, COMMITMENT, SACRIFICE, MOTIVATION, SELF WORTH, SELF BELIEF, INSECURITIES, STRENGTH. It's all related.  Your self-worth can't come from the weights or your physical appearance, it has to be rooted in your true created IDENTITY. Gratitude is a huge one for me. To remain grateful for my blessings. That drives my workouts. I think, "I can be strong, so why would I not be?" I think Faith is the driving force for fitness, but fitness provides tools for faith.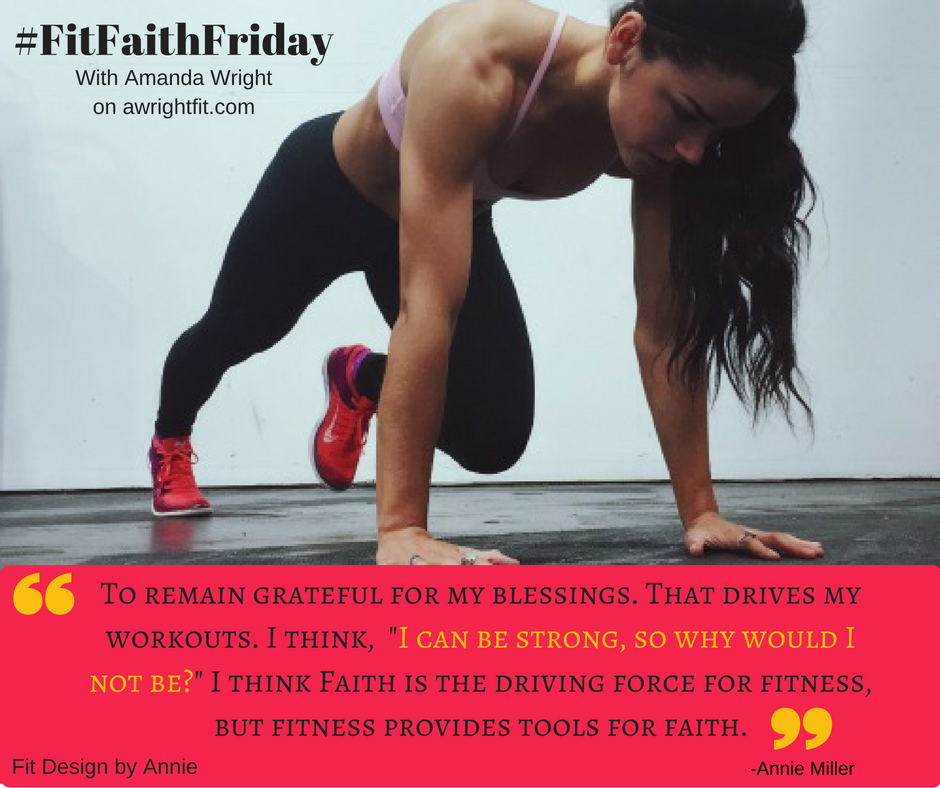 Me

:  What is the number one thing that you see women struggling with today?  How do you think Health/Fitness &/or Faith can help her in that struggle?
Annie: Self-worth. Body-image has been around forever, but the lack of self-worth BREAKS my heart. Taking care of themselves. If they get up and go to the gym enough times, they will start believing they are worth it. The feeling of strength does something to women. It empowers them.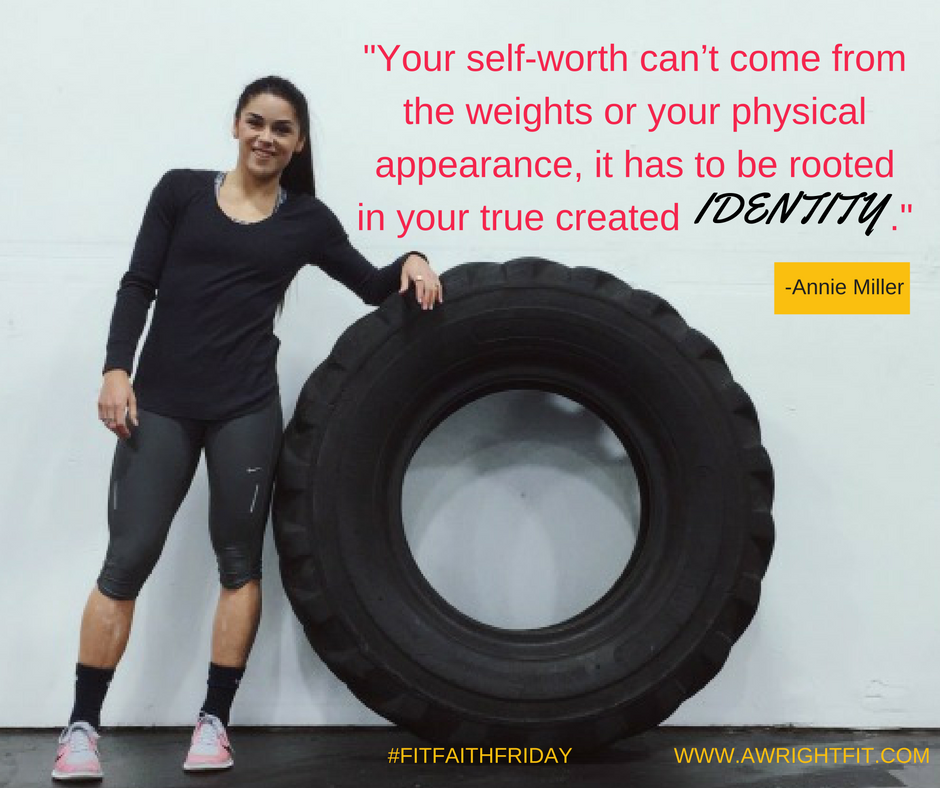 Me: What is the biggest lesson you've learned recently?
Annie: 
Be realistic

with your priorities.

Be real with yourself and your expectations

of yourself. There is a lot of freedom in being real with yourself.  For me, between a business, a husband, getting my lifts in and coaching, I have to

find a balance and accept it

. If your goals don't align with your life state, change the goal, or change your life

.
Me:  What dreams do you have for this year and for the future? What role do you expect God to play in developing these into realities?
Annie: 
I am already amazed at what God has allowed my business to become. NEVER did I think in college that I would run an online business writing personalized fitness programs and hosting 20 day challenges.  But here I am. By the grace of God. Literally. My hope by Jan 2017 is to launch a newsletter which will lead people to my blog posts. The newsletter is my education for sure, but that's my heart. Again, like my website, my writing is real and authentic.

I have to be right with my relationship with God or people can totally feel the difference.

He is working with me currently on patience and thankfulness.

If God doesn't want me to do something, He will shut the door.
ME: I am doing a series on "Fruitful Health" where we are talking about how to grow the fruits of the Spirit in your health.  We are talking JOY.  How do you find a way to ENJOY taking care of your health?    
Annie: Honestly I have pretty bomb genetics and years of training under my belt, so I can make changes in a pretty timely manner. I also know to be patient and trust the process. It's a PROCESS.

I also teach and say in emails to my clients, have grace for yourself. This kind of pairs with patience. I practice this in my own training.

It's not an overnight process.

ESPECIALLY for women! Hello hormones!

I have reached goals over the years and each time it came from being steadfast and consistent

. Once you reach one, it's on to the next.

I think you get more patient with each one.



Want to connect with her online?
You can follow Annie on the above social media platforms to find out more about her!  
Join Me In My Upcoming Webinar!
JOIN THE WEBINAR HERE (must be registered to join!). REPLAYS WILL BE AVAILABLE.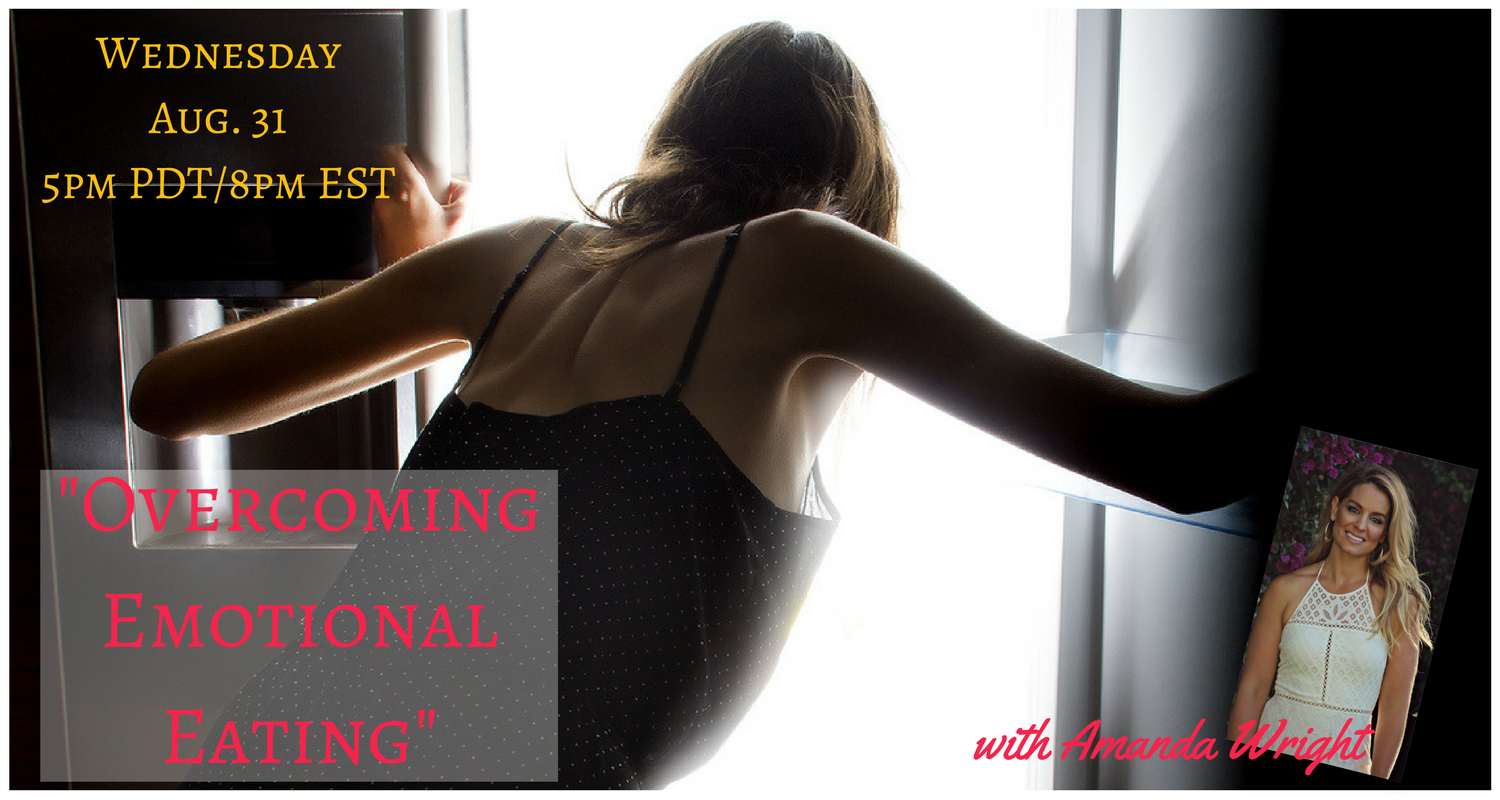 WEDNESDAY, AUG 31, 2016!  5pm PDT/ 8pm EST
In the 'Overcoming Emotional Eating" FREE Training You'll Learn:
The PHYSICAL reasons why our emotions can so easily cause us to overeat.

The PSYCHOLOGICAL reason why we keep going back to the same routine emotional eating habits.

The SPIRITUAL connection that will make ALL THE DIFFERENCE in your ability to overcome this!

My personal success stories and TOOLS that I and many clients have USED to get a handle on our emotions and how it affects our eating!  

How you can learn more about SURREND'hered Health and your worth!