My Interview with Jaclyn Turner
I heard about Jaclyn Turner through another of my Fit & Faithful Friday guest you might remember, Emily Copeland.  But I have followed her on Instagram regularly and find her to just be delightful and inspirational!   I look at the picture of her and her family and think, "Yeah, I would like to be in that family!"  So, enjoy the abundantly STRONG faith that Jaclyn showcases in her answers below!  Something we can all learn from!! 
Me:

Tell us a little bit more about what you do and how you came to start it?

 
Jaclyn: Hi, I am Jaclyn Turner. I am first and foremost a follower and lover of Jesus. I am a wife, a Mom, a business owner, a minister and teacher of God's Word, and an online health and fitness coach. Almost four years ago, I partnered with the company who created P90X, Insanity, and 21 Day Fix and became a coach through the company. Through this opportunity God birthed EncourageFit, which is my business. Through EncourageFit, I work with women who are ready to live the abundant life God designed them to live spiritually, physically, and mentally.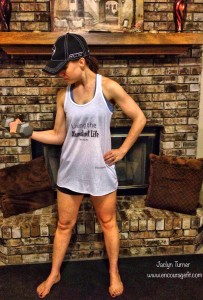 Me:

 How do you think your Fitness impacts your Faith and your Faith impacts your Fitness?  
Jaclyn:

The foundation verse for EncourageFit is John 10:10, "The thief comes to steal, kill, and destroy, but I have come that they may have life more abundantly."
I firmly believe that when Jesus spoke those words He meant our whole health, not just one area of our lives, but ALL areas. God created each of us to live abundantly spiritually, mentally, and physically. I believe that when we take care of our physical bodies we are saying "thank you" to God for the gift He blessed us with. All areas of our health (spiritual, physical, and mental) are intertwined. When we neglect one area, the other areas will suffer. When we take care of ourselves in all of these areas, we begin living the abundant life Jesus spoke of in John 10:10.
  
Me:

  What is the number one thing that you see women struggling with today?  How do you think Fitness and/or Faith can help them?
Jaclyn:

The number one thing I see women struggling with today is self-worth. Women today are having a hard time seeing their worth and value, and in turn they begin misplacing their identity in everything but Jesus.  I can understand this and relate to this because I have been there myself.
I believe that when take care of ourselves through exercise, nutrition, positive affirmations, and prayer, we can see that mindset shift. The chains of bondage will be broken. And we (women) will begin seeing ourselves the way God sees us, as His beautiful masterpiece.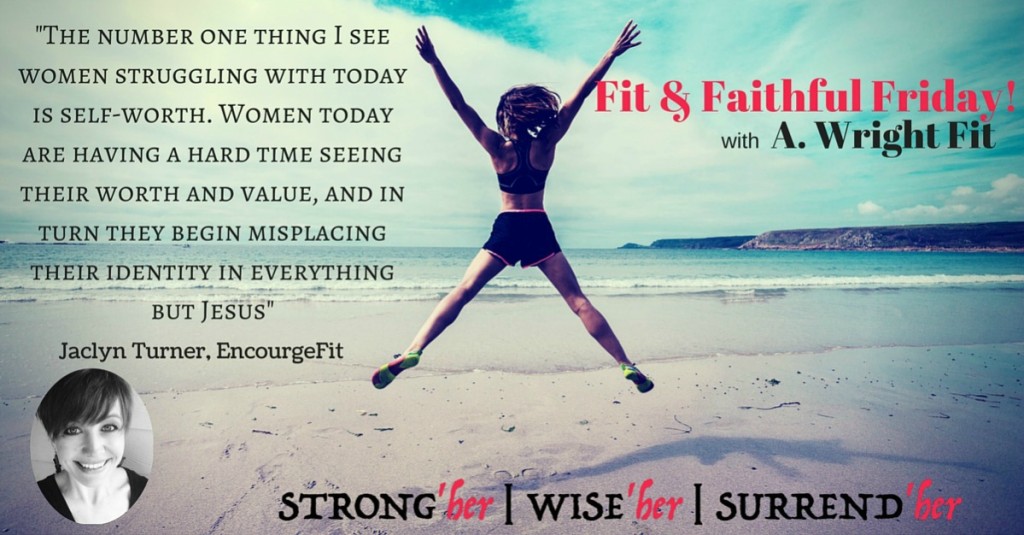 Me:

What is the biggest lesson you've learned recently?
Jaclyn:  One of the biggest lessons I've learned recently is that no matter what, God always sees us as His masterpiece. Whether we achieve a goal or not, He always sees us as victorious, not as a failure. This is something, He reminds me of often.
Me:

What dreams do you have for this year and for the future?  What role do you expect God to play in developing these into realities?
Jaclyn: I would love to see thousands of women set free and begin living the abundant life they were meant to live. I want so much for my sisters in Christ to wake up each day with thanksgiving and praise for the life God has blessed them with. I want them to see themselves the way God sees them. I want them to be able to throw off the chains of low self-esteem, self-hate, and misplaced identity. I want them to live in completely abundant freedom. I believe that God is using EncourageFit to bring freedom to many women who are stuck in the bondage of not being able to see their value and worth. I believe that God is using me and my story to help bring about the freedom He desires for His daughters. God has big things in store, and I just want to be willing and open to what role He desires for me to play in His plans.
ME:

I am just starting a blog series on living with FRUITFUL Health and walking through how to live the 9 Fruits of the Spirit in our health.  We are starting off with LOVE of course!  Can you tell us how it is that you have found a way to LOVE taking care of your health?  How do you know it's REAL love?
Jaclyn:  This is something that I never thought I would actually be able to say, "Love taking care of your health." Ha!
I have found that since changing my perspective and viewing taking care of my health as an act of worship, I absolutely LOVE taking care of myself to the best of my ability spiritually, physically, and mentally. I know it's real LOVE because whenever I think of it, I am filled with joy, thankfulness, and praise, and I can't help but smile.
ME:

Is there anything you have coming up that we can join you in? 
Jaclyn:

 
Each month I host what I call "Fit Life Groups" online. In these groups we take care of ourselves physically through exercise and proper nutrition. I consult with participants beforehand, so that we can select the best workout program toolkit that best fits their personality, workout style preference, budget, and time availability. We take care of ourselves spiritually through devotions, prayer, and scripture focus. And we take care of ourselves mentally through positive affirmations, encouragement, and by checking in with the group and participating daily. These groups are game-changers and life changing. This is where I have seen the most incredible transformations from my clients. We do life together. Each of us holds one another up and walking this journey as a family, not as lone rangers.
 If you'd like to connect with Jaclyn, you can find her on these social media platforms!
Join Me as the "Nutrient Based Traveler"!
Join my on my 26 day trip around the world to learn how I stay healthy on the road!
Subscribe to this email list HERE and you'll receive regular updates on how I follow my "Nutrient Based Eating" plan in Washington D.C; Philadelphia, PA;  New York NY;  Munich, Germany;  Barcelona, Spain;  and Maui, Hawaii!
You'll also get my quick and dirty hotel workouts, my go-to snacks I pack, and a bunch of video and pictures of all that I am so lucky to experience!  
I hope you'll join me in on the Nutrient Based Fun!  Sign up today and you'll receive my Free Infographic on the 5 Steps To Building Your Nutrient Based Plate!