My Interview with Taylor Kiser
All I can say is YUMMMM about this girl (with even more m's if it wouldn't be so obnoxious) because she has some SERIOUSLY delicious and HEALTHY recipes on her site!  She's what I call a HIGH LEVEL style blogger and I can only HOPE to aspire to such success as her gift has granted her!  

I can't tell you how much I LOVE hearing the testimonies from so many of these Fit & Faith Based professionals that are willing to share with us their stories beyond just their awesome businesses because it brings such an awe-inspiring HOPE to our own lives.  I LOVE to hear how someone is currently TRIUMPHING over their own past struggles and, with God's amazing Grace, persevering to live the life God has called them to live!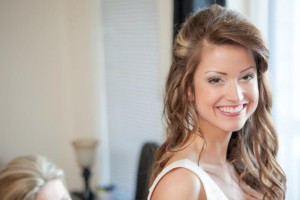 Taylor is an EXCEPTIONAL example of that.  As someone that once suffered with Anorexia and eating disorders, she has now manifested the very STRUGGLE in her life to now be her platform of TRIUMPH and success! <--THAT is why God is so Good and Merciful.  
I hope you enjoy Taylor's answers as much as I did!  It will probably prompt you to love her recipes even MORE!  Follow her!  You'll be blessed!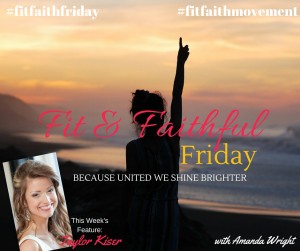 Me: Tell us a little bit more about what you do and how you came to start it?  You have such a wonderful page of so many recipes!  Was this a passion that led to your site?  Or do you have a professional background in cooking or baking? 

 
Taylor: So, I'm a healthy food blogger. I create healthy, gluten free recipes and share them on my blog, along with pretty photos and a fun story behind the recipe.  I actually came to start doing it because my husband, bless his heart, told me that I needed a hobby beside watching Food Network all night. I never thought it would become my job, but I am so blessed that it has. I grew up LOVING cooking and baking, but I have no professional background in it.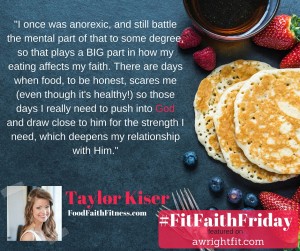 Me: How do you think your Food and taking care of your Nutrition impacts your Faith and your Faith impacts your Health? 
Taylor: 
I once was anorexic, and still battle the mental part of that to some degree, so that plays a BIG 
part in how my eating affects my faith. There are days when food, to be honest, scares me (even though it's healthy!) so those days I really need to push into God and draw close to him for the strength I need, which deepens my relationship with him. However, I strongly believe that just have good, sound nutrition is so important because our body is God's temple and we need to keep them holy and healthy for him!
Me

:  What is the number one thing that you see women struggling with today?  How do you think Health/Fitness &/or Faith can help her in that struggle?
Taylor: DEFINITELY body image and feeling the need to have the "perfect" body. I blame social media for this. I think health and fitness can help, as long as you focus on the fact that you are trying your very best to work in clean eating and exercise, but you also are a real person with a real life that is ALLOWED to get busy sometimes.  If you know that you are at least trying in that area, I feel like that should be enough. No one is perfect. I feel that faith can obviously help because we have the Bible to tell us not to worry about such things as what we eat, the clothes we wear (ie. perfection) so we can look to that on those days when we just don't feel "enough."
Me: What is the biggest lesson you've learned recently?
 "That what the world tells you will make you happy won't.  I always wanted to have a specific body fat percentage and, when I got there, I was still miserable and wanted to be even LOWER. We need to chase what God wants us to find valuable."
Me: What dreams do you have for this year and for the future?  What role do you expect God to play in developing these into realities?
Taylor: Honestly, my husband is going back to school, which means I am going to be our sole provider. One o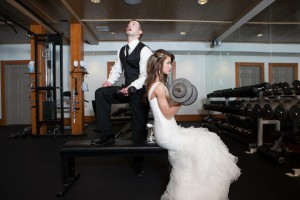 f my dreams would be that I be this for us. But I know that I really have to trust in God to let this happen.  Personally, I dream to be 100% totally free of my mental food struggles.  I know that I need to really push into God and go deeper into my relationship and fully live in his perfect love in order for that to happen.  My future goals would be to help people women who are going through the same mental battle, but I know that I need to first 100% overcome it myself before I can do so.
ME: I am just starting a blog series on living with FRUITFUL Health and walking through how to live the 9 Fruits of the Spirit in our health.  We are starting off with LOVE of course!  Can you tell us how it is that you have found a way to LOVE taking care of your health?  How do you know it's REAL love?
Taylor: As I mentioned, I had anorexia and this is where developed the

LOVE

for taking care of my health. I worked with my dietitians and learned that food is

FUEL

for my body, and it's so important to be very mindful of fueling my body with the right stuff!  I know it's a

REAL

love because I can't go a day without thinking about the gym (not in a totally obsessive way, I just love how I feel after a good workout!) and because I have turned creating nutritious food into my job!
ME: Any special recipe you have been LOVING lately that you advise us to try?  
Facebook:
https://www.facebook.com/foodfaithfitnessblog
Twitter:
https://twitter.com/foodfaithfit
Instagram:
https://www.instagram.com/foodfaithfit/
Website:
 http://www.foodfaithfitness.com/
COMING SOON!
 The DIY Guide to
Nutrient Based Eating for Fat Loss! 
In just a few short weeks, you can get your very own guide to WHAT the Nutrient Based Diet is, HOW you can start including this lifestyle approach to eating, HOW you can shop and prep the food no matter what your schedule, AND the 4 Simple Steps that you can adjust to it to make sure it BOOSTS your Metabolism and allows you to see FAT LOSS!  
I have for over 2 years including this system into my own life as well as through my personalized coaching and membership site to the her Health Lounge, but I am now making this Nutrition component available for you to guide yourself!   
To be the first on the list, feel free to sign up HERE and I'll send you a FREE infographic on HOW to eat Nutrient Based!