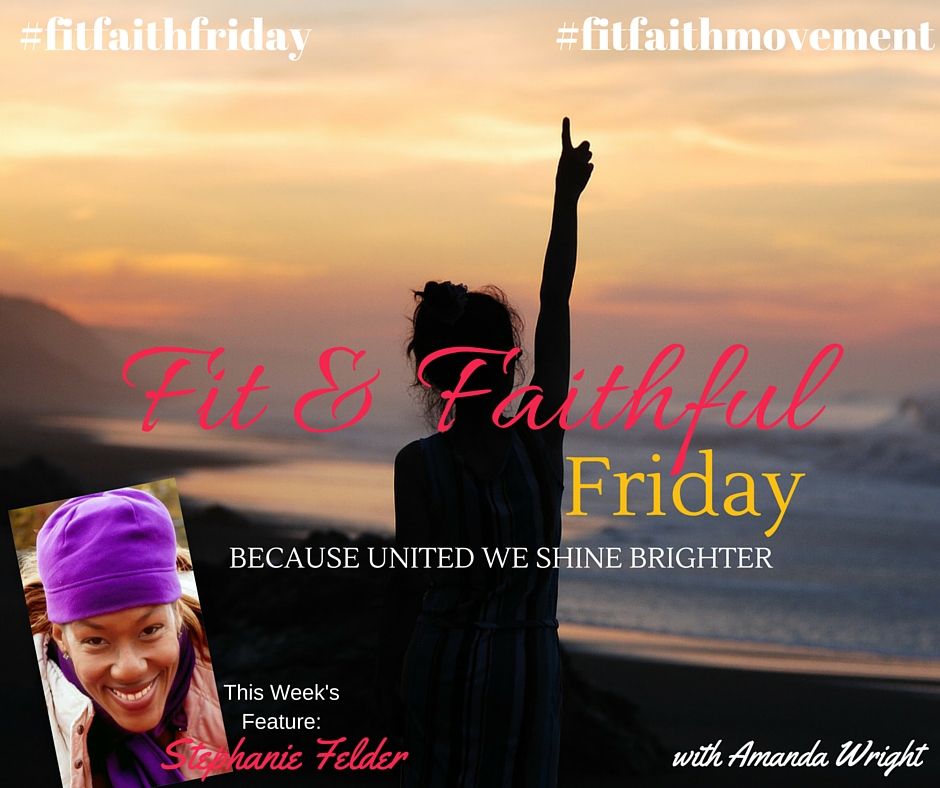 My Interview with Stephanie Felder:
I saw Stephanie through social media of course! So say what we will about some of the negative aspects of social media, I am SO glad it exists so I might have a chance to find more incredible women like Stephanie! This is why I find using social media growth services similar to nitreo so rewarding because it allows people like Stephanie to reach an audience they would have never reached without a little help. On Instagram her username is "FitFaith Life" and I pretty much *knew* we'd be a good "fit" for each other and this cause, ya know what I mean? I'm truly inspired by her story because I think it's one that is so relatable to so many women we all know!
Just like me, she shares that she realized just how much her FAITH grew when she attempted to improve her FITNESS. And we both know that this can be true for you too and we simply want to encourage that process along! So thank you Stephanie for being another bright and shiny light who has been touched by God to carry His message in your own unique way too! You are a blessing!
Stephanie Felder, FitFaith Life
Me: Tell us a little bit about what you do and how you started your business?
Stephanie: My fitness journey was born out of my need to lose weight after having two babies back to back at the ages of 40 and 41. I had gained about 50 pounds with each pregnancy and I had reached a place where my vision of myself in my 40's did not match my reality, so I decided to do something about it. In the process, I decided to hold myself accountable to my goals by sharing my experiences through a website which at the time I called Team Fit Mommy. I was blessed to be able to stay home with my children for four years which really allowed me to focus on my fitness goals. After reaching my goals and recently returning to work as a teacher, I realized that my fitness journey really paralleled my faith journey. I gained the understanding that without faith it would have been impossible for me to accomplish my fitness goals. I also felt led to share this knowledge with others so that they can grow in their faith walk and in their fitness capacity. So in 2015 I rebranded my website and it became FitFaith Life.
I like to think of FitFaith Life as a virtual coach for faith and fitness. I am currently in the process of getting my certification as a personal trainer.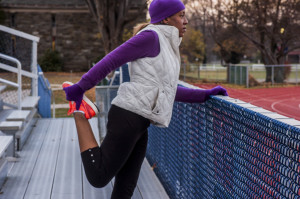 Me:How has your Faith impacted your Fitness and your Fitness impacted your Faith?
Stephanie: As I mentioned before, I grew to understand that without my faith, specifically my belief in Jesus, I would not have been able to accomplish my fitness goals. In turn, I believe that it is my reasonable sacrifice and my responsibility to take care of the gift of health and mobility that God gave me.
Me: What is the biggest struggle you see women facing today? How do you think Faith and/or Fitness can help them in finding a solution?
Stephanie: I think the number one thing that women struggle with today is self image. I think that we often have a challenge in seeing ourselves the way that God sees us. We want to conform to the images portrayed by the world and find ourselves swimming against the current of social media and pop culture. With this being said, if you are looking to make a living through social media (such as Instagram), with there being companies such as socialfollow who offer free Instagram followers, not everyone is using their platform for it to be only about self image. Anyone can create accounts for anything, whether it is fashion related, fitness/health, motivation and more.
We have to live in this world but we don't have to live up to the standards of the world. In fact we should lift up God's standard of excellence and beauty so that the world wants to be more like us.
Me: What's the biggest lesson you've learned recently?
Stephanie: The biggest lesson I have learned is that if I put my confidence in God I can really do anything.
Me: What dreams do you have for this year and for the future? What role do you expect God to play in developing these into realities??
Stephanie: I have so many dreams but one of the things that God has placed in my heart to do this year is to hold a FitFaith Life Bootcamp. It will be a time for "fierce faith" and "fierce fitness". I believe that God has already equipped me with everything and everyone I need to make this a reality. Now it's just time for me to do the work because faith without works is dead.
Me: I am just starting a blog series on living with FRUITFUL HEALTH where we are walking through how to live the 9 Fruits of the Spirit in our health. We are starting off with LOVE of course! Can you tell us how it is that you have found a way to LOVE taking care of your health? How do you know it is REAL love?
Stephanie: I honestly LOVE taking care of my health because I realize it is a gift! My mother died at the age of 48 from a brain aneurysm. My best friend died at the age of 36 from cancer. I have a husband and two small children who depend on me and I want to be around for a long long time. How can I say I love myself, them and God if I am not willing to make some sacrifices to be healthy and strong? Love is about sacrificing for others but just as much love is also about taking care of oneself.
Me:Is there anything you have coming up that we can join you in?
Stephanie: Right now the FitFaith Life Community on Facebook is in the midst of a free Lean Leg Challenge. (https://www.facebook.com/events/504912299691471/) Each day we do a set amount of leg focused exercises. I post the daily sets in the group and on social media and we keep each other accountable in our event group.
We also have a FitFaith Life Bloggers Connection(https://www.facebook.com/groups/1654423751502637/) which is an awesome community of faith and fitness bloggers. Members share each other's content and support one another spiritually. We really hope that the group will grow and become a major resource in the blogging world.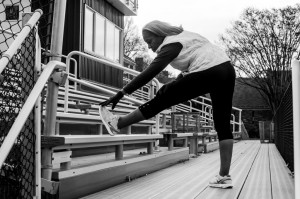 The FitFaith Life is about honoring our bodies with daily exercise and healthy foods. 3 John 2 NKJV states "Beloved, I pray that you may prosper in all things and be in health, just as your soul prospers." Our mission is to help people become all that God has designed for them to be. By expressing how grateful we are for health and fitness, we encourage others to begin their journey to wholeness as well. Visit us at our website www.fitfaithlife.com
Facebook – https://www.facebook.com/TeamFitMommy/
Instagram – https://www.instagram.com/fitfaithlife/
Twitter – https://www.twitter.com/fitfaithlife
Pinterest – https://www.pinterest.com/FitFaithLife/