My Interview with De Bolton
I am so excited to introduce another woman who is braving her way to turning her own fitness journey to a Fit & Faithful one!  I met De through a Fit & Faith-based bloggers group online and was so touched by the support and forthcoming comments about her journey so far!  She is a delight to know what I know so far and I was very excited to know more about her through this process!  
Please give De some love and following to help her on her new journey too!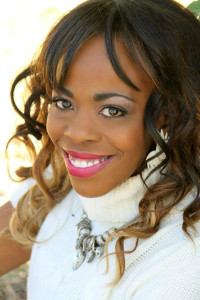 I hope you enjoy De'sanswers as much as I did!  Follow her!  You'll be blessed!  
Me: Tell us a little bit more about what you do and how

you

came to start it?

 
De: My name is De Bolton, I'm a mom of three girls and a wife to my best friend for 13 years. Now I am fitness blogger, Brand Ambassador and influencer. 
I started my blog with the idea that I would build a community for new-to-Christ Christians. I have been a believer my whole life but wasn't exactly a dedicated follower for 13 years. I dedicated myself to Christ four years ago. Still walking through my faith journey every day, I felt I was led to write about issues new Christians faced. 
A couple months into blogging I also began my third weight loss journey after my third baby. In August 2015, I recommitted myself to a healthy lifestyle. I began gravitating towards faith and fitness. In September I needed more than just appearance to motivate me to continue my weight loss journey. That's when I did a 30 day prayer challenge to honor my temple. I chronolized my prayers and journey on Periscope and my blog for 30 days. That month of intentionally praying for my health led me to where I am today.
"It's when I realized that my faith is completely connected and directs my weight loss."
It also revealed a passion for Fitness and Health that I have had for more than five years. I have been putting it on the back burner for years. Attempting to become a CPT , but always last minute deciding not to. The 30 day prayer challenge showed me that I could honor and glorify God by motivating and teaching others to honor their temple.
I now consider my blog a faith-based fitness blog. I am currently studying to become a Certified Personal trainer and will be making steps towards becoming a Metabolic Hormone nutritionist. Prayerfully and with God's direction I want to build a faith-based fitness program that helps women honor their temples. In body, mind and spiritual devotion. 
For now, until I am certified, I am a Faith Fueled Mom. Navigating and sharing my own journey of my love for my faith,family and healthy lifestyle. I have plans to show others how to live a Faith Fueled Life.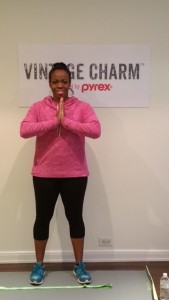 Me: How do you think your Fitness impacts your Faith and your Faith impacts your Fitness?
De: 
For me they have become synonymous. God and my faith in Him has helped me.
Through faith I have gained control of my nutrition.
It has pushed my strength training to new limits and motivated me to continue.
My strengthened relationship with God has inspired me to spread the gospel of His love, mercy and grace that He has for us all.
My fitness has allowed me to have the energy to keep going, help me with my anxiety and keep me focused on my day.
Me

:  What is the number one thing that you see women struggling with today?  How do you think Health/Fitness &/or Faith can help her in that struggle?
De: In short: Self-worth,self-love and easy fixes. There are too many products out there that are based on vanity.
 
"Vanity of vanities," says the Preacher. "Vanity of vanities! All is vanity." Ecclesiastes 1:2 
The world has convinced us to find our worth in vanity. Vanity being defined as the quality of being worthless or futile-pointless. That is why it is so fleeting and not fulfilling, just like the world. But honoring your temple to glorify God. Taking care of the irreplaceable gift-your body that God has given you. Operating at the best it can be isn't pointless; it's fulfilling and satisfying. I think approaching fitness with this perspective will make it a lifestyle change versus a diet, fad or weightloss solution.
It's going to be hard; life in Christ wasn't meant to be easy and neither is weight loss. There are sacrifices, resilience and determination needed. But it's much more rewarding than a 90 day fix, wrap or pill solution. Relying on God and placing your burdens in him creates a stronger relationship. Giving you the power to achieve more than you could do on your own. Building your self-worth, self-love and ending your reliance on easy fixes.
Me: What is the biggest lesson you've learned recently?
 "Wait on God- this is a journey that will never end. God is conspiring for us in all that we do and wants to do much more for us than we can imagine. All we have to do is wait, rejoice and continue to strengthen our relationship with Him."
Me: What dreams do you have for this year and for the future?  What role do you expect God to play in developing these into realities?
De: My ultimate goal is to own a faith-based virtual and personal training business for women. I am going to need God's guidance and direction. For Him to close the doors of dead ends and open doors of opportunities. I need God to help me stay focused and not get distracted by the shiny objects.
ME: I am just starting a blog series on living with FRUITFUL Health and walking through how to live the 9 Fruits of the Spirit in our health.  We are starting off with LOVE of course!  Can you tell us how it is that you have found a way to LOVE taking care of your health?  How do you know it's REAL love?
De: When I began my journey it was infatuation love. Excitement to do new workouts, try new recipes, see the weight loss and muscle gains. As the journey continued and the comfort level began, the feeling of fulfillment and looking back on my journey has brought me to a committed love. It's not that initial love for it but it's an appreciation for how I feel. I no longer have to workout but I get to workout every day and it is now my love.
ME: Is there anything you have coming up that we can join you in?  
De: 
Not this year but prayerfully once I take and pass my certification I can launch FaithFueled Life.
Facebook: 

https://www.facebook.com/FaithFueledMoms/
Twitter:
https://twitter.com/faithfueledmom
Instagram:
https://www.instagram.com/faithfueledmom/
Website:
 http://faithfueledmoms.com/
COMING SOON!
 The DIY Guide to
Nutrient Based Eating for Fat Loss! 
In just a few short weeks, you can get your very own guide to WHAT the Nutrient Based Diet is, HOW you can start including this lifestyle approach to eating, HOW you can shop and prep the food no matter what your schedule, AND the 4 Simple Steps that you can adjust to it to make sure it BOOSTS your Metabolism and allows you to see FAT LOSS!  
I have for over 2 years including this system into my own life as well as through my personalized coaching and membership site to the her Health Lounge, but I am now making this Nutrition component available for you to guide yourself!   
To be the first on the list, feel free to sign up HERE and I'll send you a FREE infographic on HOW to eat Nutrient Based!